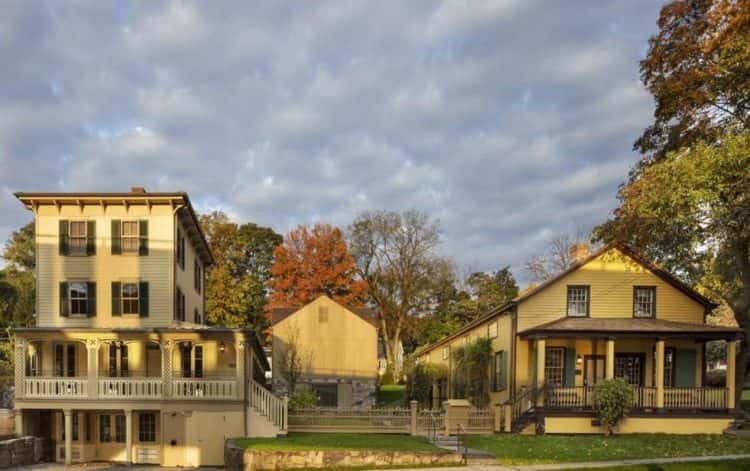 Greenwich Historical Society announced that its newly reimagined campus has received a Palladio award, the only national award that recognizes outstanding achievement in traditional design. Sponsored by Traditional Building Conference, the 18-year old initiative celebrates techniques developed through 2,500 years of Western architectural tradition, with a focus on design elements that enhance the beauty and humane qualities of the structures.
David Scott Parker, principal of David Scott Parker Architects, and lead designer of the reimagined campus, which was completed in fall 2018, said the award was for Adaptive Reuse & Sympathetic Addition in the commercial/institutional category: "Our entry featured the restoration of a remodeled structure to its historic Italianate appearance; the addition and integration of new state of the art galleries and archives, and the re-establishment of the integrity of the exterior green space. The project doubled the size of the historic institutional complex and was completed on budget and one year ahead of schedule."
"We are thrilled to have our newly reimagined campus recognized with such a prestigious national design award," says Debra Mecky, Greenwich Historical Society executive director and CEO. "David Scott Parker and associate John Wasilewski were extremely successful in accommodating our institutional needs for a more accessible and expanded campus that would strengthen the community's connection to our past, to each other and to our future. In the 2 years since the reimagined campus  was completed, we've significantly increased our services to the community through rotating exhibitions, engaging lectures, stimulating events and fun family programs – all of which help convey the crucial role our historic buildings have played in the context of American history." 
Over 150 entries in this year's Palladio Awards were judged by a prominent panel of design experts. Previous years' winners in the commercial/institutional category have included design projects for such venerable institutions as Yale University and the University of Virginia.
Greenwich Historical Society's reimagined campus has been recognized in numerous other prestigious architectural and design awards, including:
AIA (American Institute of Architects) Connecticut
2019 Award of Excellence
AIA (American Institute of Architects) Connecticut
2019 Elizabeth Mills Brown Award
CT Trust for Historic Preservation
2019 Merit Award

Society of American Architects NY
2019 Design Award
The Historical Society's award-winning campus is host to a dynamic exhibition that showcases the role visionary Greenwich women played on the national stage in achieving passage and ratification of the 19th Amendment. On view through September 6th, An Unfinished Revolution: The Woman's Suffrage Centennial features a wide variety of historic objects from museums, libraries, private collections and descendants of suffragists that illustrate the long struggle for the right to vote.
Greenwich Historical Society is located at 47 Strickland Rd., Cos Cob. While temporarily closed due to recommendations by the CDC, state and local governments, the Historical Society's curators, educators and docents have brought the best of Greenwich history online for all to peruse and enjoy.