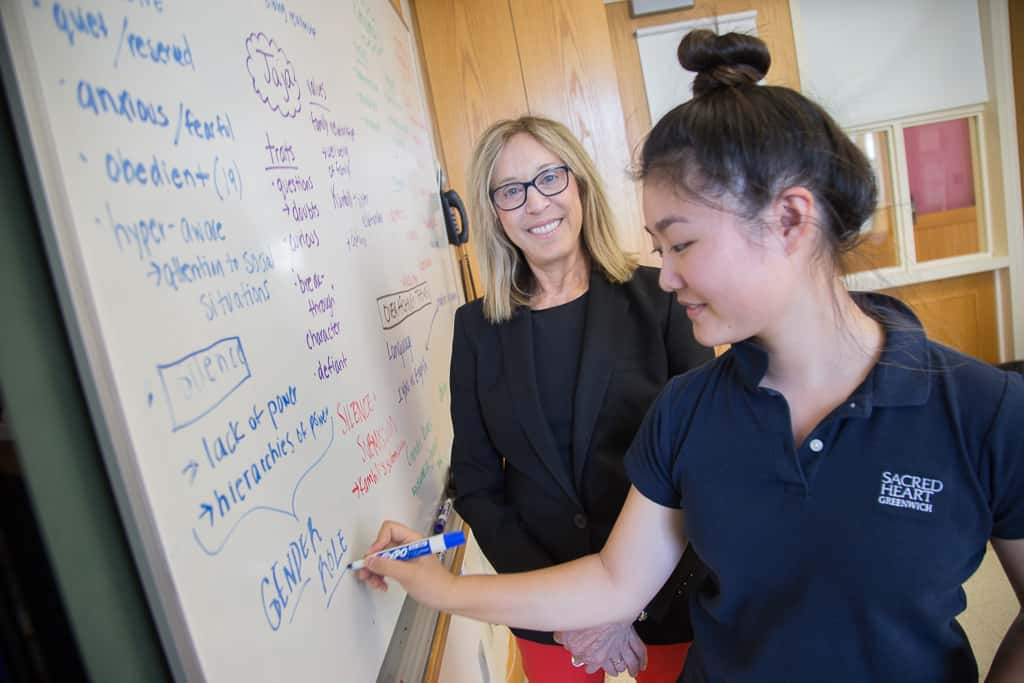 By: Linda Vasu
In times of uncertainty, we lean on history for insight. I'm sure we know more than ever before about The Black Death and the 1918 flu. At Sacred Heart Greenwich, we look to our foundresses for guidance since they, too, lived in difficult times. Ste. Rose Phillipine Duchesne set sail from Bordeaux on March 21, 1818, to begin a voyage through uncharted territory to St. Charles, Missouri. Her heart filled with possibility and purpose, she traveled emboldened by faith, courage, the confidence to persevere — and compassion for all humanity.
As educators around the world scramble to put together accessible and equitable virtual learning environments, our vision moves beyond technology platforms, standardized test scores, and GPAs. At Sacred Heart, we are unified to deliver mission-centered, humanized virtual learning that nurtures exceptional young women to be "the light of the world."
Prior to this explosive pandemic and the sudden shift to remote learning, One Schoolhouse, Global Online Academy, Stanford University's Online High School, and Sacred Heart's own SophieConnect sought to reimagine and rebuild classroom community in a digital space. Founded in 2014 at Sacred Heart Greenwich, SophieConnect provides unique access to the global Sacred Heart Network of 150+ schools in the U.S. and 41 countries. This platform recruits faculty from the U.S. and Canada to develop courses that extend and deepen our students' academic skills and knowledge, expand professional development opportunities, and enable anytime/anywhere access to asynchronous and synchronous learning in subjects of interest.
Our in-house virtual school is grounded in a distance-learning philosophy based on community and connectivity. These key aspects are vital to the student experience as we shelter in place. Our goals? To integrate student voices in the day-to-day experience, to foster social-emotional connections, to offer creative, novel forms of assignments and assessments, and provide new opportunities for independent and collaborative learning. Looking ahead, we plan on leveraging SophieConnect to offer online summer programming to bridge coursework gaps and replace lost summer internship opportunities.
In this new reality, every educator and every school must find ways to sustain student motivation to log in daily, week after week, while sustaining a high level of academic rigor. Certainly, this is a work in progress, requiring flexibility, agility, and a willingness to innovate. The virtual environment will test our time management, our attention — and streaming capacity and Wi-Fi bandwidth.
What does humanizing virtual learning look like? We can use this inflection point to experiment with new teaching methods, tools, and instructional design. Here at Sacred Heart, seniors are "visiting" their accepted colleges through video conferences and Q & A's with alumnae. We've organized community events via Zoom for chapel services, advisory meetings, an online four day version of our annual Sacred Heart Film Festival, art exhibits, and music concerts. Coaches will share workouts with their teams and virtual practices. And each division has created wellness programming around the Healthy Mind Platter that includes activities, games, and rest.
In December, my senior students studied the dystopian novel Station Eleven, a narrative about the arrival of the Georgian flu pandemic, considered by critics to be writer Emily St. John Mandel's love letter to the world, suggesting the need for a moral awakening — a reset to "focus on everything that was good" (Mandel 327). It's a page-turner with a King Lear thread, and the girls learned that Shakespeare possibly wrote Lear when quarantined by a plague event that closed the Globe in 1606. They learned about epidemiology, zoonotic transmission, the benefits of the humanities, the need for empathy in times of disorder. They also discovered that "what made it bearable were the friendships, of course, the camaraderie and the music and Shakespeare, the moments of transcendent beauty and joy…." (47).
There is an age-old maxim that in times of darkness keen spirits seek the light. In this moment of great disruption, of quarantine and the loss of so many freedoms, the freedom to shape our response endures. Let us adopt a mindset of resilience and hope, gratitude and kindness. Let us find meaning in the rhythm of daily work, the love and compassion we give to self and others, and the courage to persevere.