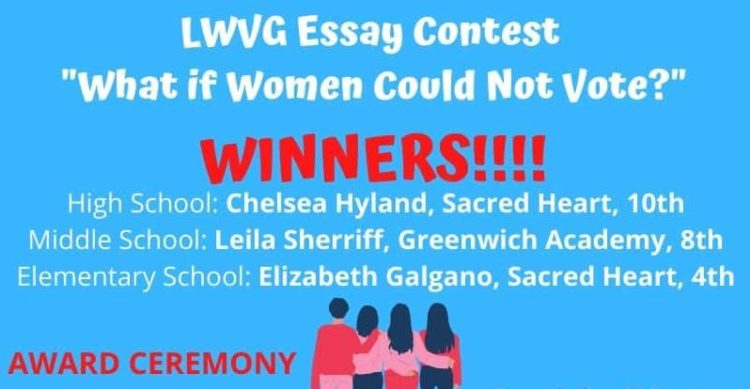 The League of Women Voters of Greenwich and their affiliate high school clubs announced the winners of their recent essay contest for students in grades K-12. This inaugural essay contest celebrates the 100th anniversary of the passage of the 19th amendment and the founding of the League of Women Voters. The essay prompt — What if women could not vote? — is designed to encourage students to reflect on the many and varied contributions of women in America over the last hundred years, and in the future.
The League received 200 submissions. Students wrote an essay of up to five-hundred words. A panel of high school students followed an anonymous judging protocol to review the essays and choose three winners: one each for elementary school, middle school, and high school. Children of League of Women Voters of Greenwich board members were not eligible to participate.
Winners were notified on Sunday, March 1. They will receive their awards on Tuesday, March 10 at the Greenwich Historical Society in conjunction with their Suffragist exhibition, An Unfinished Revolution: The Woman's Suffrage Centennial.
First Place
High School: Chelsea Hyland, Sacred Heart, 10th
Middle School: Leila Sherriff, Greenwich Academy, 8th
Elementary School: Elizabeth Galgano, Sacred Heart, 4th
Honorable Mention
High School:
Sophie Jaeger, Greenwich High School, 10th
Dylan Mini, Greenwich High School, 11th
Pamela Rosenburgh, Sacred Heart, 12th
Middle School:
Ella Ehrlich, Sacred Heart, 8th
YeonWoo Kook, Eastern Middle School, 7th
Gabe Lopez, Brunswick School, 8th
Elementary School:
Delaney Enright, Greenwich Academy, 5th
Ihsan Iftikar, Greenwich Country Day School, 2nd
Fiona Reilly, Greenwich Academy, 5th
The winning essays may be read on the League's website at lwvg.org