February 14, 2020
Greenwich is becoming Bald Eagle country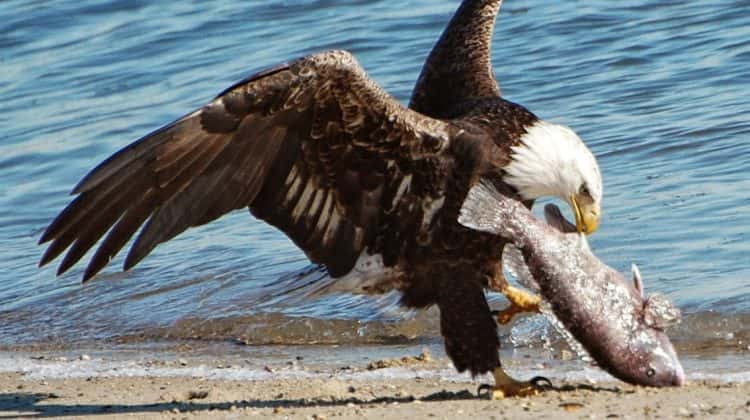 By Anne W. Semmes
You're walking through Byram Park, and suddenly you look up to see a big blackish winged bird flying over and it has a white head. Bald Eagle! Good grief! You're driving out Taconic Road and crossing over the road ahead of you, a Bald Eagle! You're arriving at Greenwich Library and overhead a Bald Eagle arrives, making wide circles. Greenwich is bald eagle country!
Cynthia Ehlinger of Riverside has long led the Greenwich Point First Sunday morning bird walks. Yes, she says, with the banning of DDT, "The Bald Eagles are back. Winter is when the Bald Eagles come around here. They come from the north. Its mild here – the ponds and lakes are not frozen – Putnam Lake, Rockwood Lake." Check out eBird she says to where sightings are being made in Greenwich. A "hotspot" I find is Cos Cob Park with Cynthia listed as spotter.
"Some are passing by in migration," Cynthia notes, and, "We're getting more and more eagles nesting in the state." She's seen a pair flying together, and yes, there is one nest for sure in town, but not to be shared for its protection.
Ryan MacLean, Bird Education Specialist at Audubon Greenwich has the full Bald Eagle success story. He's just attended (as did Cynthia) the "amazing" Saturday Teatown Hudson River EagleFest, on the Hudson River, at Croton Point, along with a guestimated 2,000 people.
Two attending fans of this national symbol were former President Bill Clinton and wife Hillary. Significant for Ryan as he recalls as a young raptor enthusiast when Bald Eagles were taken off the endangered species – list during the Clinton Administration. Today they are listed as "Least Concern" by the IUCN.
"Eagles are very prescient this year with the absence of ice – the Hudson River is completely open," reports Ryan, and that means more open space for fishing. Yes, with ice, you see the birds on ice, but on Saturday, eagles were seen flying over the EagleFest parking area.
"There's been an average temperature rise in the winter," notes Ryan, and with warmer waters, "There are additional varieties of fish moving north." At a time when Audubon is reporting two billion fewer birds, the Bald Eagle, Osprey and Peregrine Falcon are success stories dating from that 1970's DDT banning. Count an increase of 15 million more raptors, says Ryan.
Just look back at those early years bird counts of Audubon Greenwich's fall Hawk Watch that first kicked off in the 1970's. "If anyone had seen a Bald Eagle it would have been the most exciting news of the week," says Ryan. "In 1985 we were seeing five Bald Eagles. Then gradually increasing year after year. To seeing 317 during last fall's Hawk Watch."
So, please Ryan, for those not in the know, how do we best identify that majestic Bald Eagle flying overhead? "The biggest thing to look for in flight is the way they position their wings. The vultures have a v-shape where the Eagle presents large rectangle planks – their wings are very straight and wide. The vulture is close in size, but the Bald Eagle has a wingspan of seven feet, with the vulture at 5 ½ feet, so Bald Eagles are about a quarter size bigger." (Note that Alaska eagles are the largest and Florida eagles the smallest).
Spotting Bald Eagles at a Hawk Watch can still be a challenge, says Ryan. Sometimes, "They are just a pepper speck in the sky. They're up 1000 feet. They can ride thermals. We see Bald Eagles in a kettle with Broad-wing Hawks in the fall. It's like seeing them in the same gas station."
Do note that female Bald Eagles are larger than males. And, how to age them? "They're all chocolate brown feathers in the first year," says Ryan, which one can confuse with a Golden Eagle. "Then they get a white belly in their second year. followed by a white head and white tail in their fourth year." And, "It takes five years for a Bald Eagle to molt into full plumage."
So, Ryan sums up with the positive, of how the Bald Eagle, and now familiar Osprey, were "brought back from the brink of extinction. The Bald Eagle is a good indicator. It's at the top of the food chain." Its increase shows, he says, "how we can be innovative to help bird populations," how we can achieve "good results if we take action."