February 13, 2020
First Bank of Greenwich Community Corner: Where Dogs Are Always Welcome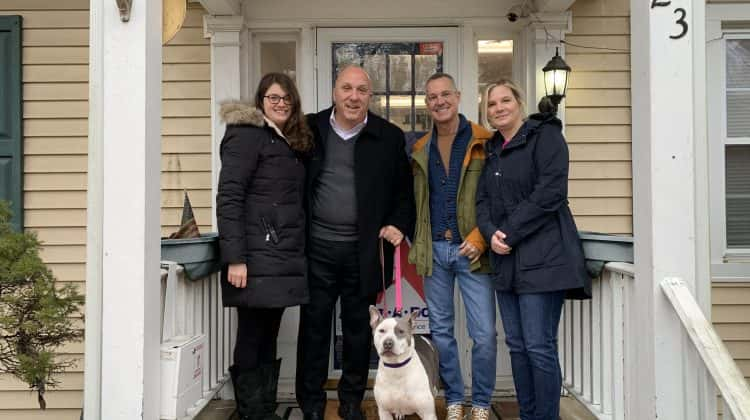 By Richard Kaufman
For almost 40 years, Adopt-a-Dog has helped foster and adopt countless dogs, cats, and even small critters, putting them into loving and caring forever homes.
Adopt-A-Dog was established in 1981 on Lake Avenue in Greenwich, when Greenwich residents Donna Nives, Gloria Scheuer and Pam Fahnestock became concerned about the growing number of abandoned animals in local shelters.
The three friends subsequently created the nonprofit organization, which has grown over the years. In 2002, Adopt-a-Dog acquired a former veterinary clinic located in nearby Westchester County in Armonk, N.Y., where they established their own animal shelter.
Adopt-a-Dog now as a 15 person staff, and cares for 30-40 dogs at any given time.
"We rescue dogs from different situations. Sometimes they're coming in from people in the community who are no longer able to care for their dogs, or we're working with out-of-state shelters where those dogs unfortunately aren't able to spend a lot of time," said Samara Enders, Development and Marketing Coordinator for Adopt-a-Dog. "We'll bring them up here, or we'll go into the city and help animal control."
Once a dog comes into the shelter, he or she gets quarantined to make sure they don't have anything contagious.
"Then we get to know them medically and behaviorally and see what we're working with. We also start to figure out what kind of home that dog is looking for," Enders added.
The facility features big yards for the dogs to play in, including a playground and agility area to keep them active. There is also a medical room for small procedures, grooming station, and training room.
"It's very rewarding," said Enders of finding homes for her furry four-legged friends. "It's also bittersweet when you get to know the dogs so much and you have to say goodbye. But you know they're going to a good home."
Adopt-A-Dog's vision is "to create a community where there is a home for every dog." Their core values are: dedication, compassion, love, understanding and patience.
All of this meshes well with the First Bank of Greenwich, which has sponsored "Puttin On The Dog", Adopt-a-Dog's annual festival that doubles as a fundraiser and an adoption event.
"I'm a big dog lover," said FBOG President and CEO, Frank Gaudio. "I'm very happy to be associated with such a fine operation and institution as Adopt-a-Dog. They do wonderful work. I'm very excited about the relationship we have with them."
That relationship grew recently, as Adopt-a-Dog joined the bank's Charitable Checking Program.
FBOG launched their Charitable Checking Program to support area nonprofit organizations. The program is simple and easy. If you're a member of the bank, and a nonprofit organization you support is part of the program, your checking account balances, along with other supporter balances, are used to calculate quarterly bank donations to that organization.
All donations come directly from the FBOG, and no monies are withdrawn from the nonprofit or supporters' accounts. The bank will make quarterly monetary donations to each charity enrolled.
Emily Newcamp, Vice President and Retail Banking Manager for FBOG, helped with the logistics and implementation of the program. She said, "Giving has always been part of the bank's mission, and the Charitable Checking Program allows us to do that in a bigger way."
Newcamp said the relationship between Adopt-a-Dog and the bank made perfect sense.
"We stand behind their mission because we have a love of animals," Newcamp added, noting that the bank's mascot is a dog. "Hopefully Adopt-a-Dog will be able to benefit even more because they've got a lot of supporters who can help boost that donation that we give to them quarterly."
Enders said the organization has enjoyed working with the bank.
"We're new customers with them, and they've been great to us. We're excited to see what the future has in store for us," she said.
Going forward, the bank will continue to meet with local nonprofits to present benefits of the program. Currently, over 40 organizations are enrolled in the program. If you would like to learn more about Charitable Checking, contact Emily Newcamp at the FBOG at 203-302-4382.
For more information on Adopt-a-Dog and how to adopt or foster, go to adopt-a-dog.org.