February 7, 2020
Greenwich High Boys' Hockey Ready For Its Playoff Push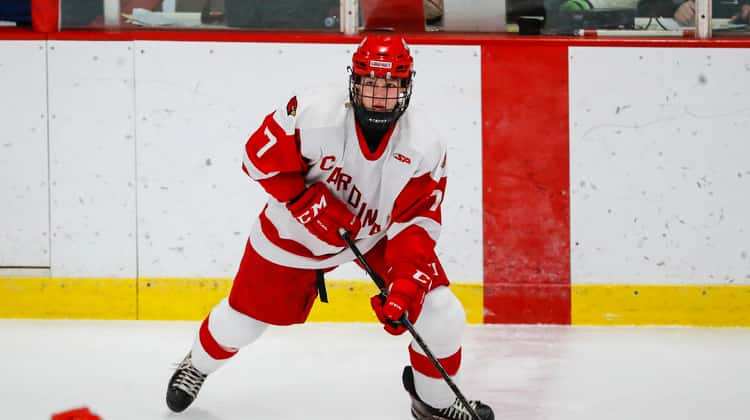 By Paul Silverfarb
The Greenwich High School boys' ice hockey team is looking stronger than ever. And that's not good news for the rest of the FCIAC and Division I opponents.
After a slow start to the season, Greenwich High wasn't really getting any looks when it came to being one of the premier programs in the state this year. The team lost three of its first four games against some of the best teams Connecticut has to offer. But, taking a closer look, the games were much closer than they appeared.
In Big Red's first two games, against New Canaan and Xavier on the road, they took each opponent to overtime before falling 3-2 to both the Rams and Falcons. The other two losses were against perennial powers Notre Dame-West Haven (3-1) and Darien (5-3) during the Winter Classic.
"Our first 11 games were all D-1 potential state championship teams that we were playing against," Rurak said. "Our largest goals was five against Darien in that Winter Classic and three to Notre Dame-West Haven. We have grown from playing in those games. Our defense is really sound, our goaltending is really strong and that's where you can build off of. We are giving up very few goals a game, so that means every game we have a chance to win."
On Jan. 11, Greenwich High traveled to Hamden and blanked the Green Dragons 7-0 and kickstarted its season, beating Darien in overtime (3-2), Northwest Catholic (3-2), Trumbull (4-1), Fairfield Warde-Ludlowe (5-1), Wilton (10-3), and Stamford-Westhill (3-1).
Big Red's schedule has been heavy on the top opponents in the beginning of the season and there's a reason for that. Rurak said that he looked at his schedule very carefully in order to find the perfect balance.
When playing in the FCIAC portion of its schedule, Greenwich plays several D-III teams that aren't as talented as GHS and Rurak said that it helps no one when a Division-I and Division III team plays each other.
"You look around town, the better players that are in the school that aren't playing at the high school are looking for a strong schedule," Rurak said. "When you have a weaker schedule, a kid will walk away from one of those games with the perception that high school hockey is not very good. And it's actually the opposite. High school hockey in Connecticut is very competitive and the coaches are top-quality coaches that know how to win. So we use our schedule as a recruitment tool."
Rurak has to balance the points in the state standings because a Division I team like Greenwich only gets three points for a Division III team and nine for a Division I team.
"We don't have the luxury of playing down," Rurak said. "We have to find all other Division I teams so that way we can be towards the top of the leaderboard at the end, hopefully. It's a bit of a gamble because it's not guaranteed that we are going to win those games.
In addition to building a challenging schedule that provides his team a chance to play the best teams around, Rurak also builds it to get his team acclimated to high school hockey.
"When they come from their fall programs, they don't understand the speed that the game is played at and the strategy that is involved at the high school level," Rurak said. "So it takes them a little while to get acclimated to it. So we use the first half of the season to get the kids acclimated to the style of hockey that's played, get into the FCIAC schedule where we can relax a little bit and get everybody healthy, get over the flu or any other sicknesses, and work on strategy. Then all that will propel us into the FCIAC tournament and state tournament."
And everything for the Cardinals is starting to click at the right time. Greenwich is currently 9-4-1 overall as of press time and has been playing some of its best hockey. On Tuesday, against FCIAC rival Ridgefield High School, Big Red sophomore Ivan Kovalev scored twice and senior Ben Nash was solid between the pipes as Greenwich held on for the exciting 2-1 victory.
As of press time, Kovalev is leading Greenwich by finding the back of the net 11 times and picking up six assists. Not far behind is junior John Hutchins, who has nine goals. Overall it's sophomore Wesley Zolin dishing the puck the most, tallying 11 assists. Zolin has also found the back of the net quite a bit, nailing six goals. Junior Thatcher Danielson has contributed with five goals and senior Ryan Columbo has netted four goals and five assists. In addition to Columbo, both sophomore William Matthews and junior Sean Duffy each have five assists.
And both goalies, sophomore Charles Zolin and Nash have been lights out, with Zolin picking up five wins and Nash grabbing four.
"I am incredibly lucky because this is a very deep team with multiple scoring threats spread across the lineup," Rurak said. "We play four solid lines without hesitation. Sometimes you get kids that want to play with better kids or they don't produce. That's not the case here. We have kids that will play on a line with any kid on the roster and that's so great to have. That makes everybody on the team better and gives me the opportunity to role four lines."
Helping right the ship in the standings this year for Big Red has been its focus on the mental game. However Rurak said that leadership has been just as important with this young squad. Big Red has four seniors on the roster, Nash, Columbo, Michael Connerty and Jesse Jordan.
"It's not just the captains, but it's the leadership and maturity from the junior class as well," Rurak said. "It's a tight-knit group that supports each other and they are having a lot fun together. If there is a problem with one of the younger kids on the team, the juniors and seniors will pull that kid aside and take him under their wings to get them caught up."
Although the Cardinals lost to LaSalle Academy 2-0 on Saturday and tied Bishop Hendricken (2-2) on Sunday, Rurak isn't complaining too much. Greenwich High, along with fellow FCIAC foe Darien High School, boarded buses and headed to Providence, R.I. for a weekend of hockey against two of the best schools from The Ocean State.
"It was perfect and everything that I wanted from it," Rurak said. "You try and do team bonding things, but there's nothing like isolating your team and bringing them to a town to play some really top-quality hockey. Those teams we played were the two best teams in the state of Rhode Island. And it was great to give these kids a Division I experience. We took Darien High School as our travel partner and went up to play at Providence College on Saturday. We stayed overnight and played again on Sunday.
"The kids got a coach bus and it's really that experience that is so great," added Rurak. "That's what all the colleges do. The kids had a lot of fun, bonded and played some hockey against two great teams. And two-third through the season I think it will pay huge dividends, both for us and Darien, come playoff time."
With only a handful more games to play in the regular season, Greenwich is quickly gearing up for a potential deep run in both the Fairfield County Interscholastic Athletic Conference and the CIAC Division I tournament.
Rurak said that the team's skill level is through the roof, their speed is through the roof, their hockey IQ is really strong and their strategies and systems are in place. Now it comes down to 1-on-1 battles and staying mentally sharp.
"They just need to play within the system," said Rurak. "This year we really put an emphasis on mental toughness and telling the kids that when they are playing the game, they can't take a second off. It's that one second lapse of giving it their full attention where the good teams will put it in the net. That one lapse could determine whether you win or lose. When the puck is dropped, we demand your full attention 100% of the time and make sure you know what you're doing."
Tags:
Big Red
,
Chris Rurak
,
cthk
,
FCIAC
,
GHS Hockey
,
greenwich
,
Greenwich Boys' Ice Hockey
,
ice hockey