January 31, 2020
Flinn Gallery Presents 'In Plain Sight'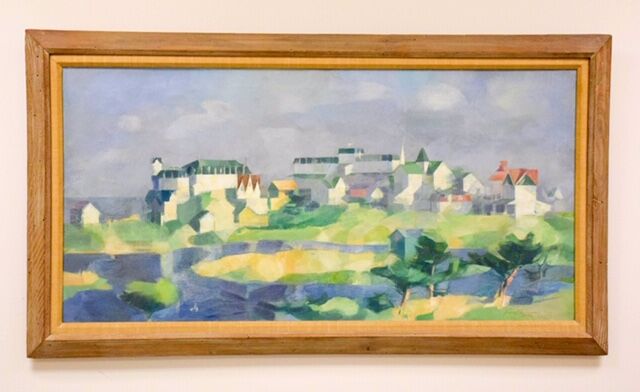 The Flinn Gallery presents the second part of their 'In Plain Sight' exhibition, The Greenwich Library Print Collection, opening on Thursday, Feb. 6. Join them for the opening cocktail reception Thursday, Feb. 6 from 6 to 8 p.m. The show continues through April 22.
Acquired through gifts and purchase, these 35 works on paper have all previously been seen on the walls of the library. Not merely placed there for decoration, the works enhance the library's learning spaces and encourage creative thinking. In this exhibition, the combined commitment both the Greenwich Library and the Flinn Gallery have made to lifelong learning that goes beyond books and includes visual arts, is celebrated.
The Library's Print Collection originated at mid-century, through the efforts of the "Print Committee of the Friends," subcommittee of the Friends of the Greenwich Library.
The committee acquired prints, intended for the Lending Art Program, from galleries including Associated American Artists which introduced fine art, in the form of prints, to a middle-class audience. Coinciding with post-war suburban growth, and new developments in print technology and experimentation, the committee was able to build a significant collection for the Greenwich community to enjoy.
Ranging in date from 1950-1980, and including a variety of print methods, these artworks were borrowed for local offices and homes for many years. Over time, as individual prints were deemed too valuable or fragile to circulate, they were hung on the library's walls instead.
The Flinn Gallery, sponsored by the Friends of the Greenwich Library, is located on the second floor of the library's main branch at 101 West Putnam Ave. The gallery is open daily Tuesday to Saturday, 10 a.m. to 5 p.m., Thursday until 8, and Sunday, 1 to 5 p.m. For more information, please contact 203-622-7947 or flinngallery@gmail.com, or visit flinngallery.com
Tags:
Flinn Gallery
,
greenwich
,
Greenwich Library
,
In Plain Sight
,
Print Collection