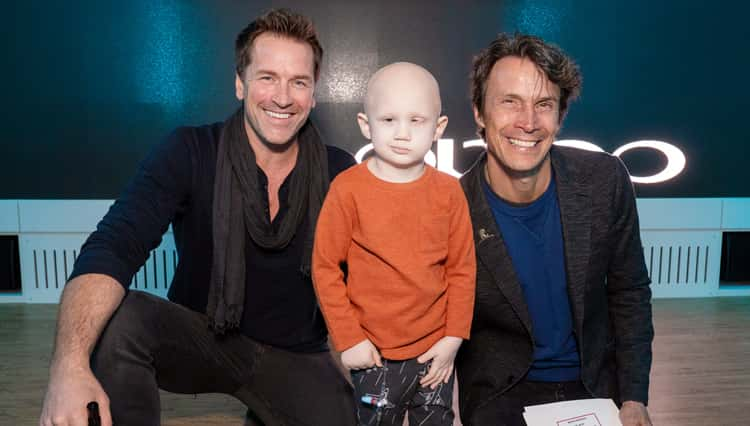 (Please note: This is an expanded feature that appeared in the Dec. 20 edition of the Sentinel. The original feature was online Dec. 14)
By Paul Silverfarb
Greenwich native and talented music composer Tim Janis is looking to make the holiday season a little happier, and at the same time making the lives of sick that utilize the services of St. Jude Children's Research Hospital a little brighter.
On Nov. 27, Janis, who has sold over one million albums and toured all over the globe, released his musical movie Buttons: A Christmas Tale. The movie is being released through Paramount Pictures Home Video.
Janis said that Buttons: A Christmas Tale took five years make. While there were so many incredible moments, working alongside "living legends" Dick Van Dyke and Angela Lansbury was certainly a highlight.
"There was a moment on the set when Dick Van Dyke and Angela Lansbury stood in the same room sharing stories with each other," Janis said. "They were both born in 1925 not quite two months apart. They are both such special and magical people. It is an honor of a lifetime to work with them. So many people came together, so many beloved celebrities took their time to make this film possible.
"It is a miracle in itself actually," added Janis. "The creation of the film was really a very special moment in time for me and I believe we are just at the beginning of a film that is going to become a part of Christmas each year."
The movie was released on Dec. 8 for streaming and DVD purchase. And now is the perfect time to pick up a copy. For every purchase of Buttons: A Christmas Tale, Janis will donate 50 cents to St. Jude Children's Research Hospital, with a minimum donation of $10,000.
"The message behind Buttons: A Christmas Tale I believe is so in line with St. Jude Hospital," said Janis. "The angels in Buttons remind me of all the angels that support St. Jude and bring hope to the children and families there. The story of Buttons is about two orphans that find "hope and healing" through two angels. St. Jude brings hope and healing to so many children who need medical care. One theme of Buttons: A Christmas Tale is compassion. By working to help others, by opening our own hearts to support one another's needs, I believe there becomes a sense of wellness to our entire community."
To download Buttons: A Christmas Tale, visit Timjanis.com or click here.