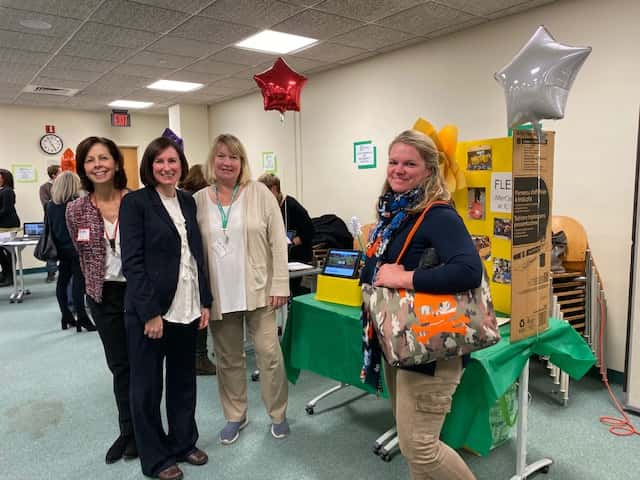 By Julie Faryniarz
The Media Center at Greenwich High School (GHS) was buzzing with energy on November 19th at our first Inspiring Educators Celebration. This celebration was a new platform for the Greenwich Alliance for Education's Reaching Out Grant recipients or should I say, "champions of innovation," to share the many ways that they are changing the educational experience for students and raising achievement. The Alliance has invested $1.3M in grants since we were founded in 2006. Why are we so dedicated to innovation and why does it matter? Because our educators are telling us that it does!
Dr. Lorraine Termini, GHS Dean of Students says that "Innovation is change. Education does not change quickly, yet in order to meet all students' needs, educators must not be afraid to try new things. Students who are engaged in innovative education, collaborate with others to come up with new and different outcomes to a variety of issues, problems, and questions. Students work together to find the best answers, answers we may not have thought of. Understanding the why of what they are doing, not just the what or how, is critical for students to grow and change. Growing and changing is what innovation is all about."
Recently, the GHS Education and Wellness Center opened with assistance from an Alliance grant. They are seeing positive changes and innovation at work as students are taking ownership of the community room and are demonstrating leadership skills in maintaining the space. The Center is helping students become self- advocates and pushing students to take on roles that are new and sometimes scary.
Carleen Woods, Assistant Director PPS, adds," the Alliance has provided us with the opportunity to proactively meet the needs of students as they transition to GHS via the Strong Beginnings grant. This innovative solution has eased the transition to high school for many students and increased their ability to access services, connect with staff, and build relationships."
Innovation Lab (In Lab), the largest grant investment from the Alliance to date, is a rigorous, interdisciplinary, school-within-a-school model at GHS. This progressive and personalized model is designed and implemented by a dedicated team of GHS educators who are leveraging innovative teaching methods, project-based and blended learning strategies,
and leading-edge technology applications. (ghsinnovationlab.com). Brian Walach, a GHS Math teacher, and one of the In Lab founders, spent half of his teaching time during 2014-2015 researching and designing the what, how's, and why's of this program for students and the teachers. "Innovation Lab matters to me", said Brian, "because it is an opportunity to be allowed to be more creative in teaching math. I work with science teachers to end overlap in our curricula and develop activities, labs, and projects through which students can learn both subjects. This gives students a unique experience because they see us collaborate in real time and see how math and science connect. The STEM content is tailored to their interests and we change based on their feedback."
Seven schools have opened Innovation spaces or makerspaces with Alliance grant funding. Brian Ciancio, Library Media Specialist, and grant champion for Central Middle School's Innovation Space shares this from a teacher: "Through the use of the Innovation Space, I have noticed that students are more engaged/interested in the learning. Students are working
with tools that professionals use (ex: 3D printer), which is authentic to students and allows them to care about what they are doing. When students are able to complete something using multiple senses their brain can fully interpret the learning, which allows them to learn quicker and helps them deepen their understanding." "Using the space", says another CMS teacher, " gave my students the opportunity to 'see' my curriculum through a different lens, by making connections outside of my classroom. It allowed me to take a step back and let the students showcase their creative sides and also gave me a chance to reflect on student learning in a less structured/restrictive environment."
John Spencer, who was a classroom teacher for a number of years currently teaches at the university level. He is also the co-author, with A.J. Juliani, of the books Launch: Using Design Thinking to Boost Creativity and Bring Out the Maker in Every Student, and Empower: What Happens When Students Own their Learning. He shares these thoughts about innovation through the makerspace in this blog: cultofpedagogy.com/makerspace/
"There was a time when you could follow the formula: Work hard at school, go to college, and climb a corporate ladder. But because of the complex global economy, because of the creative economy, the information economy, our students are going to have to navigate a maze. The ladder is now a maze. And because it's a maze, what do they need in order to navigate that? They need to be able to engage in iterative thinking, creative thinking, critical thinking, they need to know how to pivot, how to change, how to revise, how to persevere. They need to solve complex problems. They need to think divergently. All of those are involved in that maker mindset. And so if you can embed that maker mindset inside of the curriculum, and you tap into the standards that you're teaching, then they're able to develop that maker mindset."
From my point of view, I attended the Inspiring Educators Celebration and experienced the excitement and energy in the room, and then visited schools and community organizations to directly understand the grants we are funding and see the innovation at work. I am always inspired by our "champions of innovation" who challenge themselves to bring the best educational experience to the students. So that is why we remain committed to funding innovation – students and teachers deserve our investment.
Feel free to reach out to me to visit any of our grants with me. You can find them at greenwichalliance.org
And make sure to watch for the posting of the Reaching Out Grant application for 2020-2021 by December 15, 2019! Grants are accepted from non-profit community organizations and Greenwich Public School personnel.
Julie Faryniarz, is the Executive Director of the Greenwich Alliance for Education. She and her husband, Danny, are the proud parents of three Greenwich Public School graduates. Julie is an active community volunteer and recently was honored by the YWCA as a Women Who Inspires.