December 6, 2019
MYX Creative Kitchen's 'KIC Bowl' to Benefit Kids In Crisis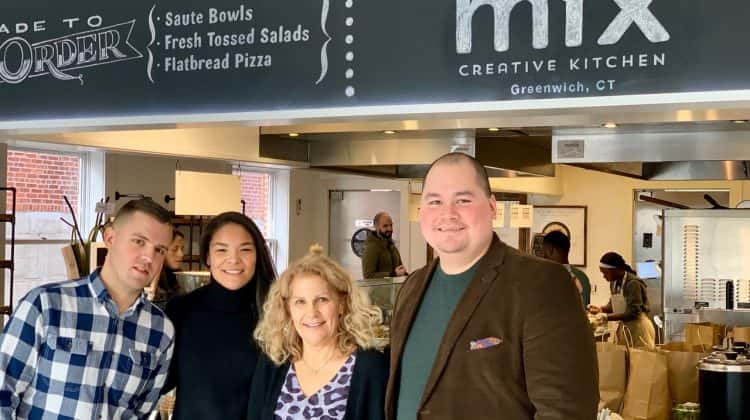 Just in time for the holiday season, MYX Creative Kitchen is joining forces with Kids In Crisis to help children in need. From now through Tuesday, Dec. 31, MYX Creative Kitchen will be collecting donations for Kids In Crisis at its store on 19 West Elm St.
"When developing the K.I.C Bowl, we wanted to offer a healthy dish that would appeal to all," said Executive Chef Fausto Mieres. "The dish is a colorful and beautifully arranged bowl of quinoa, sautéed spinach, broccoli, zucchini, carrots, roasted sweet potato, garlic, olive oil and fresh lemon."
For every K.I.C Bowl purchased by diners from Thanksgiving Day to New Year's Eve, MYX Creative Kitchen will donate a portion of the proceeds to Kids In Crisis," explained Rey Santos, Director of Operations, Palm Foods LLC.
To encourage customers to donate to Kids in Crisis, MYX Creative Kitchen has placed a donation box in the restaurant. Plus, patrons will have an opportunity to purchase the Kids In Crisis grapefruit-currant scented candles for $20 each. 100% of donation box and candle sales directly support the local non-profit organization.
Shari Shapiro, Executive Director, Kids In Crisis said "we're excited to partner with MYX Creative Kitchen. The restaurant has always been a place where friends, colleagues and families could gather to enjoy a delicious meal and they are offering a creative way to get the community involved in giving during this festive season!"
Tags:
benefit
,
greenwich
,
KIC Bowl
,
Kids in Crisis
,
MYX Creative Kitchen