November 27, 2019
Generation Impact Offers Youth-Focused Grant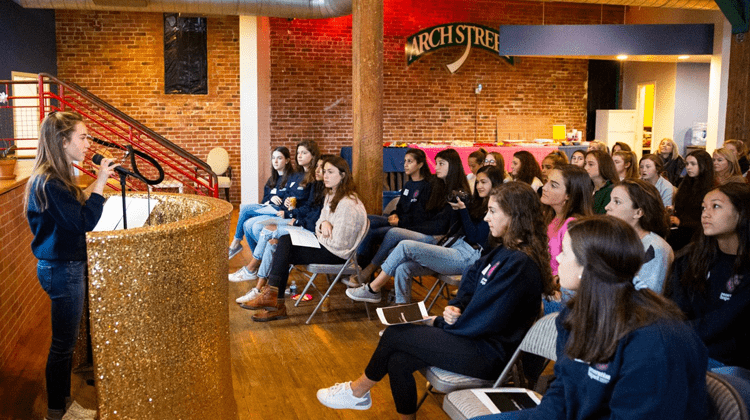 Local non-profit organizations are invited to apply for a $10,000 grant from Generation Impact, a program for high school girls in Fairfield County. The grant will be awarded for a significant project or program that reaches under-served youth population(s) within the community.
Generation Impact's grant is member-funded: 100 members each raise or donate $100, and pool their membership donations into a $10,000 grant. Now in its second year, Generation Impact members work to learn about the need in the community and the non-profit organizations addressing the issues. The group hopes to make an impact by fully or mostly funding a youth-focused project or program, and is encouraging local non-profits to be creative. Applications for new, proof-of-concept or pilot programs are welcome.
Approximately 90 Generation Impact members and prospects gathered on Sunday, Nov. 11, to learn about the need in Fairfield County and the grant-making process. Catalina Horak, Executive Director of Building One Community (Generation Impact's first-ever grant winner) spoke about Generation Impact's grant process through the lens of a non-profit applicant, and discussed the impact the grant has made on their STEAM Club program and the students that participate.
Mary Lee Kiernan, President & CEO of YWCA Greenwich offered a keynote address that educated the girls on additional issues in the community, such as domestic abuse. Kiernan spoke about the importance of advocacy, and how the path to one's calling and career is sometimes circuitous.
Both speakers praised the girls for their participation in this program and for their commitment to working together to make an impact on the community.
Sunday's program also taught the group how to review and evaluate grant applications in preparation for the group's upcoming 'Big Review' on Jan. 26, when non-profit organizations' grant applications will be discussed and finalists will be selected. Issues discussed included mental health, teen homelessness, hunger awareness, as well as education & literacy.
The 2020 grant application is available at generationimpact.org/apply-for-grant
In Spring 2019, Generation Impact awarded its first-ever $10,000 grant to Stamford-based Building One Community, for the significant expansion of its Engineering Club which serves low-income immigrant children, primarily Hispanic, between ages 6-10, and addresses the need for more after-school enrichment programs for low-income immigrant children and the need to prepare more women for STEAM careers. Generation Impact's support allowed B1C and The Bruce Museum to adapt high school engineering curriculum for elementary school students and conduct 32 sessions over an eight-month period. Children's Learning Centers, Domus, and Open Door Shelter were 2019 grant finalists, and each also received a $1,000 operating grant from Generation Impact.
At every level, Generation Impact is structured to be both educational and philanthropic – to teach and encourage the next generation of givers to work together to make an impact in their community. The program is also designed specifically to accommodate high school girls' busy schedules, with only 3 events throughout the course of the school year. Girls who are interested in becoming more involved, are invited to apply for the leadership team (generationimpact.org/leadership-team ), which develops the grant application, recruits members, and plans the three 'big' events.
Girls interested in membership, local businesses wishing to donate to the grant and/or provide foundational support, and non-profits interested in applying for the grant can visit generationimpactffc.org
Tags:
Generation Impact
,
grant
,
greenwich