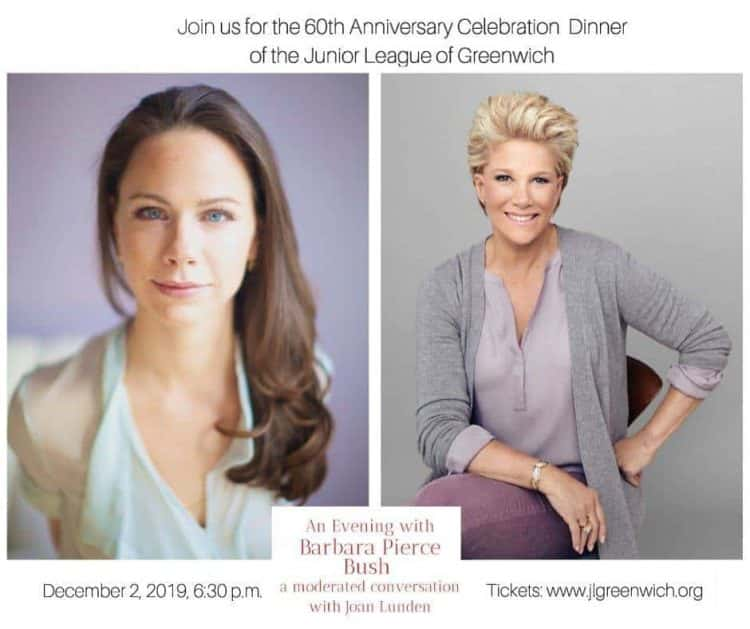 The Junior League of Greenwich (JLG) announces "An Evening with Barbara Pierce Bush," the culminating event of their 60th Year Celebration, which will take place on Dec. 2 at 6:30 p.m. at the Greenwich Hyatt. Author and journalist Joan Lunden will moderate the conversation with this young humanitarian. Members of the JLG, their guests, and community partners will be in attendance to recognize this important milestone in the JLG's history.
A 2004 graduate of Yale University, Barbara Bush is Co-founder and Board Chair of Global Health Corps (GHC), which mobilizes a global community of young leaders to build the movement for health equity. GHC was founded in 2009 by six twenty-somethings who were challenged by Peter Piot at the aids2031 Young Leaders Summit to engage their generation in solving the world's biggest health challenges. Bush and her co-founders were united by the belief that health is a human right and that their generation must build the world where this is realized. Since that time, GHC has placed nearly 1,000 young leaders on the front lines of health equity in Burundi, Uganda, Tanzania, Malawi, Rwanda, Zambia, and the United States, developing a cadre of creative, effective, and compassionate change makers.
Joan Lunden is an award-winning journalist, bestselling author, motivational speaker, and women's health & wellness advocate. For nearly two decades, Lunden greeted viewers each morning as the host of Good Morning America, making her the longest running female host ever on early morning television. She wrote a memoir Had I Known, which documents her battle with breast cancer, and became a prominent voice in the field, advocating for patients on Capitol Hill and working with organizations such as The Breast Cancer Research Foundation.
For more information, contact the Junior League of Greenwich at jlg@jlgreenwich.org or visit jlgreenwich.org