November 26, 2019
Camillo, Transition Team Getting Up to Speed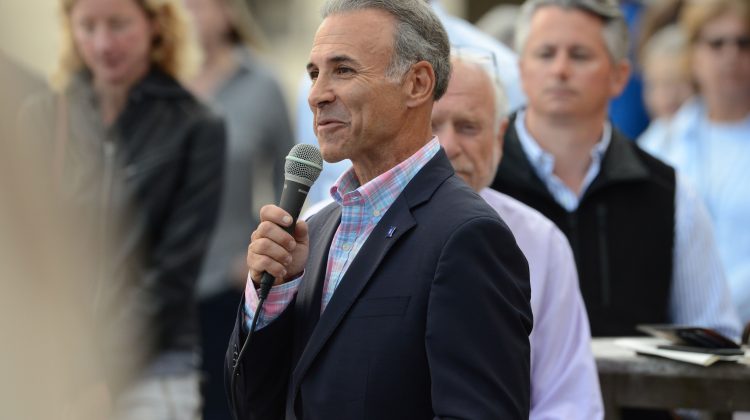 By Richard Kaufman
Sentinel Reporter
As Peter Tesei decelerates out of office, First Selectman-elect Fred Camillo is accelerating full speed ahead.
The transition from one administration to the next has a lot of moving parts, and a seamless changing of the guard would not be possible without a strong and unified transition team.
That's why Camillo selected a bipartisan team of three Republicans: Representative Town Meeting members Michael Basham and Dan Ozizmir, former Board of Estimate and Taxation Chair, Joe Pellegrino — and two Democrats: former Board of Selectman member Drew Marzullo, and former BET/RTM member, John Blankley.
Camillo has consulted with his team on various issues that Greenwich will face in the weeks, months and years ahead, and has sat in on many formal meetings at Town Hall, and informal meetings with constituents around town.
"I think you come to better conclusions if you consider all different viewpoints and sides of each and every issue," Camillo said of his bipartisan team. "They're people I know and trust. They're people who know government, they're well-respected and they can think outside of the box. They come equipped with ideas and have skill-sets that I think will be really beneficial not only to me, but ultimately to the town… They bring experience, institutional knowledge, bold thinking, integrity, honesty. They bring it all."
The advice and relationship from Camillo's team won't stop on swearing-in day, which takes place on Sunday, Dec. 1 at the Boys and Girls Club of Greenwich at 5 p.m. Camillo said they will be "an informal kitchen cabinet" of sorts for the administration, which will feature Camillo's running mate, Selectwoman-elect Lauren Rabin as second selectman and Democrat and Selectwoman-elect, Jill Oberlander as third selectman.
Outgoing First Selectman, Peter Tesei, has also helped with the transition. Camillo said Tesei "has been terrific" over the past few weeks, making sure Camillo is up to speed.
"The best part is, is he's not leaving town. He'll be a phone call away," Camillo said. "He's seen the town in different eras, he's worked with and had to deal with some pretty big challenges, especially when he first came into office [following the recession]. He's definitely a great resource and he's been terrific to me over the last three months."
Last week, Camillo posted a photo on social media of himself cleaning out his office up in Hartford. He acknowledged with a laugh that he still isn't finished quite yet. 
"It was a great honor to represent the district up there, and the town. I would've never met so many wonderful people had I not been working up there. Those are friendships that will last a lifetime," Camillo added, noting that those relationships can only be beneficial for the Town of Greenwich moving forward.
A special election to fill Camillo's seat in the 151st House District must be called by Gov. Ned Lamont within 46 days of Camillo getting sworn-in. 
Camillo said he will try to soak-in the ceremony this Sunday.
"I'm going to try and take it all in and think of all the people that helped me get here, and think of some of those who are not here today with us that meant a lot to me. I'll be a little sad during the day thinking about that part of it, but there will be a lot of excitement and anticipation," he said. "The time is here where you have to roll up your sleeves and start to work on the things you've been talking about [on the campaign trail] for months and months."
For more on the swearing-in ceremony and for a more expanded story on Camillo's transition team, be sure to check out next week's Greenwich Sentinel.
Tags:
First Selectman
,
greenwich
,
town hall
,
Town of Greenwich