November 6, 2019
Greenwich Fire Department Welcomes New Recruit, Honors Peter Tesei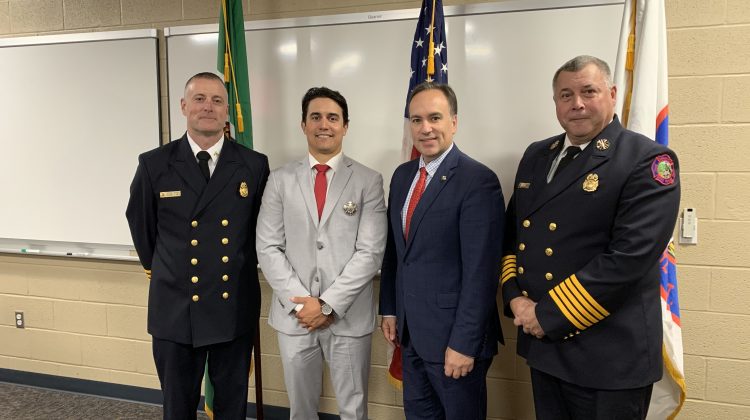 By Richard Kaufman
The Greenwich Fire Department welcomed a new firefighter into the ranks last week, and also honored outgoing First Selectman and acting fire commissioner, Peter Tesei, during a ceremony at the Central Station in downtown Greenwich. 
The ceremony was also a first for the town, in that a sign language interpreter was used to communicate with the hearing impaired, either in attendance or watching on News 12. 
GFD Chief, Peter Siecienski, said it was "an important step" for the department and for the town in accessibility and inclusivity. 
"We hope it's a stepping stone for us, so our first responders can also learn a little more about sign language and some basics so when we're in our emergency functions and the need arises, we'll have the ability to do that," he said.
Siecienski introduced the newest member of the department, Scott Teulings, who comes to Greenwich from Hamden, Conn., where he was a volunteer firefighter since 2017. 
"Our expectations are very simple. We expect that you're going to continue to develop and perform at the highest level possible. You're joining the most highly trained and competent individuals in fire service. By all accounts, you have the tools and you have the capabilities to allow you to excel in this career fire department," Siecienski added.
Teulings was born and raised in Hamden, and is a graduate of the University of Connecticut (Storrs). Teulings comes to the department having already completed 15 weeks of recruit training at the Connecticut Fire Academy. As a result, Teulings will be able to operate fire apparatus as soon as he's done with basic training. Siecienski praised Teulings for being a "self-starter". 
"This saves the department training time," Siecienski said. "He'll be on the streets of Greenwich probably 16 weeks sooner than our average recruit."
Teulings was then sworn-in by Tesei, who in his tenure as First Selectman, has hired roughly 35 firefighters and promoted over 30. 
"I wanted to become a firefighter for a long time," Teulings said after the ceremony. "I like helping people."
Tesei addressed the audience and thanked the department for their support and service over the years. Tesei did not seek re-election this year, so he'll be leaving office in the coming weeks.
"It's been a great honor to serve as both commissioner of police and fire, and to truly develop a deep and abiding appreciation for the work that you do," Tesei said. "I don't believe many people have an appreciation of the complexities that the role of a firefighter confronts on a day-to-day basis. You're putting yourself out there, you're giving it 150 percent to assure that lives are saved and property is salvaged."
Tesei said he will remain a "loyal and dedicated voice" for the department when he's out of office. 
Following his remarks, Siecienski spoke briefly about the impact Tesei has had on the GFD since he was first elected in 2007.
"There are few positions in the workforce that lets you look into a person's soul, and allow you to gauge their depth and substance as an individual," Siecienski said. "Since 2007 when Peter Tesei became the First Selectman and fire commissioner, we've been honored to be able to take that view and all that's come with it."
Siecienski stressed that Tesei always made public safety in Greenwich a main priority. 
He recalled that immediately after taking office, Tesei was faced with the Great Recession, and was forced to cut the workforce in Greenwich in excess of 45 positions. However, he was able to sustain public safety and spare any reductions in staff. 
Siecienski highlighted Tesei's involvement in various station renovation projects around town, such as the Glenville Station addition and renovation, the construction of a new training facility, and of course the Central Station and overall Public Safety Complex.
The Chief also noted Tesei's ongoing support of a new Northwest Fire Station. and the decision to equalize staffing to three-person engines.
"That has proven to be the most significant safety benefit and improvement to efficiency in this department," Siecienski said.
All of the new equipment protective clothing and apparatuses are "In a condition never seen before, all under [Peter Tesei's] command." Siecienski then presented Tesei with a plaque, which honors him for his 12 years of service to the town.
"I can't, nor can any of us, do justice to the mark that Peter Tesei has left on the department and the entire community," Siecienski concluded.
Tags:
GFD
,
greenwich
,
greenwich fire department
,
Town of Greenwich