October 23, 2019
Camillo, Oberlander Debate in Backcountry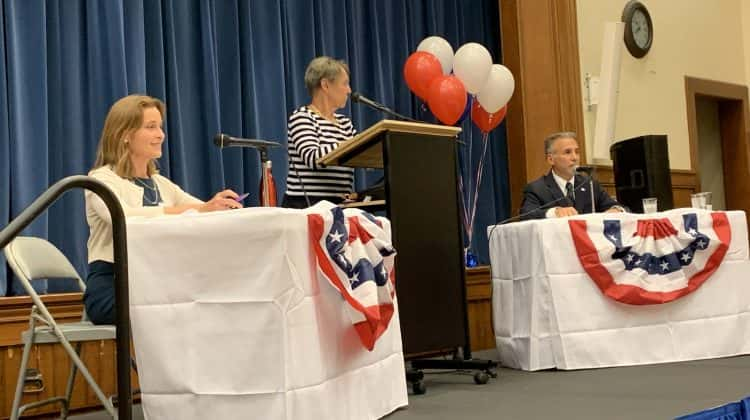 By Richard Kaufman
On Tuesday night in the backcountry in front of a standing-room-only crowd of about 300 people inside the Round Hill Community House, First Selectman candidates Jill Oberlander, a democrat, and Fred Camillo, a republican, faced off in their final public debate before the Nov. 5 election.
Sponsored by the League of Women Voters of Greenwich and moderated by Jara Burnett of the League, the candidates were asked questions which were submitted by the Round Hill Association, Northeast Greenwich Association and Northwest Greenwich Association. They were also asked questions that were submitted by the public.
Most of the questions focused on the backcountry.
The candidates were asked if they support a new fire/GEMS station in Northwest Greenwich. Current First Selectman, Peter Tesei, has been an ardent supporter for a new station over his tenure in office.
Before the last budget was crafted, funding for the station was approved by the Board of Estimate and Taxation, but it was ultimately cut by the Representative Town Meeting. The project is now tabled, pending a proposed independent fire study on needs and response times.
"As First Selectman, public safety is to me the most important thing that falls under your jurisdiction. It was my main focus at the state level where I introduced several bills dealing with public safety," Camillo said, adding that he wants to wait to see what the study reveals. "I can't wait to get this study because before we even have it, commenting on it doesn't make sense. In boxing, we used to call that 'leading with your face.'"
Oberlander, current chair of the BET, said she supports a new firehouse, and cited the fact that she voted for it every time it came before the finance board. She said it was the BET's hope that a diligence study on potential property would coincide with the independent study.
"If elected, I will put money in the budget to restart that diligence project, and I would also come up with a proposal to staff on an interim basis some professional firefighters, if we can work it out with the Round Hill volunteers as well," she said.
In order to protect large tracts of land and to guard against overdevelopment in the backcountry, both candidates said the community must remain vigilant.
They applauded residents for standing up and speaking out against a proposal that called for the construction of condominiums on property once owned by Mel Gibson on Old Mill Road. It was announced on Tuesday that the proposal had been withdrawn.
"Once you develop, it's gone. You don't get it back. Natural resources are so important. People move here not just for our schools, but for our natural beauty," Oberlander said. "As your first selectman, I will make sure that I will work with you to fight any development that is inconsistent with our community character back here."
Camillo said the zoning requirement that states lots should be four acres or more is "sacred" and must be protected.
"Even though the first selectman doesn't have zoning under his purview, you have a voice, and you have a powerful voice. As first selectman, I would use that voice," he said.
With property values declining in the backcountry, and values shifting closer to Greenwich's waterfront, the candidates were asked how to revitalize the backcountry.
Camillo mentioned his support of "satellite business districts" in the backcountry. He pointed to the Greenfield Hill section in Fairfield, and commercial stores in Nantucket, Ma., that seamlessly blend into neighborhoods as examples of what could be done in Greenwich.
"We have to be very careful, and look at the 80 acres that Aquarion has. That needs to be protected. That would be such a great shot in the arm for the backcountry so that it's not developed," Camillo added.
Oberlander said that keeping taxes low, as she has done as BET chair, would help revitalize the backcountry, along with investing in schools.
"We want to protect our natural resources. We also want people to buy our homes. Young families are the ones who are going to fill those bedrooms. We want to invest in our schools to improve the infrastructure that is deteriorating, that we have under-invested over the years, so we can bring more young families back here," she said.
The candidates were asked about capital projects in town, and what their priorities would be.
Oberlander said working on the remediation of fields at Western Middle School would be high on her list if elected.
"For three years, those fields have been closed with no plan. It is critically important for our children, for their health and safety, to have recreation options," she said.
Oberlander reiterated the need to invest in schools, because education is "the foundation and it's a public good, it's a right, we need it for our kids, we need it for our future." She also said the Eastern Greenwich Civic Center project, and the Dorothy Hamill rink, are "critically important recreation facilities for our community."
Camillo said he'd address environmental issues, namely the town's fields. "Years ago we hosted a state baseball championship, and we had to host it in Stamford. That's not good," he said.
He spoke about a desire to pursue public/private partnerships, the majority of which would be "philanthropic in nature," to get projects done.
"Greenwich is the best run town in the state of Connecticut, and has been for 90 years. That's not in doubt. But it's not perfect, and no town is. That's why we do what we do," Camillo said. "That's why I will push, along with [my running mate] Lauren Rabin, to engage our private citizens and our private organizations and work with them to get naming opportunities. We need to encourage and embrace that."
Oberlander countered, and said government needs to spearhead those projects.
"Government needs to be the primary seat at the able for government and public facilities to protect your, mine and the future children opportunities to use them," she said. "Yes, we have wonderful not-for-profit, philanthropic partners in our community, but we need to be the transparent, accountable party at the table."
Both candidates pledged to make the environment and climate change a priority if elected.
Oberlander said the town needs to plan ahead and be prepared for changes in the environment. She noted that under her leadership on the BET, a sea level change study was funded. "We should be doing more of that," she said.
Oberlander added that increasing energy conservation in town facilities, and preserving natural resources and protecting open space is critical. She noted that new buildings should be constructed with the environment in mind.
Camillo said he would create a sustainability and enhancement committee, that would focus on energy policy, aesthetics and quality of life issues. He said things like LED lights and sensor lights should be installed in town buildings, and solar panels should be used wherever possible.
Camillo highlighted the work he has done in Hartford for the environment, and in Greenwich, where he created Greenwich Recycling and helped lead the way on recycling 30 years ago.
"Under a Camillo/Rabin administration, I want to again make Greenwich the envy of the state environmentally," he said.
In closing, the candidates made their cases for why the public should vote for them.
Oberlander said her work in law and municipal government in New York City helped prepare her for serving in local government in Greenwich.
"Though [my family wasn't] born here, we put down our roots and we love it more each day… It's been an honor to serve as an elected official," she said.
Oberlander went through her accomplishments as BET chair, and said Greenwich needs to compete with other towns and states.
"I believe I have the experience, vision and values to lead Greenwich into the future," she said.
Camillo, a fourth generation Greenwich native, said his family taught him the value of giving back, which sparked his interest in volunteering.
"They taught me to listen to people and to be respectful. That's how I've gotten along in Hartford and how I've gotten a lot of bills passed in Hartford, because of being able to work across the aisle," Camillo added. "Bill Parcells , the old New York Football Giants coach, once said, 'You are what your record says you are.' My record says I've led in Hartford, and I've led here in town."
Before Oberlander and Camillo took the stage, Selectman candidates Lauren Rabin and Sandy Litvack debated. For more on their debate, go to greenwichsentinel.com
Tags:
backcountry
,
First Selectman
,
greenwich
,
Town of Greenwich