October 18, 2019
Column: Great Futures: Art and Science at the Bruce Museum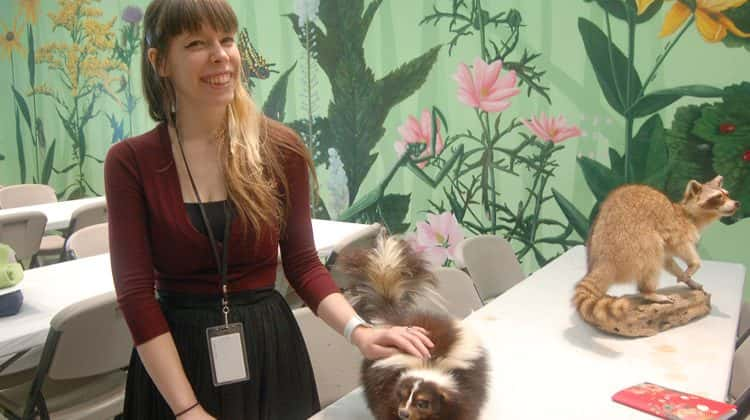 By Megan Brown
The Bruce Museum provides families with young children a variety of ways to explore art and science, particularly in how the two subjects intersect.
To accommodate the busy schedules of local families with toddlers or children in preschool or elementary school, Museum educators offer drop-in programs virtually every day of the week, with special programs on weekends.
The Bruce recently expanded its popular hands-on, drop-in programs for families on Sundays to take place on Saturdays as well. Held on alternating weekends, from 1:00 to 3:00 pm, the Museum's Art Adventures and Science Solvers programs allow families and children ages 4 and up the opportunity to make art or learn more about a science topic and take part in activities related to a current exhibition.
On Saturday and Sunday, October 19 and 20, Art Adventures explores Printmaking. The kids will learn about printmaking by learning the simple hands-on steps required to make a print. After sketching their design, applying it to the board, and inking the design, they'll be able to take their own artwork home.
For the next Science Solvers, Saturday and Sunday, November 9 and 10, the subject is Pine Cone Lab. At this drop-in workshop, kids will learn the basic scientific skills they need to run a lab by observing how pine cones respond to water.
The Museum has also recently enhanced its Sunday Family Gallery Tours by adding interactive activities based on Learning to Look®, an arts appreciation curriculum developed by the late Diane Darst and Sue Massey McTaggart. These tours, held most Sundays from 11:30 to 12:15 pm, take children ages 5 and up, and their caregivers, through the Museum's exhibitions, to engage in conversations about the arts and science.
Some weekends at the Bruce are special. Four times a year, the Museum schedules a seasonal Family Day. Sunday, October 27, 1:00 to 4:00 pm, brings us Fall Family Day: Autumn Rains and Fall Colors: Exploring the Bruce. We'll have a variety of crafts and activities for children, from watercolor painting to learning about minerals. Plus, the Greenwich Conservatory of Classical Ballet will be performing interpretive dances inspired by the contemporary Chinese brushwork exhibition on view in the Bantle Lecture Gallery.
Museum educators are also on hand throughout the week to help enhance your child's learning and growth with cultural experiences and good, ol' fashioned play time. An important added benefit for Museum-loving families is the Museum's location in Bruce Park, with its expansive playground just across Museum Drive. A lot of families appreciate being able to give their youngsters outside play, and then tour our galleries to exercise and engage young minds.
Generations of local children have grown up with Bruce Beginnings. Scheduled for Tuesdays, 11:00 to 11:45 am and 1:00 to 1:45 pm, this program is for children ages 2.5 – 5 and their caregivers, who explore the Museum's collections and exhibitions through picture books and hands-on activities. Topics rotate between art and science.
Bruce Beginnings, Jr. is for our youngest visitors and is held on the second Thursday of each month, 9:45 to 10:45 am. This program is designed to provide a welcoming and engaging museum experience for toddlers, ages 10-24 months, with their caregivers, through hands-on play and exploration inspired by the Museum's collections and exhibits.
Design Time is our newest drop-in program and features open playtime for children ages 2 and up to play and build with Imagination Playground blocks. With their uniform color, abstract shapes, and infinite configurations, Imagination Playground blocks encourage spatial learning, social development, movement, and above all, fun. The next Design Time takes place on Thursday, November 7, 3:30 to 4:30 pm.
These programs are free for Museum members and to visitors with general admission. Space is limited, so please see the Visitor Services desk upon arrival at the Museum to secure a spot.
Do you have an older child ready to take a deep dive into science? Then check out our Bruce Explorers: Thanksgiving Food Science Lab on Sunday, November 17, 1:00 – 2:30 pm. This drop-off program is designed for children ages 7 to 16. From determining the pH of cranberries to seeing what foods have a ton of sugar or starches in them, this lab will use chemistry to help us better understand the food we eat during Thanksgiving. The cost is $45 for Museum members; $55 for non-members. Register at brucemuseum.org.
Admission to the Museum will be free to all visitors through January 31, 2020, while the main gallery spaces are being renovated. During the renovation phase, the Permanent Science Gallery will remain open, as will the Bantle Lecture Gallery, Education Workshop, and Museum Store. The galleries will re-open on February 1, 2020, with the installation of major new art and science exhibitions.
For the complete listing of programs and events for families and children, please visit brucemuseum.org. For more information, contact Megan Brown, Manager of Youth & Family Programs, at 203-413-6740 or mbrown@brucemuseum.org
Tags:
Bruce Museum
,
greenwich