October 8, 2019
Proposed Commercial Mooring Field Off of Tod's Point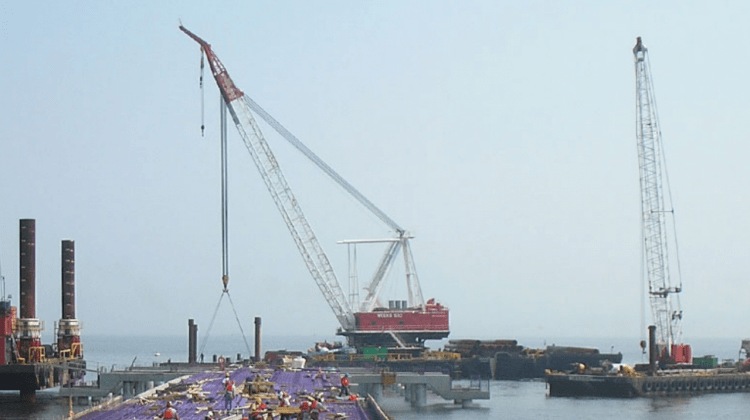 UPDATE:
Weeks Marine has withdrawn their application.
---
Weeks Marine, a New Jersey based company, is putting forward a proposal to build a fixed mooring field in Stamford waters within a mile of Tod's Point for their commercial barges. The proposal is in its initial phases, moving through the pre-application and public comment phase and into the Applications Review Committee of the Stamford Harbor Management Commission.
Barges operated by Weeks Marine are currently bringing sand to an O&G Industries concrete and asphalt plant in Stamford Harbor. These barges are using a shared mooring, which they say, is often unavailable for use. Compared to a parking lot by Weeks' representatives, the new commercial moorings would allow docking of as many as six massive barges, which would be towed in and out of Stamford Harbor by tug boats.
News of the proposal prompted Peter Tesei to organize a meeting over the weekend of Greenwich community leaders including, State Rep. Stephen Meskers, Harbor Management Commission Chairman Mike Van Oss, Shellfish Commission Chairman Roger Bowgen, Rocky Point Club President Bill Kelly, Sue Baker, and Chris Franco, Greenwich Point Conservancy President.  According to Chris Franco, the "group discussed the Weeks proposal, the regulatory process for the proposal, the involvement of the CT DEEP as well as a rough strategy for addressing this threat to the Greenwich waters, shellfish beds, and coastline."
They rallied the Greenwich community to attend the initial public comment portion of the meeting on Monday afternoon at the Stamford Government Center. As a result of their efforts, over a hundred people showed up to stand in strong opposition to the proposal.
The crowd included First Selectman Peter Tesei and candidates Jill Oberlander and Fred Camillo, State Rep. Steve Meskers and State Sen. Alex Bergstein, Shellfish Commission Chairman Roger Bowgen, Greenwich Harbor Management Commission Chairman Michael Van Oss, and Greenwich Point Conservancy president Chris Franco.
Franco has asked opponents of the proposal to consider donating to a segregated litigation fund which the Greenwich Point Conservancy, a non-profit, has set up to fight the proposal.
Because the project is under Stamford's jurisdiction, the application requires a commercial mooring permit approval from Stamford but Peter Tesei said the Town is also prepared to challenge the proposal on legal grounds.
The next opportunity for public comments will be at the Commission's meeting next Tuesday, Oct. 15 at 5:30 p.m.