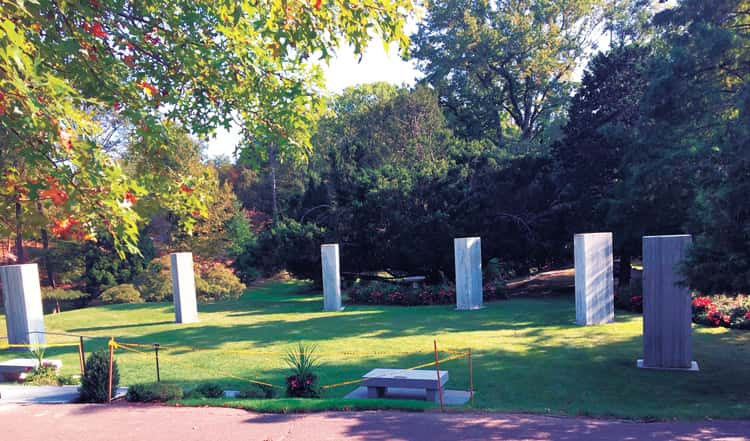 By Anne W. Semmes
The stardust has begun to settle on the scrubbed-white marble Monoliths now gracing the green garden in Cos Cob's Montgomery Pinetum Park after their recent rededication. Surely, a destination to celebrate Fall as "a really beautiful place of tranquility and reflection," so said Peter Tesei before the gathered group in his final days as First Selectman.
Bea Crumbine, Greenwich's Ambassador-at-Large, who hosted last week's rededication, had saluted the many forces of the Town, both public and private, that brought the saving and relocating of the six monoliths from their once hallowed stage-framing site of the 500-seat O'Neil Amphitheater, once listed on the CT State Register of Historic Places.
An explanatory plaque at the new Monolith site, thanks to Bea, lists the nearly 30 individuals and organizations who contributed time, money and talent. Chief among them, said Parks and Rec. board member Frank DiVincenzo, were Icy and Scott Frantz and their Foundation – "Their generous donation of matching funds concept made this endeavor come true."
In truth, it was women who initially saved the O'Neil Amphitheater and its Monoliths from destruction. The whistle blowers, to borrow a current phrase, were Florence Phillips, sister-in-law and neighbor of Horton O'Neil, the designer-architect, and her neighbor, Rene Seblatnigg. They were seeing the destruction and clear cutting of trees and shrubbery around the amphitheater. The new property owners had expressed no use of the theater and were set to "pulverize" it. "The unthinkable was occurring," said Josie Merck, another Cos Cob neighbor and friend of the O'Neil family.
David O'Neil, Horton's son, came from Massachusetts to say farewell to that wondrous theater of his youth, miraculously hand-built by a crew of six, including his father, and grandfather David, who'd inspired the theater and lost a finger in the building! Son David watched as "a backhoe rolled over the stage cracking the marble."
The important first move of these women was to contact Inland Wetlands who within an hour halted the destruction. But with no Wetland rules appearing to be broken – despite no permit being sought, the destruction continued. Enter Josie Merck with a plan and the funding to relocate the theater's 2,500 marble blocks to Sarah Lawrence College in Bronxville, NY. Bea then got a bee in her ambassadorial bonnet to save the monoliths, with Natalie Pray funding their removal and storage, just in time – leading inevitably to the Pinetum Monolith rededication day.
"We are here to celebrate a new piece of Greenwich history," Bea addressed the attendees, "and the saving of another older piece of Greenwich history." She then related some of that old amphitheater history.
But I have my own, as a former Lia Fail resident and friend of Horton and his wife Madelyn O'Neil, and this is the memory Madelyn left me with, aided by the O'Neil's oral history in Greenwich Library.
The year is 1940, when bachelor architect-designer and future sculptor Horton O'Neil had fallen for Madelyn Phillips, a Boston Brahmin actress-dancer. They'd known each other only weeks when she had come for dinner at his family's home in Lia Fail. After dinner, Horton had a surprise for Madelyn. "It was dark, a moonlight night," Madelyn recalls. "He said as we walked, 'I want to show you something.'" And there before them was the marble amphitheater. "It was just absolutely breathtaking. I couldn't believe my eyes. He'd kept it a secret."
During the war years the amphitheater went quiet, but it soon became a place of music, dance, and drama for select audiences. Greenwich Academy brought its Dance Club students for their Spring dance recitals, including 11-12 year old Jane Fonda. "I'll never forget it," Fonda shared on a book tour in Greenwich that night she danced as a fairy in Midsummer's Night Dream. "Brooke Hayward and I were dancing when Brooke swallowed a bug!" (Horton had designed the Henry Fonda family house in Greenwich.)
Alma Rutgers, who has served the Town of Greenwich many a year, was another Greenwich Academy dancer, following along after Jane. Signed on as an understudy for the lead role in the Polish Wedding Dance, Alma wound up playing the lead. "It was a magical theater," she recalls.
The O'Neils credited then Academy dance teacher. Mrs. Jean Pethick as "coming closer than anyone to doing the [amphitheater] justice and making beautiful things happen." After Pethick's retirement Alma would have Madelyn O'Neil as her dance teacher at the Academy.
Inevitably, some friction grew amongst neighbors seeing the influx of attendees to those private venues. There was a flickering moment one recalls when the Town came looking with the thought of moving it marble stone by stone to an accessible site on Town property – but at what cost!
Surely, one idea would have appealed to Shakespearian enthusiast and amateur actor David O'Neil, Sr. Horton and Madelyn share in their oral history of the Lia Fail Amphitheater a vision of the late and venerable Joseph Verner Reed, Sr. to use the amphitheater as the nucleus for a Shakespeare Theater. "With all those 160 acres of surrounding land available for a song," said Horton, " Reed was eyeing to add an indoor theater and sufficient parking areas – all adjoining the Montgomery Pinetum."
The Shakespeare Theater would take root in Stratford, CT, but funny thing that those Monoliths would find their way to the Montgomery Pinetum. So perhaps, the Cos Cob School will find the way to put on another "Greek Myth Festival" before the standing stones as they did in 1980 at the amphitheater. The O'Neils are on record as saying, they would "love to see this theater used in some marvelous way." But, never would they have imagined its double-sited future in the Pinetum and Sarah Lawrence College!