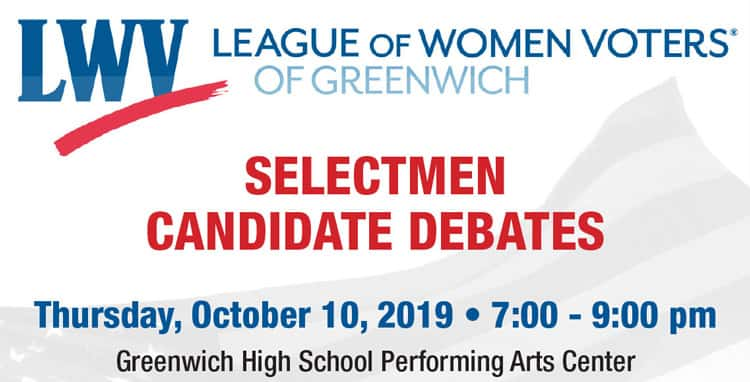 The League of Women Voters of Greenwich has planned debates for all contested races in this fall's municipal elections and encourages the public to learn more about the views of candidates who, if elected, will affect the operation of town government.
Selectman Debate
The Selectmen debates will take place on Thursday, Oct. 10, from 7 to 9 p.m. at Greenwich High School Performing Arts Center, 10 Hillside Rd. Jill Oberlander (D) and Fred Camillo (R), candidates for First Selectman, will debate in the first hour. Sandy Litvack (D) and Lauren Rabin (R), candidates for Selectman, will debate in the second hour. Kay Maxwell, former CT and US League President, will moderate.
The public may submit written questions. A bi-partisan Screening committee of League members will screen questions for duplication and relevance.
Tax Collector Debate
The Tax Collector debate will take place on Wednesday, Oct. 30 from 7 to 8 p.m. at the Town Hall Meeting Room, 101 Field Point Rd. Howard Richman (D) and Heather Smeriglio (R), candidates for Tax Collector, will debate. The Moderator is Marianne Pollack, former Stamford League President.
Board of Education Forum
The Board of Education forum will take place on Tuesday, Oct. 15 from 7 to 9 p.m. at Central Middle School, 9 Indian Rock Ln. The LWVG and the Greenwich PTA Council will co-sponsor the forum, moderated by Jara Burnett of the Greenwich League.
A non-partisan PTA Council panel will choose questions from written submissions by the PTAs and Council Committees.
Town Clerk
A scheduled debate for the Town Clerk position on Wednesday, Oct. 30 from 8 to 9 p.m. between Molly Saleeby (D) and Carmella Budkins (R) was cancelled due to the last-minute response and inability of Carmella Budkins (R) to participate.
For more information, email Joanne Stavrou at jojows@aol.com. Nov. 5 is Election Day. All citizens are encouraged to exercise the right to vote.