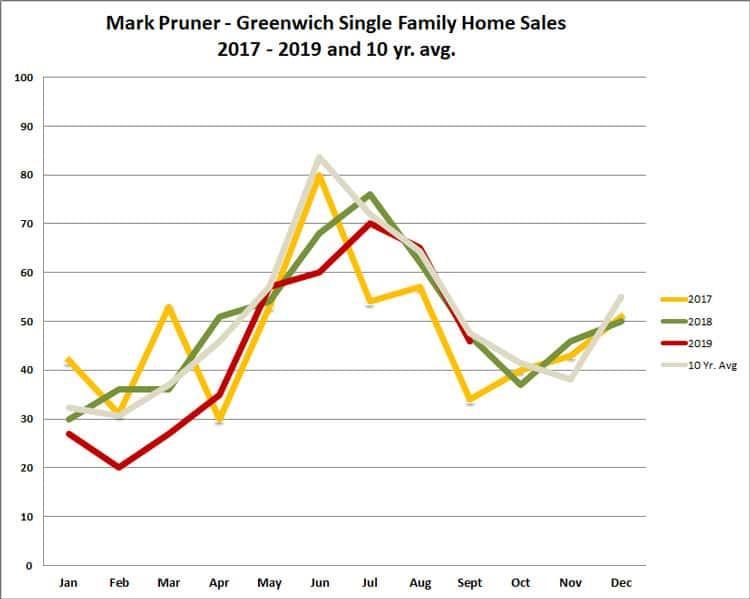 By Mark Pruner
The market for homes in Greenwich in the third quarter was good in Connecticut particularly compared to a major slump in sales and prices in New York City. We had 181 home sales in the third quarter of 2019 which was about the same as 185 home sales in the third quarter of 2018 and 184 sales which is our ten-year average for home sales in the third quarter.
Our inventory was down a little bit, 3% lower, as of the end of the third quarter. We had 622 listings down from 643 listings at the end of Q3 2018. This is after we had a poor first and second quarters in 2019 where inventory was up, and sales were down in Greenwich.
On the sales price side, the median sales price for a house in Greenwich, CT is up 2.7% to $1.90 million from $1.85 million last year. At the same time the average sales price for a house in Greenwich is unchanged at $2.43 million. I wouldn't however get too excited about this sales price increase.
Lots of people like to focus on these numbers as indicative as to what the value of individual houses are doing, but as I have written before the main thing that drives changes in the average and median prices is not a change in house values, but a change in the mix of what is selling.
The sales slump in the first half was more concentrated in the under $2 million market. As a result, median prices went up, while at the same time prices for high-end houses in mid-country and backcountry are continuing to see resistance from buyers. The result in higher end house prices have declined while our median price has gone up.
So, the third quarter was pretty average for sales, but this is excellent when you see what higher taxes have done to New York City. While Greenwich sales chugged along in the third quarter, New York City saw sales fall 11.5% overall and a huge 31.5% over $2 million according to a report by Josh Barbanel in the Wall Street Journal this week. The median sales price dropped from a high of nearly $1.4 million in the second quarter to $1 million in the third quarter or a drop of 25% in just one quarter.
This is because Gothamites with money are now getting soaked with an expanded transfer tax to once again stick it to their wealthiest NYC buyers. Gordon M. Summer, aka Sting, had signed a contract before the new tax kicked in and didn't pay any increase in tax on his $65.8M condo purchase. Stanley Druckenmiller, who bought after the new tax kicked in, paid $2.4 million on his purchase of a $53 million co-op according to the WSJ.
We shouldn't get too self-congratulatory as our own legislature passed their version of a mansion tax that will kick-in on sales over $2.5 in July next year. Even at the new higher rate, we are still talking about only a 2.25% conveyance tax on. This is a fraction of NYC transfer tax on higher end properties. Having said that you can expect that June 2020 will be a record month for high-end sales and July 2020 will be a bust for sales. Still, we are looking forward to welcoming more tax refugees from New York as Greenwich with its extraordinarily low property tax has done for decades.
We may actually be seeing a little of that right now as our sales from $6.5 – 10 million are up 75% compared to last year with 14 sales compared to only 8 sales last year. A significant part of this increase is the drop in prices of houses over $10 million to the next price range down. This has resulted in some real bargains for those at the high-end and who are fleeing NY's higher taxes.
I like to take a positive, but realistic, view of the market and what I've been touting as good sales is essentially unchanged from last year for the third quarter and this is after a slow first two quarters. This looks good in comparison to NYC, NYS and other parts of the state. Still we are seeing the changes of the federal tax law ripple through Greenwich and the rest of the northeast. The loss of the SALT deductions at the federal level and also the limit on mortgage deductibility have clearly had an impact.
You can see the mortgage deduction limitation If you look at the $1.5 – 2.0 million market. Most years our months supply is a smooth increasing curve with very low months of supply under $600K with ever increasing months of supply to the over $10 million market. We have a kink in the curve at $1.5 – 2.0 million. That price range has 1.25 months of supply, actually a little higher than the months of supply from $2 – 3 million. The $1.5 – 2 million price range has lots of young families buying who are particularly sensitive to the loss of deductibility on mortgages over $750,000. Since the mortgage interest payments aren't deductible for mortgages over $750K, inventory accumulates, and sales are somewhat lower.
Summary
Overall, it's good being average right now if you live in the northeast. Here in Greenwich, we are also seeing significant building activity. I drove a client down Sumner Road in backcountry Greenwich this week and there are three large houses under construction on this prestigious street just off prestigious Round Hill Road. People are investing some big bucks in Greenwich real estate not only for custom homes, but also for spec homes.
As for October we'll have to see. Our contracts are up 15% over last September, but it's only 9 houses to 69 houses. Still our 10-year average for sales in October is only 42 houses so stay tuned to see just how much NY and NYC can help out Greenwich real estate.
Mark Pruner is a real estate agent with Berkshire Hathaway and member of it's President Circle. He can be reached at 203-969-7900 or by email at mark@bhhsne.com