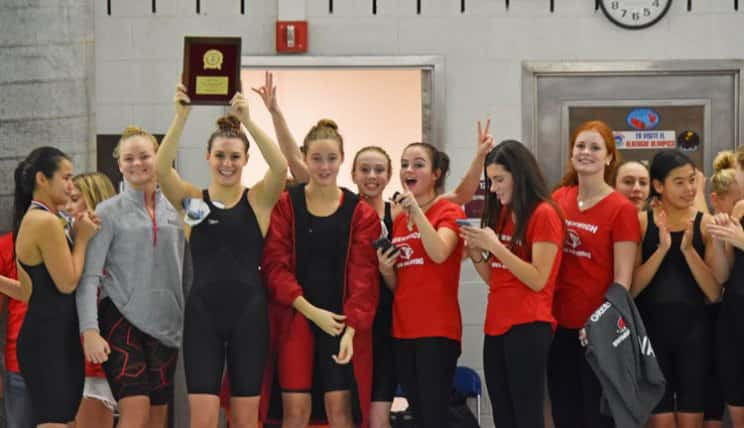 By Paul Silverfarb
From the start of the season, Greenwich High School head coach Lorrie Hokayem knew her team had potential for another special season. Despite losing some high-caliber talent from last year's team, Big Red has some strong underclassmen and very solid and experienced upperclassmen.
The Lady Cardinals were tested early this season, as they traveled to Ridgefield for a meet against perennial powers Ridgefield. And Greenwich passed their first test with flying colors by beating the Tigers 100-86 last week.
"I was so impressed with the way our girls swam and composed themselves," Hokayem said. "It's a young group, and they did a great job of supporting each other. There was a lot of enthusiasm on deck and we had a great start to the meet, winning the first four events. It was a great way to start, and it was a competitive meet. There were a lot of close races, and the score doesn't really show how close the meet actually was. Ridgefield is well coached and is a very hard-working team."
Pacing Greenwich during the meet was junior Meghan Lynch, as she took care of her competition in both the 200- and 400-meter freestyle events. In the 200-meter freestyle, Lynch touched the wall first with a time of 2:06.51. Her score of 4:30.34 in the 400-meter freestyle was over five seconds faster than Ridgefield's second place finisher.
"I knew Ridgefield would be a really close meet," Lynch said. "They are a great team. I think everybody was cheering really loud for us and we were all very focused. We knew it was going to be a big meet and that the races were going to be close, so we made sure everybody was focused on their race. It was great to see this team come out on top."
While Lynch wasn't to be denied, the GHS diving team helped clinch the victory for Big Red. Senior Reggie Frias took home top honors with a dive program that scored 250.85 points. In second was fellow senior Saylor Kirsch, who netted a score of 241.40 and was nearly 50 points better than the third-place finisher.
In addition, Samantha Ennis took first place in the 100-meter backstroke with a time of 1:07.77, and Catherine Li was golden in the 100-meter breaststroke with a time of 1:17.96. The foursome of Ennis, Lynch Li and Lexi de la Sierra took home the best time in the 200-meter medley relay, posting a time of 2:04.11.
With the victory, Greenwich improved to 2-0 overall, but more importantly proved to Hokayem that this year's team will be another team with very high expectations.
"I see a lot of potential with this team," said Hokayem. "We have a really strong, young core of sophomores and juniors. We also have a few outstanding seniors that are returning, especially our three divers. And they are all hungry. That's exciting. We've been really fortunate in the past few years to have some really excellent teams, and this group seems just as excited and ready to continue the tradition of Greenwich swimming and diving."
While Big Red is full of amazing swimmers and divers, they lost a bunch of points from last year's team. Allison Brea competed in the 500-yard freestyle last year and took fourth in the CIAC class LL meet. Kortney Knudsen competed in the same event as Brea and finished 11th overall. Emily Warner took home the bronze in the 100-yard freestyle during that CIAC class LL meet. In addition, the diving combo of Madeline Muldoon and Annabelle Pollack finished first and second, respectively, in the class LL diving finals.
And if that wasn't enough, junior Hannah Seward moved to Ridgefield and will be competing for the Tigers this season. Seward took home silver in the 100-yard butterfly event during the class LL finals.
Despite the losses, Big Red still has the talent coming back that could help the team reach great heights. This year's team will be led by the duo of Lynch and Frias.
It's feels really good that I have been chosen to be a face of this team and that my teammates see me as a leader," Frias said. "Hopefully, I can lead them on to a successful season. We have been working hard every single day, and we all come to practice ready to work. The coaches are great and they are pushing us. We have a great relationship with them.
Frias will be the one of the team's biggest strengths on the diving board and will be joined by Kirsch.
Lynch has been lights out this season already and will be a key contributor for the Cardinals in both the 200-yard individual medley and the 100-yard breaststroke. Last year at Opens, Lynch was the state champ in the 100-yard IM (1:59.57) and was also golden in the 100-yard breaststroke (1L92.75)
"It's really exciting because this team is so much fun," Lynch said. "To be able to represent them and cheer them on and have people look up to me is great feeling. We have been working really hard in practice and make sure everybody doesn't give up."
In addition to Lynch in the individual medley events, Hokayem said that several more will be adding key points for the Lady Cardinals this season.
Junior Samantha Ennis took home fourth last year in the 200-yard IM and third in the 100-yard backstroke at the class LL finals.
Fellow junior Hannah Handali will be needed in the sprinting events. Last year she competed in the class LL finals and took home eighth in the 50-yard freestyle and seventh in the 100-yard freestyle. Joining Handali as a sprinter will be junior Alexandra de la Sierra. As a sophomore, de la Sierra took home a top 15 performance during both the class LL 50- and 100-yard freestyle events.
"We are looking for people to step up," Hokayem said. "I am excited for the potential in those longer distance events, but I think we are going to work at it all year to try and fill those holes left by those seniors that graduated."
One of the luxuries for Greenwich High School is that they graduated a plethora of talented athletes this past June. And, while they are swimming for top collegiate teams throughout the country, Hokayem has a solid group of swimmers and divers that are back this year, in addition to people that will step up and fill the void left by those graduating seniors.
It's something the head coach doesn't take for granted.
"I think it's going to be a very competitive season for us," Hokayem said. "Not only did we graduate five top-quality athletes, but the year before that we had swimmers and divers that are competing at a very high collegiate level. But it's exciting to come in here and have a brand-new group of kids with the same motivation and wanting to excel and follow the tradition that's here at Greenwich High. It's exciting every year. This year's kids are a great group, have awesome attitudes, work their tails off, and I am excited to see what they do throughout the dual meet season and see how that hard work pays off in the end."
With the solid start to the fall season, Frias is hopeful that she can leave the program as one of the few seniors that have captured an FCIAC, class LL and Open championship every year of her high school career.
"I don't want to jinx it, but I would love to get the triple crown again," Frias said. "We have achieved that the past three years that I have been on this team, and hopefully we can do it one more time for my senior year. We lost a lot of people last year, but we have a lot of talented youth and great juniors and seniors on the team this year."