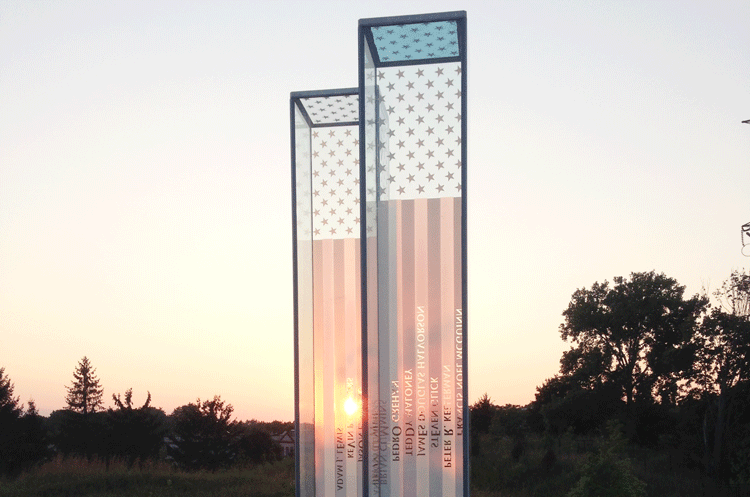 By Tim Dumas
This piece has been shorted and adapted from the original, printed following the ribbon cutting of the Memorial in 2015.
Early September 2015, and already the leaves had begun to fall. Susan Wohlforth walked up a pathway on a bluff overlooking Cos Cob Harbor and stopped, a little dazed, when she beheld the newly installed glass towers glittering in the sunlight. "I haven't seen these yet," she said.
"There's my husband's name," Susan said. She pointed to the tower on her left—a translucent representation of the World Trade Center's South Tower. On Sept. 11, 2001, Martin Phillips "Buff" Wohlforth, 47, managing director of the investment banking firm Sandler O'Neill, was at work on the 104th floor when United Airlines Flight 175 out of Boston slammed into the building some 20 floors below.
The 9/11 Memorial Greenwich opened to the public that morning—14 years to the hour after the terrorist attacks commenced. The glass towers stand atop a knoll as the memorial's quietly dramatic centerpiece; they look delicate as they glimmer and shimmer, but they're built to withstand hurricane-force winds and hostile winters. An American flag motif is frosted into the glass, and within the stripes of the flag appear the names of the 32 Greenwich residents, former residents, or family members of residents who died in the towers. A 33rd name, Donald Freeman Greene, is set in among the paving stones, representing the Greenwich man's death aboard United Airlines Flight 93 in the Pennsylvania countryside.
"It's absolutely beautiful," Susan said of the memorial and its rich landscaping. "I love the breeze. I love the comfort. I love the peace."
Another name on the memorial is Jason Sabbag. At age 26, he was witty and cultured, a champion tennis player, and a gifted financial analyst at Fiduciary Trust International. Jason had been signing a contract with a German counterpart in a conference room on the 94th floor of the South Tower at 8:46, when American Airlines Flight 11 struck the North Tower. The Port Authority told those in the South Tower to stay put until further notice. But Jason's colleagues on the opposite side of the building, having a clear view of the catastrophic damage, disregarded those instructions and made their way down. At 9:02 the Port Authority ordered the evacuation of both towers, and at 9:03 the second plane struck.
That morning, Jason's father, Ralph Sabbag, had commuted from Greenwich to his fuel brokerage office in New Jersey. When he arrived, he learned that the World Trade Center had been hit. "We couldn't get in touch with Jason because he was in the conference room, and the doors were closed," Ralph recalls. "So I panicked and said, 'Okay, let's go back to Greenwich.' On the way, I was passing Manhattan, and here was the plane going to hit the South Tower. I was looking at the plane going low, then straight toward it. Then boom. So I saw it live, the plane that killed my son."
That summer, as the building of the 9/11 Memorial progressed, Ralph could be seen there every day.
"They did a fantastic job, just superb," he said, sitting at the dining room table of his condominium in Cos Cob. "Now we don't have to drive to New York. For us, the ceremony is not going to be there any more, it's going to be right here, close to home. That's the point. You're sitting there, you see the two glass towers, you see the harbor, and the boats, it's just gorgeous. You can sit down and read or think."
Earlier Memorials
Ralph Sabbag is a member of the Greenwich Community Projects Fund, which, beginning in 2010, began an effort to build a new memorial. It would not be the first 9/11 memorial in town. There are several plaques and benches, and two substantial memorials that draw varied reactions. Last year the Glenville Fire House acquired a 1,700-pound beam from the World Trade Center and planted it upright in the grass. It is an arresting object, to be sure—rusted, brutish, and vividly reminiscent of the destruction.
Until 2015, our most complete 9/11 memorial had been out at Great Captain's Island—a bronze plaque on a granite stone in the shadow of the old stone lighthouse. The view sweeps down to New York. The site is beautiful and conducive to reflection. But this memorial, erected in 2009, did not escape controversy. Whose names should be inscribed on the plaque and whose should not? The original thinking had been that only the 16 who resided in Greenwich on 9/11 should be listed. That meant leaving off victims who had grown up or spent time here, like Teddy Maloney, Robert Walter Noonan, and Jason Sabbag. But Ralph Sabbag and others family members spoke up. In the end, 26 names adorned the memorial at Great Captain's Island.
What is difficult is Great Captain Island's remoteness. One can get there only by ferry (with a beach card), and the ferry lands on the "wrong" end of the island, so that visitors have to trek across a low-lying land bridge that gets partially submerged at high tide.
It's not the sort of place one can up and visit when the mood strikes.
"It's gorgeous, but nobody can get to it," Susan Wohlforth says.
'A huge responsibility'
Memorial-making might seem a simple matter. It isn't—not conceptually, not structurally, not politically, not financially. The great case study is Maya Lin's Vietnam Veterans Memorial in Washington, D.C. When Lin's concept—the now-familiar black granite V in which the names of the dead and missing are engraved—was judged the winner of an open competition in 1981, a fury erupted. The writer Tom Wolfe called the design "a tribute to Jane Fonda." Others described it as "a monument to defeat," "a black gash of shame" and "an open urinal." Today the memorial is almost universally beloved. One thing that makes it so is the careful thinking that went into it. As we read the rolls of the dead, we also see our own dark reflections, and this double image seems to say, "They are us, we are them." Thus fused, we cannot help but remember our collective loss.
In 2010 Charles Hilton Architects of Greenwich was selected to design the 9/11 Memorial Greenwich. Chuck Hilton, the firm's principal, took on the assignment with some anxiety. It wasn't simply that Maya Lin and others had profoundly changed serious memorial design. (A heroic figure in bronze no longer cut it.) It was that reactions to 9/11 were so varied, so personal. What would the families say? "There you are, standing up in front of them with your idea, and they have teary eyes and they're holding their breath about what you're going to say," he remembers. "And you're hoping that they're getting the meaning that you're trying to give it. It was a huge responsibility."
For his design, Hilton drew inspiration from the Towers of Light Memorial more than the Twin Towers themselves. "I remember, after Ground Zero was cleared, seeing those Towers of Light, and how ethereal they were," Hilton says. "The towers were back, but they had this kind of ghost-y effect. They were kind of there and not there at the same time. For me, that was very powerful. And I thought, 'I wonder if we could capture this in some kind of material form.' The element of the glass towers was born out of that."
In contemplating the design, Hilton also remembered the impromptu memorials that went up near Ground Zero after the attacks. "There were these memorial walls with flowers and people's names and little notes stuck in, and little flags. All these little symbols were incorporated. So the towers we've designed, we draped them with a motif of an American flag, and the victims' names from Greenwich in the flag. We're creating our own memorial wall of flags and names, kind of recalling those makeshift memorials that happened on the site." (To carry out the idea, Hilton enlisted R.G. Hull, an architectural glass specialist in New Canaan, which silkscreened the flag motif onto the glass using a ceramic paint or "frit"; and Ferra Designs in Brooklyn, which assembled the towers from the glass panels that Hull prepared.)
As a setting for the towers, Hilton designed an abstraction of the World Trade Center Plaza—the black granite terrace—with two spiraling walkways leading up to it. If you were to see the walkways from above, their design would resemble the mathematically perfect curve of certain seashells; a Fibonacci ratio, also referred to as God's fingerprint.
James Ritman, co-president of the Greenwich Community Projects Fund, remembers when the design was unveiled to the families a little over two years ago. "They were brought to tears," he says. "They were 100 percent unanimous—they loved it. There was not one negative comment, not even a little suggestion about what to do differently."
A Vision Made Real
Even as the concept came together, though, there were problems. How would the Greenwich Community Projects Fund raise the enormous sum—$750,000—needed to bring the memorial to fruition? Where was the memorial going to be situated?
"The project was languishing," recalls Peter Barhydt, who would eventually be called in to reinvigorate the team and rally the community. "They were even talking about giving the money back to people who had donated."
Jimmy Ritman remembers those days all too well. "You're looking at the situation, and there's no location, no money, no real support, and you're wondering, 'How is this ever going to get done?'"
A major turning point, Ritman said, was when they brought in Barhydt, who in turn recruited Ed Dadakis and Gervais Hearn. Together they led the re-launching of the memorial effort. Barhydt, according to Peter Tesei, "has an uncanny ability to develop wide-ranging community support and exemplifies a positive can-do attitude to bring together varied perspectives and produce consensus."
Dadakis initially had his doubts. "I'd been aware of the project for a year or so, and I thought it was a wonderful idea," says the longtime RTM member. "But it didn't seem to be moving anywhere."
Dadakis then joined its committee in a largely behind-the-scenes role. "So many people in Greenwich died or knew people who died," he says, noting that no other town in Connecticut suffered greater losses on 9/11. "This would be a centrally located place where we all could reflect on that horrible day, or rededicate ourselves to never forgetting."
Hearn recalls the early hesitance of larger donors, who were apt to say, "Yeah, but is it going to get built?"
Other people simply didn't know anything about the project—or the even new Cos Cob Park—and still others seemed to have succumbed to memorial fatigue.
But event by event, Hearn says, momentum began to build, and the project received donations from $1 to $50,000. "And these ripples of water kept going."
In the final push last December, a benefit concert featuring the immensely popular roots band Dispatch, of which Greenwich's Pete Francis Heimbold is a member, raised $75,000 at Garcia's at the Capitol Theater in Port Chester. Also on the bill were two Greenwich natives: singer-songwriter Caroline Jones and Ian Murray. Ian and his brother Shep, founders of Vineyard Vines, also designed a special commemorative tie and scarf to raise money for the cause.
Finding the right site for the memorial proved to be tricky. Proposed locations included the end of Steamboat Road, Roger Sherman Baldwin Park, Grass Island, Byram Park, and Tod's Point. Grass Island was the early favorite, since it was on the water, allowed a measure of privacy, and required no beach pass—but there was opposition. Roger Sherman Baldwin Park was the next best choice, but Hilton was less than thrilled. "Although it's a nice place, it's right on I-95, the traffic noise is whizzing by, and there's lots of other sculptures and memorials there. It felt crowded."
A host of approval hearings lay in wait for the yet to be built Cos Cob Park, but First Selectman Peter Tesei and Parks and Recreation Director Joe Siciliano—among many other advocates—nimbly helped shepherd the project past the briars.
Hilton, meanwhile, had approached landscape designers Kathryn Herman and Cheryl Brown of Doyle Herman Design Associates in Greenwich. Once the approvals for Cos Cob Park were secured, Herman and Brown devised a multi-layered scheme for the knoll surrounding the glass towers. There would be pin oaks, kousa dogwoods, and bayberry bushes arranged to shelter the memorial site from the parking lot and the homely power station nearby, and to orient visitors toward the water. In time, the knoll would be covered with blonde meadow grass, too, with the walkways winding through it.
Who will come?
The memorial was conceived as a serene place where loved ones could reflect and take comfort. But that is only part of the purpose.
"The younger people, all they know is that a building collapsed," Ralph Sabbag observes. "That's about it. But there is much more to it. This is a part of American history now." Susan Wohlforth says, "I love that school children will be brought here. I really hope that that does happen. I think seeing this would give them a whole context of understanding."
Looking out at the water, she said, "You might remember 9/11 anywhere. But when you really want to reflect, to remember the tragedy, but in a peaceful way, it's here."