August 28, 2019
3 Greenwich Detectives Upgraded to Detective First Grade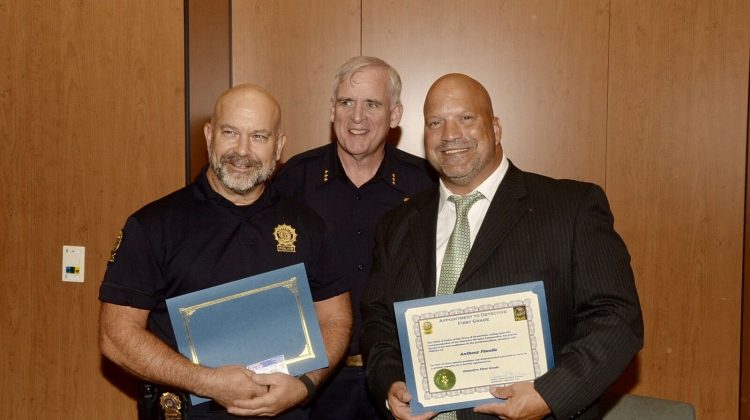 By Richard Kaufman
Tuesday was a historic day for the Greenwich Police Department, as Detectives Anthony Fiscella, William Weissauer and Mark Solomon became the first active police officers in department history to be promoted to Detective First Grade during a ceremony at GPD Headquarters. The GPD upgraded Pat Iorfino to Detective First Grade upon his retirement in 2015.
Police Chief, James Heavey, said the position of Detective First Grade was established to recognize detectives who have gone "above and beyond" in demonstrating excellent leadership, mentorship and investigative skills in major cases.
"They're really the masters of their craft," Heavey added. "It's a special thing to be a detective, but even more so to be some of the first Detective First Grades [in the Department]."
Heavey introduced Fiscella and Weissauer to family and fellow officers. Solomon was in North Carolina giving a presentation on cyber crimes. 
Fiscella, who was hired in May of 1989, currently works in the Investigations Section as an auto-theft specialist, but has investigated numerous serious crimes, up to and including homicides. 
He was described by Heavey as being the Department's "auto-theft guru and go-to person for when a car is missing." Fiscella served as a Field Training Officer and Court Officer, before being appointed Detective in December of 2003.
"This is really outstanding," Fiscella said after he was officially promoted, noting that the personal achievement ranks high on his list. 
"All of the detectives we work with here are top-shelf guys. Any one of them could have been made Detective First Grade. The officers in Greenwich I think are the finest in the nation," Fiscella remarked. 
Weissauer was hired in October of 1995. He served on various patrols around town, and worked as a Field Training Officer before he was appointed to Detective in February of 2002 specializing in forensics. He's currently a Forensics Specialist within the Forensics Section.
Heavey praised the Forensics Section for their work and contributions to many cases. 
"They make the job of justice for residents who are victims of crime much easier for all of us. They help solve crimes and prevent future crimes," Heavey said.
Weissauer said he was humbled by the honor, and credited the people he gets to work with.
"I've had the fortune of seeing other police departments [during my forensics training]. The caliber of officer that works here is extremely high. [Officers here] are extremely intelligent, motivated and hard working. To be singled out amongst that group of people is really an honor," Weissauer said.
Solomon has been with the GPD for 17 years, and works in the Investigations Section. He specializes in cyber and financial crimes, and is a part of the Secret Service Financial Crimes Task Force. He is also the Vice President of the International Financial Crimes Investigators Association.
Tags:
GPD
,
greenwich
,
Greenwich Police Department
,
Town of Greenwich