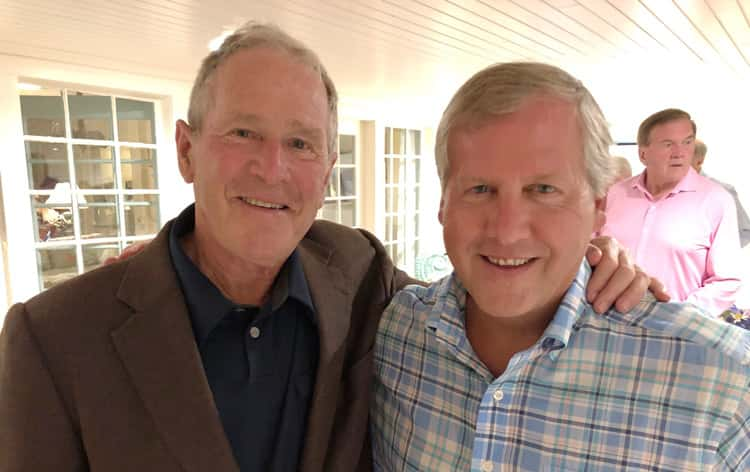 By Marek P. Zabriskie
I believe that everyone is like a book and has tremendous stories to tell, if only we take time to listen and learn.  I encountered several incredible such people over the past weekend. 
Craig and Debbie Stapleton were kind enough to invite my wife, Mims, and me to enjoy a weekend with them in Kennebunkport, Maine.  They also invited Secretary Tom Ridge, who started up the Homeland Security Department, and his wife, Michelle, Bill Harrison, former CEO of JP Morgan Chase, and his lovely wife, Anne.
Craig served as the United States Ambassador to Czechoslovakia and later France.  Together, we spoke about cyber-security, global politics, national elections, religion and an array of interesting topics.
Debbie informed us that her first cousin, President George W. Bush and his wife, Laura, were coming to dinner the following night.  As a former journalist, I had interviewed presidential candidates and people of all stations and professional backgrounds, but I have never conversed with a former President.
What an amazing evening we had.  The house was surrounded by the Secret Service, but the conversation inside could not have been more down to earth and enjoyable.
President Bush is as genuine a person as you will ever meet.  He puts people at ease, reaches out, is self-confident and candid.  If you ask him about various chapters of his presidency and life, he is forthright and honest, which is extremely refreshing.
On Sunday, we enjoyed attending church with him along with 200 other worshippers at the 8 a.m. outdoor service at St. Anne's Episcopal Church overlooking the ocean.  The guest preacher was the Rev. Luis Leon, former Rector of St. John's Church, Lafayette Square in Washington, known as the Church of the Presidents.  He delivered a wonderful sermon unpacking the meaning of the Lord's Prayer.
Later that morning, a few of us were permitted to jump from Walker's Point into the cold Maine waters, a Bush family ritual.  The President's daughter, Barbara, and her boyfriend joined us.
Following our swim, President Bush took us on a tour of the family compound, where each of George H.W. and Barbara's children have a home.  We toured the President's art studio and saw the most recent portraits that he had painted.  He has selected a new, timely and powerful theme for 44 portraits that will be introduced in 2020.
Previously, President Bush painted portraits of world leaders whom he personally met and worked with during his presidency.  He followed that with portraits of many wonderful military figures, who protected our nation's most-valued freedoms.
Now, he is capturing people both well-known and unknown united by a common theme, which has paved the foundation for our great nation in vivid, colorful portraits.
The President was first inspired to paint seven years ago after reading Winston Churchill's essay "Painting as a Pastime."  "I thought to myself, if he can do it, I can do it," said the President.
"The arts world was not my big constituency," he said.  "But I found a wonderful artist in Dallas who taught me how to paint.  She wasn't a big fan of my politics, but she taught me a lot about painting."
"Eventually, she said, 'I've taught you everything that I have to teach you.'  I thought, 'What am I going to do now?'  But then I met the man who taught her how to paint, and he became my teacher along with an incredibly talented, young African American artist, who is deeply spiritual.  They transformed my painting," recalled the President.
His first painting was a watermelon.  He later painted cacti, hats and family pets, until he settled on portraits and occasional landscapes.  The President created an art studio in his home in Dallas and one in his ranch in Crawford, Texas and most recently in Kennebunkport. 
"Over time, I developed confidence and freed up my strokes.  Lucian Freud and Wayne Thiebaud were two painters who had a big influence on my painting," he said. 
When President Bush speaks about painting, he speaks with passion.  He kept telling Anne Harrison, "When you go home, you're going to paint.  You have to paint."
"During my presidency, we granted asylum to every person who escaped from North Korea.  Only about 200 people took us up on our offer.  Laura and I personally support educating some of those refugees," noted the President, highlighting one of the areas that closely touches his heart and pointing out a portrait of a woman who escaped from North Korea.
"She would have been turned into a sex slave by the Chinese, but a Christian woman took her in and told her, 'You will be safe, because I am a Christian and will love you unconditionally.'  The North Korean woman did not know what she meant because she had never heard of unconditional love.  Laura and I are now paying to help that woman study to be a Christian minister at a seminary in Chicago."
While touring the President's home, which formerly belong to his parents, he showed us the dining room, where he gathered many of the world's great leaders during the course of his presidency.  It seemed odd that Putin, a man antithetic to American values, had stood in that same room.  "Putin's security detail trashed one of the nearby buildings where they stayed.  It was disgusting," said the President.
Knowing the President was a man of deep faith, I asked him about it.  "My father invited Billy Graham to Walkers Point.  He sat right there in our living room," said the President, pointing to the chair where Graham sat.
"I was sitting there drinking wine, and not taking it all that seriously when Billy Graham said, 'Some people are just born Christian.'  That got my attention.  I leaned in and listened.  Graham later spoke privately with me.  Then he sent me an autographed Bible that was easy to read, and I began to read it, and it began to transform me."
"The first thing that you have to understand in the spiritual life is that you're a sinner," said the President, "and boy am I a sinner."  He cited reading Tim Keller's books and sermons as a powerful influence on his spiritual journey.  "I'm always searching and seeking answers," he said.
When asked how he dealt with the pressure of being President, he responded, "Religion helped a lot.  It helps you to let things roll off your back.  Daily Bible reading has transformed my life.  I send verses that I read each day with lots of emojis around them to my sister, Dora, and to our daughters Jenna and Barbara.  Dora and I communicate a lot about the passages, and occasionally one of our girls responds to what I have shared."
"When I comes to stress, I think, 'If Jesus could suffer what he did, I can deal with whatever I have to get through.  It puts everything in perspective."  After 90 minutes, we left Walkers Point and thanked the President and his wife for an experience that we will never forget.  Every person is a tremendous book, if only we take time to listen and learn.  Some are unforgettable books like President George W. Bush, a fine President who life has transformed into a passionate artist and a person of deep faith."
Rev. Marek P. Zabriskie is the Rector at Christ Church Greenwich.