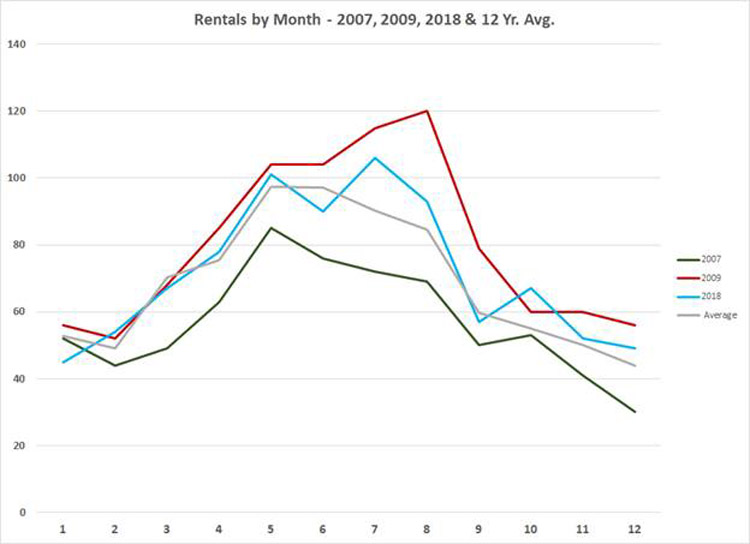 By Mark Pruner
On the single-family home side of the market, July was a better month. Our ten-year average of July sales is 73 sales and as of July 30th we have had 63 sales. We'll get more July sales reported on the 31st and late reports through the end of the week. We may well end up pretty close to the 10-year average of 73 sales and last year's 76 single family home sales.
We also had a decent month for high-end sales with 7 of the house sales being over $5 million and 2 of those sales being over $10 million. This compares to 4 sales over $5 million last July and only 1 sale over $10 million.
Contracts: Our contracts are also looking better with 95 contracts as of 7/30/19 compared to 86 contracts as of 8/1/18 last year. Now if we do more closings at the end of July, and don't get more contracts signed this number can go down, but it is still holding up and I have another contract to report. This bodes well for sales in August.
Inventory: On the inventory side we are ahead of where we were last year, but only a little with 652 house listings compared to 643 listing on August 1st last year.  At this point, it's just a 1% increase over last year, when we had been seeing double digit increases in inventory this year up until July.
Rentals: Our rental market has been busier this year. Through 7/30 we have had 572 rentals compared to 541 rentals through 8/1/2018 or an increase of 6%. The 2019 rentals will go higher with one more day in the month and late reporting rentals, including 3 rentals for me this month, one of which is waiting to be reported. (All of the numbers that follow are from the GMLS leases for all types of rentals; whether 10,000 s.f. mansions, condos or garage apartments.)
The rental market did vary somewhat because of the Great Recession. We had only 684 leases in the housing boom year of 2007, while two years later in the recession year of 2009 rentals jumped to 959 leases. After the Great Recession the rental market has been moved within a range with less variability from year to year. Annual rentals on the GMLS have varied from 739 to 875 closed transactions and usually averaged around 829 rentals a year.
Non-listed rentals: We have more rentals each year in Greenwich on the Greenwich Multiple Listing Service than we have house sales, but this is not all the rentals in Greenwich. Under $2,000 the majority of listings are done privately; either listed in the newspaper or put on Craigslist. Under this price we have between 100 and 150 rentals per year on the GMLS. The units available under $2,000 include everything from a one-room-garage apartments to smaller condos throughout town. If a place is livable in Greenwich and listed for under $2,000/mo. it goes pretty quickly.
Price Ranges: The heart of our market however is between $2,000 and $4000. Last year we had 357 rentals out of the 859 rentals leased on the Greenwich MLS in this price range. This number went as high as 375 rentals in 2009. In this price range, you're mainly looking at condos and apartments, though you do find some smaller houses for rent.
Once you get above $5,000, we mainly have single-family homes.  We still have a good number of rentals up to about $6,000 and then the number of listings drop off significantly. The last two years, however, have not been typical. In both 2017 and 2018, we saw a big bump in rentals from $6,000 – 10,000 going from around 90 rentals per year to 154 rentals in each of the last two years. Part of this jump in 2018 may be people that are relocating to Florida and other low tax states to avoid the new federal income tax limitation on SALT deductions. So far this trend is continuing with 107 rentals from $6,000 – $10,000 this year.
Above $10,000 rentals drop even more, to only 115 out of 859 leases last year. For the last two years we have seen an increase in rentals once you get above $18,000. In 2018, we had 28 rentals over $18,000 and in 2017 we had 33 leases. This was up from around 20 listings from 2007 to 2016. So far this year we already have 21 rentals that have closed above $18,000. (At the high-end these numbers should also be taken with a grain of salt since some of them represent summer rentals on Long Island Sound at a much higher monthly rate.)
Seasonality: We have a distinct seasonality in our rentals, though not as dramatic as we do for residences. Rentals peak in May and June and are slower from September to February. We also have a little bump up in August as people rent places before the start of the school year and also before the start of new jobs for recent grads.
For house sales, June sales are about triple what they are in February, while for rentals the change for the same period is only about double. In February we still have about 50 rentals while our house sales dwindle to only 30 sales and even less this year.
Revenue & Taxes: Real estate rental property not only generates rental income but also depreciation which you can offset against the property's income sheltering that income for taxes. At sale, however you may well have to recapture this depreciation deduction. In addition, rental properties are held for appreciation and provide asset allocation for owner's investments.
In Greenwich, we are always allowed to have tenants unless restricted by an association or deed restriction. While most rentals in Greenwich are for a year, we have a surprisingly robust Airbnb market with over 300 listings. So far, these short-term tenants have not proved a problem for their neighbors.
Summary: So total rentals are up 6% this year and rentals over $18,000/mo are up 3.5%. We presently have 293 active rentals looking for a tenant in all parts of the town. The good thing about rentals is that they come and go relatively quickly, so if you don't see something you like today another listing else should be along soon.
Mark Pruner is the editor of the Greenwich Sentinel Real Estate pages. He is an award-winning agent and  the Director of the New Development Division at Berkshire Hathaway New England. He can be reached at mark@bhhsne.com