July 19, 2019
Wildly Successful: Lessons from the Bald Eagle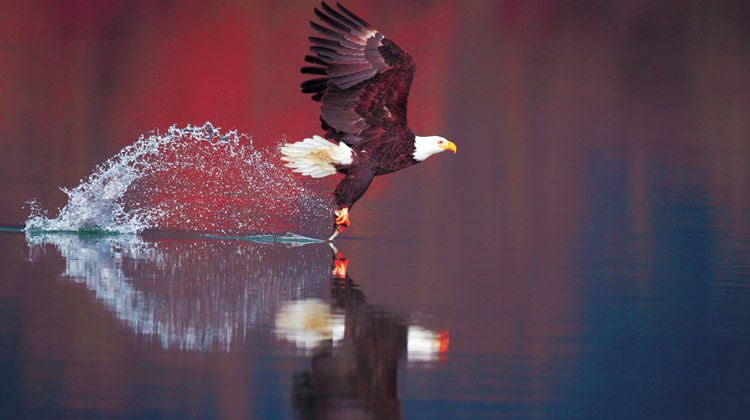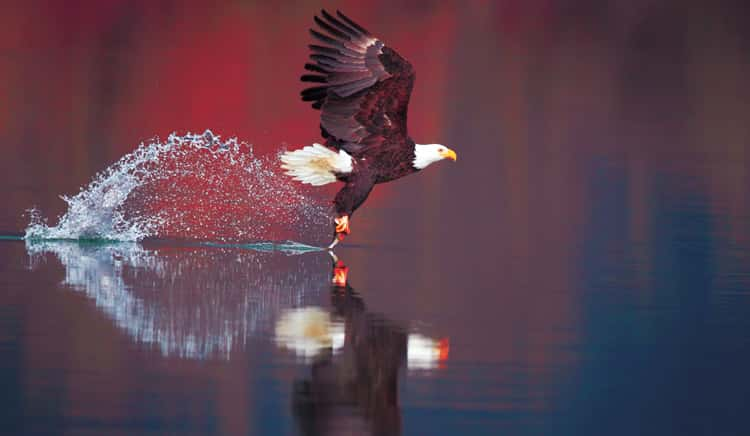 By Jim Knox
While the eagle is equipped with proportionately large and extremely powerful eyes conferring exceptional sight, it is the eagle's vision which truly leads to its success.
As kids, my brother Bruce and I explored Fairfield County's beaches. At first, hand-in-hand with our dad, we scanned the high tide wrack lines for sea shells, crab shells, and skate egg cases. To us, Long Island Sound was the ocean, and the ever-changing trove of ocean treasures never disappointed. In time, under our dad's watchful eye, we'd venture into the tide pools and the beckoning grasses of the salt marshes beyond to search for live creatures, yet before we'd climb into our Volkswagen Beetle for the ride home, we'd always gravitate back to the wrack line. We'd lift the brown and green kelp mats to reveal smoothed blue and green beach glass, colorful shells and untold sizes and patterns of feathers. For each of the largest, black, brown or white feathers, I'd hold them up and ask,
"Hey dad, is this an eagle feather?"
"It might be," he'd answer hopefully. "Let's find out."
Together, we'd look at the bird books and field guides he bought us and invariably, my "eagle" feathers proved to be those of Herring Gulls, Great Black-backed Gulls and other common  Connecticut species. Yet, I always held out hope.
Well, my hope held strong. A generation later, when my wife and I brought our kids to our local beaches or rivers to swim or hike, we answered the same question dutifully, yet this time there was a difference. The eagles were back. After a virtual absence of decades, the birds had returned, and with them, a sense of awe.
Boasting an 8-foot wingspan, 2-inch long, recurved talons and more than double the gripping force of an NFL lineman, the Bald Eagle is one impressive creature. This apex predator has no known enemies at adulthood and will prey on creatures more than three times its body weight.  It's no wonder this regal bird was selected as the national symbol of the United States of America. Yet the Bald Eagle has stiff competition. Other species which share its wild haunts possess equally impressive armament and skills. How does this iconic raptor gain the upper hand to rule from the Alaskan coast to the shores of the Potomac? How does it command dominion over resources for years on end?  In a word…vision.
Perhaps chief among the Bald Eagle's astounding adaptations is its unparalleled eyesight. Birds of prey, and eagles in particular, have been renowned for their eyesight for millennia.  Capable of spotting a fleeing mouse from more than a mile aloft, the eagle reminds us that the term "eagle-eyed" is no casual expression. Bald Eagles in particular employ their visual acuity to compensate for intense glare, reflection and refraction to detect swimming fish below the water's surface before executing their swift, precise prey grasp.
While the eagle is equipped with proportionately large and extremely powerful eyes conferring exceptional sight, it is the eagle's vision which truly leads to its success. In establishing territory, Bald Eagles very carefully select habitat dominated by water, which supports copious prey and especially advantageous nesting spots. Specifically, they seek the protection of massive limbs just below the crowns of towering trees adjacent to water courses which are both readily defensible and offer superior, unimpeded views of their hunting territory. In so doing, they are "commanding the high ground" in the intensely competitive world of predator and prey.
Once a nest site has been selected, the bonded pair begin the construction of their nest. This is a true investment and no small undertaking as it will be used season after season in rearing their eaglets for decades. The nests are immense, reaching widths up to 9.5 feet, depths up to 20 feet and weights in excess of two tons! What's more, Bald Eagles are sexually dimorphic, with females averaging 25% greater size and mass than males. This difference enables the pair to expand its range of potential prey by size and mass; with the females tackling larger, heavier prey while the males focus on smaller, more fleet species. This divide and conquer approach serves both parents and ever-hungry, rapidly-growing eaglets extremely well.
From the Mianus, to the Housatonic, to the Connecticut, soaring Bald Eagles are no longer a rare sight high above Fairfield County waterways. With rigorous protection, the birds have rebounded. If there was ever a species worthy of emulation, this is it. By investing in each other, dividing rearing responsibilities and selecting key habitat in which to raise their broods, each eagle pair displays a keen sense of vision, commanding prime access to resources from year to year and generation to generation. Having the privilege of caring for these magnificent creatures over the years, I have gained a unique and valued perspective on both their behaviors and the lessons those behaviors can impart. Ultimately, It is the synergy of the eagle's physical and behavioral vision which yields a creature that employs its strengths to conquer the day, and rule its world.                 
As the Writer and Host for PBS television's Wild Zoofari, Jim Knox has shared his knowledge of, and passion for wildlife with millions of viewers worldwide on Animal Planet. Jim has served as an on-camera wildlife expert for The Today Show, The CBS Early Show and Fox News and has been featured in The New York Times. 
Jim currently serves as the Curator of Education at Connecticut's Beardsley Zoo.  Jim is a graduate of Cornell University. 
A TED Speaker, as well as a corporate and keynote presenter, Jim enjoys helping audiences learn from wildlife and how to put those lessons into practice in their everyday lives.
In Greenwich, Jim is a Science Advisor for The Bruce Museum and a columnist for the Greenwich Sentinel.
Tags:
Bald Eagle
,
greenwich
,
wildly successful