July 11, 2019
Town Holds Ribbon Cutting Ceremony for Improved Steamboat Road Pier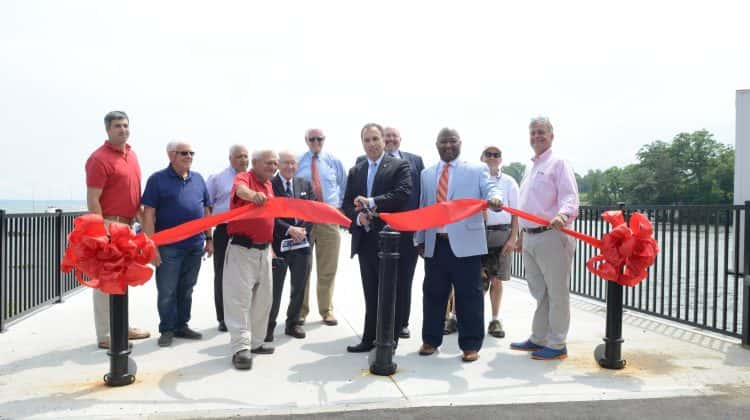 By Richard Kaufman
Sentinel Reporter
On a warm, sun-splashed Thursday afternoon, town officials and residents gathered on the pier at the end of Steamboat Road for a ribbon cutting ceremony to commemorate the completion of the Steamboat Road Scenic Overlook project.
The overlook, which features a beautiful view of the Long Island Sound, has been utilized by the Town of Greenwich since 1911, and it's been damaged and repaired numerous times by the Department of Public Works. In recent years, due to safety concerns over crumbling infrastructure, the pier was closed.
But now after several upgrades, the area is open for everyone.
The project was originally tagged at $600,000, but ended up costing around $377,000 to complete. Improvements involved the complete repair of the concrete deck and the replacement of missing stones in the foundation. New protective railings were installed around the perimeter of the structure, and bollards were installed as a safety measure for pedestrians.
"We've also improved the parking area, and dressed this area up to make it a little more of an attractive area to come park and relax for a short period of time and get some great views of Long Island Sound," said Deputy Commissioner of Public Works, Jim Michael.
But the most impactful improvement is that the entire Scenic Outlook area is ADA accessible.
"We rebuilt the structure from the bottom up," Michael added. "This pier used to have about a step-and-a-half down onto it from the parking lot level. We've made some improvements on that."
Tesei commended the DPW and members of town government for putting together a successful project, which he said had "a tremendous amount of public interest."
"This pier provides access to probably one of the most valuable natural resources this town has, which is the Long Island Sound. For those who do not have that direct access, this is an opportunity for them to gain it and to really experience the serenity of the Sound and the water and all it has to offer," Tesei added.
Alan Gunzburg, a member of the First Selectman's Disability Advisory Committee, was at the ribbon-cutting ceremony, and has worked with Tesei and the DPW to address accessibility issues on various projects in town.
Gunzburg said he previously felt uneasy walking near the pier because of cracks in the concrete and the lack of a railing. But now, he can enjoy the sunshine and the water comfortably.
"Our selectmen and our town government has gotten together and not only made the town even more beautiful than it is, but also gave access to everybody at the same time," he said.
Tags:
Downtown Greenwich
,
greenwich
,
Long Island Sound
,
Steamboat Road
,
Steamboat Road Pier
,
Steamboat Road Scenic Overlook
,
Town of Greenwich