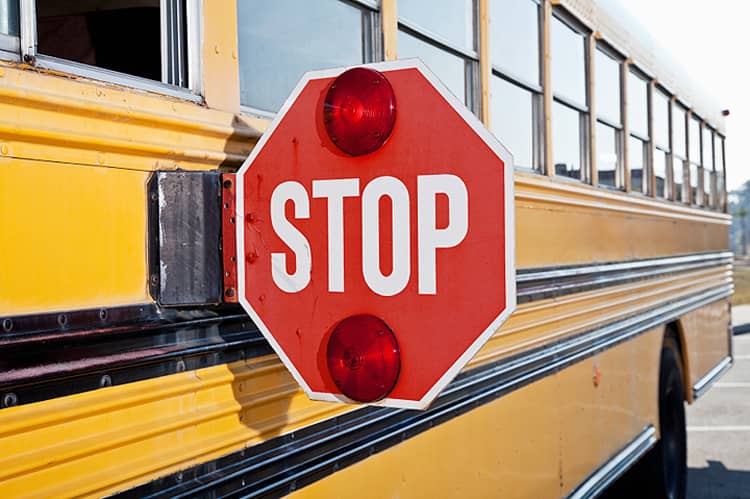 By Richard Kaufman
After several weeks of uncertainty surrounding busing for 2019-2020 for Eagle Hill School, an independent school for children with language-based learning difficulties, the Greenwich Board of Education unanimously voted in a special meeting Monday night to reinstate transportation for students in the fall.
Officials, parents and students from Eagle Hill, holding signs that read "We Need Buses too!" and "Why Eagle Hill?" sat and watched the board discuss the issue for nearly an hour.
In May, the Greenwich Public Schools Administration, lead by former interim Superintendent of Schools, Ralph Mayo, informed Eagle Hill that the district would not provide busing to them for 2019-2020 because the school's population of students who live in Connecticut was at 47.3 percent, with 44 students taking the bus.
According to state statute, public school districts must provide transportation to private schools if at least 50 percent of the student body population lives in Connecticut.
After protests and outcries from parents and Eagle Hill administrators last month, the board decided to review the decision.
In a memo to the board in late June, Mayo urged it to uphold policy and deny busing for Eagle Hill, and to be consistent to schools who meet the criteria and to those that don't so as to not set a precedent.
He also said that while although it's difficult to determine the cost for transporting 44 students because routes haven't been completed for 2019-2020 yet, the transportation department said it costs the district $3,738 to transport an individual student per school year.
"I see this as nothing but potentially divisive. This is taking away from somebody else. On the face of it, this just sounds to me really unwise. For some of us who were around for the start-time change [at Greenwich High School], we learned painfully how busing actually works. It's not a game of Jenga, you don't just take one out. It doesn't work that way," said board member, Peter Sherr, on Monday to applause from the Eagle Hill audience. "It may be that we would save nothing by taking Eagle Hill out. It may change nothing in our transportation network. I would leave this alone and not accept this recommendation. It's too disruptive."
The board voted 8-0 to provide busing next school year to those that received it in 2018-2019, while reviewing transportation policy for the future.
"I would suggest, especially since we have a new Superintendent who is going to be looking at special education, that we say for next year, we're going to override the decision the administration made, but we're also going to come back with a revised policy which is a reflection of the board," said board member, Kathleen Stowe.
Board vice-chair, Jennifer Dayton, said she was "annoyed" that Eagle Hill submitted its student population data to the board in January after the board had to seek it out and the district's budget was passed in December. In October, private schools report their data to the state.
"That's not very collaborative behavior. I'd like to have the data that shows us exactly how much more it's going to cost us after all of the logistical planning. I really can't see a way to base this decision tonight on solid data. I don't have a cost number, I don't know how many other students out there in Greenwich will come forward, and I think this is just a terrible sequence of events that did not have us properly budget. We don't want to carry that forward into the future," Dayton said.
Two other private schools in Greenwich, Carmel Academy (24 Greenwich residents) and the Japanese School (11 Greenwich residents), don't receive busing. Some board members were concerned about students from other schools requesting busing in the future.
"If we can't figure out, if those few students come forward, how to get them on a bus that's driving past all these schools anyway, then we probably have a bigger problem," Sherr said.
Board member, Meghan Olsson, said ending busing for Eagle Hill would change a families needs and work schedule.
"I don't think it's fair to have this decision come so quickly to parents who are expecting busing in September," she said.
Eagle Hill supporters cheered loudly after the vote to reverse the Administration's decision. Carolyn Tarpey, whose son is going into seventh grade at Eagle Hill in the fall, was happy after the meeting was adjourned.
"I'm a single working mom, and I depend on the bus service to be able to bring Henry home," she said. "I was very worried when this came up. I didn't know what I was going to do. I'm very thrilled with the decision."
Another parent, Patricia Boguslaski, was happy that her son Robert, a fifth grader in the fall, will be able to take the bus again.
"I'm relieved," Boguslaski said. "We're cautiously optimistic that [the board] is going to still make good decisions [in the future]."