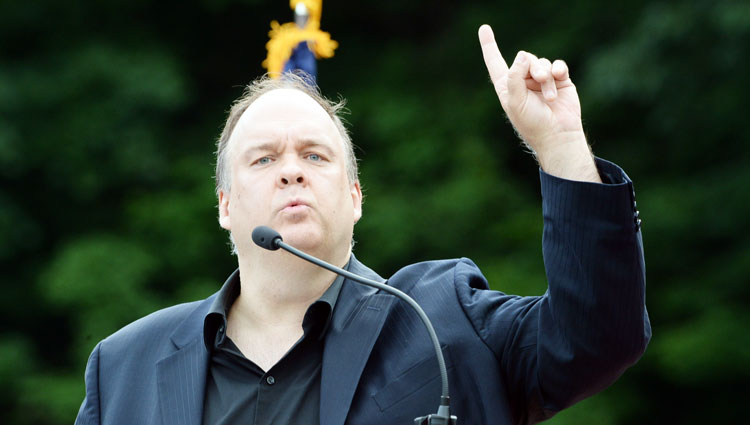 By Richard Kaufman
Sentinel Reporter
On a humid and partly-cloudy Monday evening that had no raindrops in sight, a sea of red and white filled Cardinal Stadium for Greenwich High School's 150th commencement ceremony.
As Pomp and Circumstance played in the background, compliments of the Cardinal Band, 677 graduating seniors filed into their seats on the turf, waving to family, friends, faculty and staff.
The ceremony featured several speakers, each of whom looked forward towards a bright and hopeful future.
The commencement speaker was Greenwich alum (class of '81) Rob Mathes, an Emmy-winning, Tony and Grammy nominated music arranger, composer, producer and director, who has worked with the likes of Elton John, Beyoncé, James Taylor, Jay-Z, Aretha Franklin, Stevie Wonder, Eric Clapton and Tony Bennett.
Mathes talked about what he would say now to his 18-year-old self as he was graduating from GHS.
"I'd say two things. The first would be: people around you have entire worlds to offer up. You're going to miss out when you don't pay attention. Listen, listen hard," said Mathes.
Matthes told a story about how listening changed his life. One night during his freshman year at Berklee College of Music in Boston, Mass., Mathes rented what he thought was a record by renowned jazz saxophonist, John Coltrane, from the tape library.
"I put the tape in and I immediately heard an orchestra," Mathes said, noting that something stopped him from returning it right away. "These were sounds I never heard before… It was Gustav Mahler's Sixth Symphony."
Mathes then became heavily involved with classical music, which opened up opportunities in his career in later years. "I listened, and it changed everything," Mathes said.
"The second thing I would tell myself: be kind to yourself," Mathes added. "Give yourself a pass every once in a while. Your future is not going to be a straight line. You're going to screw up. It's okay, be kind to yourself, and by connection, others."
Following his remarks, Mathes and the GHS Chamber Singers performed a song written and composed by Mathes, titled Cup of Cool Water, which served as a metaphor for the graduates' journeys from birth to young adulthood.
Class President, James Heavey, who was also celebrating his birthday, touted the class of 2019's achievements in academics, athletics and the arts.
"This is just the beginning," Heavey told his classmates.
Heavey urged the graduates to look around and soak in the moment.
"Look at your classmates. These are people who are going to big places. So far, each and every person in a cap and gown today has displayed some form of initiative to overcome a large challenge and develop themselves as a person," he added. "We stand among greatness. Let's keep pushing each other and let's keep chasing perfection. Let's never give up, and let's have each other's backs. Let's go forth and conquer."
Joe Konno, Nicholas Liu, Christopher McDonnell, Anna Meurer and Rahul Subramaniam gave the Salutatory Addresses, as they spoke about their experiences at GHS.
Jovita Li, co-Valedictorian, said that valedictorians often mention the phrase "be yourself." She urged her fellow classmates to think about the meaning, and to embrace change and take control of shaping the life you want.
"All the world is a stage, and we have many parts to play. So when you hear the words be yourself, you should ask, which one?" Li said, mentioning the roles of student, friend or sibling. "We will be confronted with many difficult choices that will define us. I hope that all of you will be able to make those decisions with confidence in yourself, whichever self that is, without regrets and what-ifs."
Monique Nikolov, co-valedictorian, said that as a freshman, walking into GHS was daunting because everything was so big, and it took time to get used to her surroundings. Now, after graduation, Nikolov said her classmates will have to adjust again as they go out into the world.
But she offered some words of support to her classmates. "Everything gets easier as we grow into who we truly are," she said.
Nikolov, who also served as the Class Treasurer, presented this year's class gifts, which included new red benches for the Performing Arts Center.
Outgoing Interim Superintendent of Schools, Ralph Mayo, who will be the Interim Headmaster at GHS beginning this summer, said a lot has changed since he graduated from GHS in 1971.
"But one thing has not changed: how special it is to graduate from Greenwich High School," Mayo said.
"You've all worked hard to get here today. You've had teachers who have held you to a very high standard, and a community that has high expectations for all of us. But remember to have some fun along the way, as you will be challenged again and again along the various paths you have chosen to take from here. Be kind and empathetic towards others, and volunteer wherever you can," Mayo added.
"I know there will be many more [milestones], but always remember how proud you were to be a Cardinal, and how high you were able to soar."
Current Interim Headmaster of GHS, Rick Piotrzkowski, was the final speaker of the evening, and presented the class of 2019 to those in attendance. He told the graduates to stand up and wave to those who have supported them over the years.
Piotrzkowski then mentioned some of the statistics and accolades which make this graduating class special.
The class of 2019 comes from 44 countries and speaks 20 languages at home. Sixty-three percent of the class participated in academic or athletic teams over the course of high school. Athletic teams captured 23 FCIAC championships, and 27 state championships as a result.
Ninety-eight percent of the graduating class participated in the arts in one form or another.
Of the 677 graduates, 596 students completed internships, 28 completed senior projects and over 60 percent of all seniors took and passed at least one Advanced Placement exam.
As a result, GHS was ranked in the top five percent of all U.S. high schools, and among the best public high schools in the state of Connecticut.
Piotrzkowski rattled off words like diverse, compassionate, creative, hard working and resilient to describe the graduates. He mentioned the many water leaks and floods at GHS this school year, which the class always adjusted to and bounced back from.
He closed by offering the graduates with some parting words of advice.
"Time is a precious commodity. Please take risks. Step out of your comfort zone. Whatever path you choose, take the time to enjoy the journey one day at a time, one moment at a time," said Piotrzkowski.