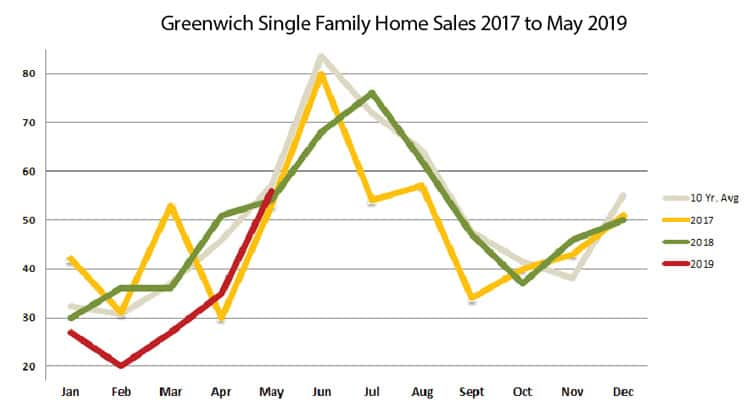 By Mark Pruner
Many years ago, I took Taekwondo classes. When we would spar, my instructor had a tactic where he would feint three quick kicks to my head and pull them back. Each time my arm would go up to block the kick and then come down to be ready for his next move. The fourth time the kick would start out looking just the same, and I again raised my arm to my head to block the kick, but this time he'd go for my now exposed ribs and connect every time. It didn't matter how many times he did it I'd get kicked in the ribs every time because my instincts told me that fourth kick was also headed for my head.
This is kind of like the May market. We had three down months and the first two-thirds of May looked to be just the same and then sales picked up. We closed the month of May with 56 sales and 24 of those sales were in the last 10 days of the month. Those 56 sales were 2 more than last year and just one less than our 10-year average. So, all in all an average month, which looks pretty good after 3 down months.
The corollary of more closings is fewer contracts waiting to close. So, we are down 24 contracts from last year to 108 contracts this year, but I'll take sales over contracts any day.
On the inventory side we are still up at record post-recession levels with 738 single family home listings, up 51 listings from last year. This extra inventory and slower sales from February to April means that for the whole market we are up 5.7 months of supply to 22.4 months compared to last year. This is high, but it's lower than the 25.7 months of supply we had at the beginning of May.
Backcountry sales up
That the 5,000-foot view, but the situation is more nuanced as you get to treetop level. For the month of May, it's the backcountry trees that are sticking up particularly high. Last year we only had 13 sales in backcountry at the end of May 2018 with 4 of those 13 backcountry sales in May. This year backcountry sales are up 70% with 22 sales and 10 of those sales were in May. (I have two listings in backcountry, and they are both getting a lot of activity.)
It's not all rosy for backcountry as half of our inventory over $5 million is in backcountry. Townwide in that price range we had only one sale in the month of May out of 142 listings. June will be better as we have 10 contracts over $5 million waiting to close. The lack of sales in this price category is worrisome as so much of our total volume is in that section, but the legislature is working to increase sales there as you can read below.
Backcountry's 22 sales do add up to $79 million in sales, second only to the mega-section, South of the Parkway, which has 40 sales totaling $106 million. In third place Old Greenwich has 30 sales, which total $75 million. Old Greenwich's days on market is 150 days for sold properties versus 258 days for backcountry.
May sales up to average
When you look at the sales just in May it's a mostly average month with two areas that stick out. One is the poor sales over $5 million, though inventory is lower there. The other is the jump in sale in the $2 – 3 million range where we are up 10 sales over last year 42 sales YTD. When you map these sales compared to last year, the 2019 increase in sales are mostly in the southeast in Old Greenwich, Riverside and Cos Cob.
This price segment also has the highest increase in inventory, up 18 listings from last year to 165 listings. This segment has the most inventory and the most sales and it equates to 19.6 months of supply, which is not great, but is still down from 21.0 months of supply last year and this includes our poor February to April sales. If you annualized the May $2 – 3 million sales, you come up with a pretty good 10.3 months of supply.
Our $1 – 2 million price range actually has more listings at 176, but this is traditionally broken down in to two segments above and below $1.5 million. It's a good thing, because this year, as we often see, the $1.5 million price is a break point for demand changes. Below that price range we are looking at less than a year of supply, particularly when you add in contracts, which show where the market is going. Above that price range you have more than a year's supply and above $4 million you are looking at more than 2 years supply.
The New Higher Conveyance Tax
Our legislature is doing what they can to encourage sales above $2.5 million for the next two years. They increased the conveyance tax for sales over $2.5 million by 1% to 2.25% starting on July 1, 2020. The last time the conveyance tax was raised was in July 2011. That month the conveyance tax was increased by only 0.25% all price ranges. The result was that, the prior month, June 2011, was our biggest sales month ever with 114 sales when we normally have 83 sales.
An unique, and possibly unconstitutional, feature of this new tax is that after 2023, the tax is refunded if you don't move out of the state. That kind of burden on interstate commerce will have a tough time getting past the U.S. Constitution's commerce clause.
This tax is aimed squarely at the Gold Coast towns of Greenwich, Darien, New Canaan and Westport, and also Fairfield which has been quietly putting in a fair number of sales over $2 million to join the "golden" four. Of these towns, Greenwich has the majority of $2.5 million plus sales with 196 sales last year. In the rest of the state, there were less than two dozen sales over $2.5 million in 2018.
This tax won't raise a lot of money in the just passed $43 billion budget. Last year we had 196 sales that sold for $2.5 million or higher. These sales totaled $870 million, when you subtract the $2.5 million base and apply the additional 1 percent you get an additional $3.87 million of conveyance tax from Greenwich.
So why would the legislature pass a tax that will only raise a tiny fraction of a percent of the $43 billion needed for the budget? It all goes back to Hartford tradeoffs. Senator Looney and others wanted to raise the capital gains tax, the top income tax bracket and other changes that would impact lots of Greenwich residents every year and not just when they sold their house. This would have had much more impact on the housing market, so given the choice between a higher conveyance tax and higher income and capital gains tax, I'll take the conveyance tax. What I can tell you is that June 2020 will be a really good month for high end sales.