May 15, 2019
Greenwich Catholic School Students Honored for Science Fair Project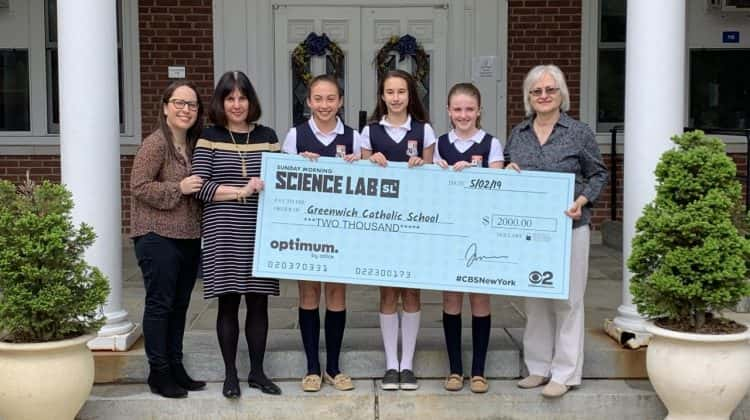 By Richard Kaufman
Choosing the right sunscreen this summer should be a lot easier, thanks to three students from Greenwich Catholic School.
Eighth graders Emily Cook, Catherine May and Carmelia Zuniga were honored during a school-wide assembly on May 2 for their science fair project, called "Factor Fiction: A Sunny Project," which studied the effectiveness of different SPF levels to find the optimal SPF level for sun protection.
The project won the school's science fair project, and took second place for a middle school team at the Connecticut Science & Engineering Fair, in March.
"Our students have a tradition of excelling at the CT State Science and Engineering Fair, and I'm thrilled that their efforts received such a well-deserved recognition," said GCS Upper School science teacher, Carol Ann Lutz in a release from the school.
Most recently, the students had the chance to reach a wider audience when they were chosen as winners of the CBS Sunday Morning Science Lab program, sponsored by Altice USA. They appeared on the show to demonstrate their project and were awarded a $500 prize.
During the assembly, Altice gave the trio and the school a check for $2,000, which will be put towards upgrading the equipment in the school's science lab.
"At Altice, we believe it's important to give back to the communities we serve and make a positive difference. We sponsor the contest with CBS to support STEM (Science Technology Engineering Mathematics) skill development, one of our company's key pillars," said Abby Baram, Community Affairs Specialist for Altice, at the assembly.
GCS principal, Patrice Kopas, spoke to the students about the importance of science and the school's science fair.
"People notice science, and science is what drives a lot of what we live in and the world," Kopas said. "All of this work that you're doing is very meaningful, and there are people in the world who are paying attention to this. There's no better example than what happened with Kate, Emily and Carmelia."
Cook, May and Zuniga placed 30 beads, which change color when exposed to ultraviolet rays, underneath a cardboard box lid. They cut a square hole on top of the lid, and taped a plastic sheet over it, which acted as human skin. They spread a quarter of a teaspoon of each sunscreen, varying in SPF, to the sheet.
A box, outfitted with a UV flashlight, was placed on top of the sunscreen and left for 30 minutes. The girls then analyzed their results and recorded the changes in bead color, and found that SPF 55 and up block the same amount of sun. 
"We all did research at first, and we all came up with the idea that we should do a project on sunscreen because, since summer is coming up, it's important for people to get the right sunscreen so they don't get burned," May said after the assembly. 
Cook said she hoped the school would modernize the science lab and get new equipment. Zuniga recalled that she was excited when she found out the project would be recognized by CBS. 
"I was really excited," Zuniga said. "I like that we could combine both engineering and life science and we could use them to do one experiment that could help people."
Zuniga added that she will take her findings and put them to practice. 
"I can buy SPF 55 [which is cheaper] instead of 100 and it would protect my skin the same from UV rays," she said. "The project was really fun, and we all worked well together."
Tags:
GCS
,
greenwich
,
Greenwich Catholic School
,
Town of Greenwich