May 3, 2019
Historical Society Launches 'This Place Matters!' Campaign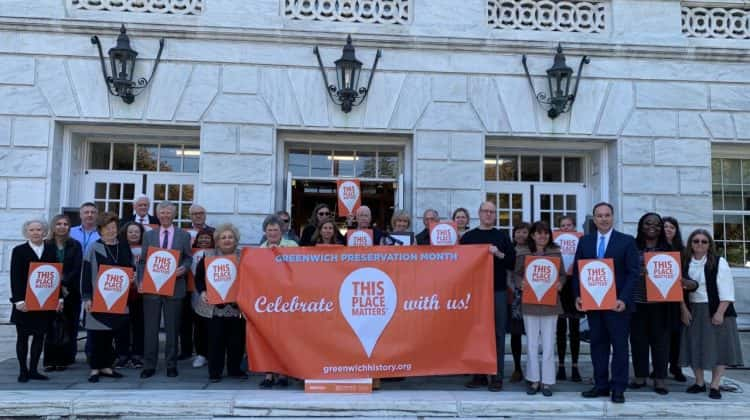 By Richard Kaufman
Sentinel Reporter
On Monday morning in front of Town Hall, First Selectman, Peter Tesei, issued a proclamation which declared May as "Preservation Month" in the Town of Greenwich. The Greenwich Historical Society also launched its third annual This Place Matters! campaign and photo contest.
The initiative is designed to remind residents about the need to preserve the things that make Greenwich special and a great place to live.
Debra Mecky, Executive Director and CEO of the Historical Society, said preservation is extra important in today's world.
"A strong sense of place is what makes Greenwich so attractive and distinctive. Our historic roots, architectural heritage, beautiful landscapes and enviable location on the Long Island Sound, coupled with our vibrant downtown, concerned government and engaged residents, give us a huge advantage and 'quality of place,'" she said on Monday to a crowd of nearly 40 people.
"But, we can't take it for granted, especially with the fast-pace demolition and rebuilding that is altering our landscape. We need to be careful about not losing our sense of place and the stories that have shaped our community. They matter. They create bridges to the future," she said.
With so many organizations in town dedicated to preservation, such as the Greenwich Land Trust, Greenwich Point Conservancy, Greenwich Tree Conservancy and the Greenwich Preservation Trust, Mecky said it's time for residents of all ages to "jump on the bandwagon to express support for what makes Greenwich special, distinctive and worth preserving."
Mecky offered several suggestions on how to celebrate Greenwich's rich character during the month of May. She encouraged residents to learn about Greenwich's neighborhoods through an interactive map at the Historical Society, and then take a walk to see them up close and personal.
She also said residents should take advantage of Greenwich's trails, such as the Louise Mueller Preserve and Trail, or the Greenwich Land Trust's Lapham Preserve and the Audubon's nature sanctuaries and education center.
The Bruce Museum and Bush-Holley House are also valuable resources in learning about Greenwich's history, Mecky said.
The This Place Matters! photo contest is a good way for people to get involved, too. Residents of all ages are invited to send in photos of places around town that they love, such as a special street, school, store, restaurant walking trail or garden.
Photos can be submitted online by July 1 at greenwichhistory.org, and should contain a brief statement about their location and why they make Greenwich special and worth preserving.
Photos can be low resolution, but high-resolution photos will be chosen as winners. A panel of independent judges will select the winning photos, which will be announced at a reception on Greenwich Founder's Day, July 18, at Innis Arden Cottage. The top three photos will be published in Greenwich Magazine.
The reception on Monday came on the heels of the Historical Society awarding Greenwich with plaques honoring two landmark institutions: Town Hall, which was once Greenwich High School, and the World War I monument on Greenwich Avenue.
Tesei said Town Hall symbolizes Greenwich as a whole.
"As I look at this building, I see home to our democracy and our citizen government, which is so reliant on volunteers borne out of our history of being a town meeting community, going back to the 17th century," Tesei remarked. "While we're in the 21st century, many of the activities here have vestiges in our long and illustrious history."
Tesei urged each citizen of Greenwich to make a commitment to preserving the places that matter to them.
"Greenwich has many structures that create an indelible link between the past and the present, including historic buildings that have played an important role in our national story, making it essential to celebrate them and ensure they are preserved for many generations to come," he said. "We have a unique opportunity to secure Greenwich's dynamic legacy within the broad context of American history, while providing an all important bridge to the future."
However, Mecky warned those in attendance about possible obstacles standing in the way of preservationists around the country.
"For many years, the National Register of Historic Places has been a very important tool to save places in Greenwich and throughout our country. There are some threatening things going on with regard to that," she said.
Wesley Haynes, Director of the Merritt Parkway Conservancy, said for the first time in many years, significant revisions are being made by the federal government to the regulations about listing properties on the national register. One revision would affect the way the National Park Service deals with historic properties that are owned by the federal government.
The changes "would basically do an end-run around the whole process" of having communities comment on whether properties are worthy of the national registry or not. "It's mostly being designed to open up mining in the West on some of the cultural landscapes out there," Haynes said.
Another revision would alter the way that national register support is measured in communities. Right now, according to Haynes, the regulations stipulate one property, one vote for putting properties on the register. Changes would give weighted votes to those who own large properties.
Haynes encouraged residents to go to savingplaces.org (National Trust For Historic Preservation website) for more information and to make their voices heard against the revisions.
Tags:
greenwich
,
Greenwich Historical Society
,
Greenwich Town Hall
,
Town of Greenwich