April 30, 2019
Greenwich High Boys' Tennis Ready to Make an Impact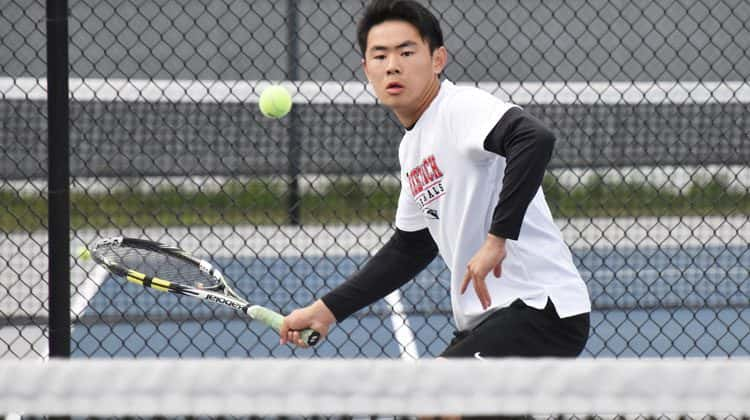 By Paul Silverfarb
Sentinel Editor
With the focus on consistent improvements during the season, the Greenwich High School boys' tennis team is taking it one match at a time. And, as long as the team has grown after every practice and every match, then first-year head coach Ray Marschall will have a smile on his face.
"This is a tremendous program that Greenwich has," Marschall said. "The kids are just a delight to coach. They are smart, they listen and they try. This is my first season, and I have had a ball coaching these kids. They are wonderful and make it as enjoyable as it could possibly be."
On Monday afternoon, Greenwich traveled up to Wilton High School for a match against the Warriors. Although Big Red was defeated 4-3, Marschall said that the team really showed its mental toughness by stepping up and playing in spots they normally don't compete in.
"Wilton has a good program and they are clearly not to be taken lightly," Marschall said. "They showed us. I have heard from a number of coaches, and from what I have seen from last year, the FCIAC is getting more and more competitive. Every once in a while we have a day like today, but I think days like this will make us a stronger team mentally. You could see there was a tremendous amount of teamwork in the last couple of matches. And that's good. That's what it is all about in my mind."
Matthew Luzzi, who is usually Big Red's No. 3 singles player, moved up to No. 2 singles and came away with the thrilling 7-5, 6-1 victory over Dylan Kozlol.
"I think overall I played really well, and I am starting to play a lot better as the season progresses," Luzzi said. "Today was really a game-changer. I played at No. 2 and I don't normally play No. 2 singles very often. So, to take out their No. 2 was a big win for me."
Marschall said that what sets Luzzi apart from the competition is his mental approach to tennis.
"He doesn't over hit," Marschall said. "He goes for the winner when he has a high percentage likelihood of winning it. When he's defensive, he will put up a high ball and give himself time to get back into the match. He's also very good and recognizing when the other guy is kind of losing it mentally, and that's when he goes for the jugular. He does it very softly and very quietly, but extraordinarily effectively."
Matt Tamis, who normally is Greenwich's No. 4 singles player, moved up to No. 3 singles and had a solid match against Wilton's Clay Adams, coming away with the dominating 6-0, 6-0 victory.
"He hit his shots today and had his confidence," Marschall said. "He was playing really well and I am really proud of him."
In addition, Greenwich picked up a victory at No. 3 doubles. The duo of Luke Mase and Josh Fruman took care of Wilton's Ben Iannuzzi and Purab Angreuti and came away with the 6-2, 6-0 victory.
In a back-and-forth contest, it was a doubles match that decided the victory. With each team winning three matches, the Greenwich No. 1 doubles team of Boris Ardemasov and Derek Wang took on Wilton's Henry Murphy and Conrad Emerson. Big Red took the first set 6-2 but were defeated in the second set 5-7.
In the third set, the Warriors had triple match point at one time. However, Big Red was able to fight back and take the point. In the end, it was Murphy and Emerson that came up big down the stretch and held on for the 4-6 victory in the third set to claim victory for Wilton.
"Obviously, I would have liked to win but if you have to lose, you lose in a third set, last match of the day," said Marschall.
Despite the loss, Greenwich was still on a high from a match back on April 24. Against FCIAC rivals Staples High School, Greenwich battled back-and-forth and came away with the exciting 4-3 victory.
With the victory, Greenwich not only exacted revenge from falling to the Wreckers in last year's FCIAC championship match, but they also snapped Staples' 63-match win streak.
"It means a lot to the program and meant a lot to the boys," Marschall said. "I think there was a bit of relief. They all knew they played really well. Whether or not we lost an individual match, they all played well and were more than up for it."
At No. 2 singles, Caleb Fockens picked up the 6-1, 6-4 victory over Jack Tooker, while Luzzi netted a 7-6, 6-3 victory over Robert Daus at No. 3 singles.
"We have come a long way from the beginning of the season," Luzzi said. "I think when we first got into it, we were a little too overconfident and didn't really have our lineup set. But as the season got going, everybody has been stepping up and playing a lot bigger, especially after our first two losses against Darien and New Canaan. Now we are just getting better and better."
Grabbing Greenwich's third win on the day was the No. 1 doubles team of Nick Liu and Hayden Witmer, as they came away with a 3-6, 6-1, 6-4 victory. Competing at No. 3 doubles was James Cosby and Stephan Brovig, and they won their match 6-4, 2-4, 6-0.
"The tension was certainly there, and I think it was a relief that we have now beaten them," Marschall said. "Obviously, Staples has a phenomenal program and to win that many matches in a row is a tribute to what they got there, but our guys were just thrilled that they got it done."
With only a few more regular season matches to play before the playoffs kick off, Greenwich is certainly in the mix for being one of the last teams standing. Marschall said that his squad is ready for whatever the postseason has to offer and only believes his team needs to fine tune a few aspects of their game.
"We have some minor tweaks here and there," Marschall said. "Against Wilton was a good example. We lost a couple of matches that could have gone either way. One or two points makes all the difference sometimes. We need to find a way to win those one or two points. That could turn everything around."
While Greenwich, just like all the other teams in the area, have been hurt by all the rain and haven't had a lot of practice time outside, Marschall said the talent and willingness to improve each and every day despite the obstacles has been lights out.
Tags:
CIAC
,
cttennis
,
greenwich
,
Greenwich High School
,
Greenwich Tennis
,
Ray Marschall
,
tennis
,
Town of Greenwich