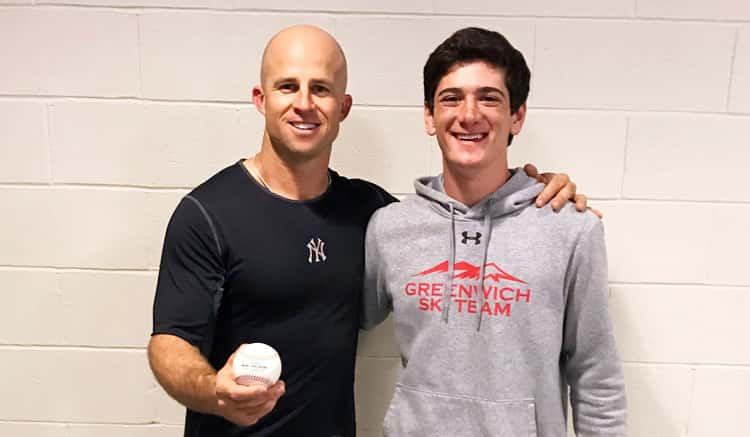 By Paul Silverfarb
Sentinel Editor
Equipped with tickets to some pretty sweet seats, Greenwich High School sophomore Will Clemens went through the turnstiles at Yankee Stadium hoping that he would witness something special. After all, the New York Yankees were playing the defending World Series champions and their bitter rivals, the Boston Red Sox.
Not only did Clemens see come-from-behind thriller for the home team, but he also ended up being a part of Yankee history.
Sitting two rows behind the right field fence at Yankee Stadium, on April 17, Clemens, along with fellow Greenwich High School sophomore lacrosse players Jack Cook, John Cataldo and Chris Cataldo, were enjoying the rivalry game against the Boston Red Sox. With a lot of firepower out of the lineup for the hometown team due to a plethora of injuries, the Sox were beating the Bronx Bombers 3-1 late in the contest.
That's when New York veteran outfielder Brett Gardner stepped to the plate. With the bases loaded, one out and facing an 0-2 count, Gardner unloaded on Red Sox pitcher Brandon Workman's next pitch and sent it deep in to the Bronx night. Right in the direction of Clemens.
"It came right to us," Clemens said. "It bounced around and I snagged it up. It was a wild moment."
Not only did that grand slam home run drive the fans wild and give the Yankees a 5-3 lead over Boston, but the baseball that Clemens and his friends were showing off to everybody around them was the 100th career home run for Gardner. An obvious keepsake for the longtime Yankee.
"The head of security came down and talked to us and said that Brett Gardner wanted the ball back," Clemens said. "He took us to the concourse and was negotiating with us. He said, 'Do you want to give it to him yourself? Go into the clubhouse and such?' He said he could make that happen and that sounded awesome to me."
So, with no intent on keeping the baseball as a souvenir and despite several Yankee fans yelling for Clemens to not give it up, Clemens, Cook and the Cataldo twins walked through parts of Yankee Stadium that only a few fans have seen and headed to the Yankees clubhouse.
After the game was over and the Yankees came away with the victory, the GHS foursome waited in a hallway near the clubhouse for Gardner, who was more the excited to get back one of the most meaningful baseballs in his collection.
To show his appreciation, Gardner signed baseballs for Clemens and his friends and took some pictures.
"He was a really nice guy," Clemens said. "He made us feel welcome. We got to talk to him, take pictures and we got some autographs. We also didn't just meet him. We saw Gleyber Torres in the locker room and we also got to go on the field. It was an awesome experience."