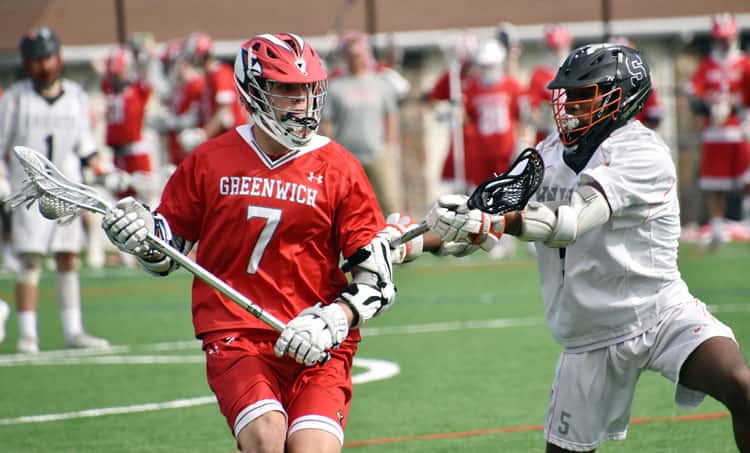 By Paul Silverfarb
Sentinel Editor
After hitting a rough patch in their season, losing four consecutive games, the Greenwich High School boys' lacrosse team got back to its winning ways Tuesday afternoon by dominating Stamford High School, 16-2.
"We just snapped a four-game losing streak, so that's a big positive for us," said senior Jack Feda. "We're looking to get back on track after some really tough losses, but this is a great day for it. We were working the ball around really well on offense and playing as a team today. We played well in every facet of the game. The chemistry was really great today."
And head coach Bobby Lutz couldn't be more pleased with the team's outcome. Not because of the amount of goals, but how complete of a game Big Red played.
"We got everybody in today and this kind of game was very good for the team's morale," Lutz said. "Today we put in a couple of variations to our offense, so we ran a bunch of different things. We moved the ball well. We had a bunch of assists and didn't have a lot of guys that were selfish and tried to get their numbers because they can. They found open guys. We also had good ball movement and good distribution of the ball."
While Feda took home six goals and one assist, Greenwich High did a stellar job at distributing the ball. Senior Peter Rivelli finished with the hat trick. Freshman Bryce Metalios ended the day with two goals and two assists, while senior Owen Gwozdz netted one goal and three assists. The duo of Lance Large, and Charlie Graves, both seniors, each came up with one goal and two assists, while teammates Jack Cook and John Cataldo, both sophomores, took home a goal apiece.
"It was great to get the win today and snap our losing streak," said Large. "In the last four games, we had a habit of not coming out in the third quarter and that didn't happen today. So that was great for us and we played a full game, which was something we haven't done all year. It was good to see."
Pitching in during faceoffs was junior Miles Recchia, who won 12 of the 19 faceoffs on the afternoon.
And the defense was lights out, as Big Red only gave up one goal, as the goaltending dup of sophomore Will Clemens and senior Teddy Bacon were more than up to the challenge.
"We learned that we can't get down too quickly," Large said. "We made a lot of mistakes early on, but we quickly bounced back in a big way. We did a great job communicating and worked the ball around really well. We weren't selfish and did a great job passing the ball."
With the victory, Greenwich upped its overall record to 4-4 on the season. Despite just now getting to the .500 mark midway through the season, Lutz is pleased with his team's progression.
"It's been a great group and there are a bunch of senior leaders," Lutz said. "A bunch of the guys here were on the state championship football team, so they know how to compete. It's a fun group to coach. We hit a rough patch where we lost a bunch in a row, but we got a win back today and it changes the morale. We have some big games coming up, so we wanted to right the ship today."
After starting the season with a 10-4 victory to Trumbull and a 17-3 win over Westhill, Big Red played FCIAC rival Wilton High and came away with the thrilling 7-6 overtime victory.
Day in and day out, the FCIAC is one of the toughest conferences in the country and you have to be ready for it," Feda said. "Coach Lutz does a great job preparing us. We just have to work hard in practice."
However since that contest, it was rough for the Cards, falling to Ridgefield (10-7), St. Joseph (12-6), Staples (10-7) and Niskayuna (14-8).
"We lost four games in a row, so we really needed this one," Lutz said. "This game was really important. We play a very tough schedule and we want those challenges because it only makes you better. Losing stings a little bit, but if you could learn and improve from those big teams, you're better for the FCIAC and States."
In order to keep the good times rolling for Big Red, Lutz believes that possessing the ball longer will go a long way.
"We need to try and win as many faceoffs as we can, so we can manage a little more offense," Lutz said. "We need to be more patient on offense. In some of the bigger games that we played this year, we had the ball for well under 50% of the time. In two of the losses we had the ball for only 35% of the time. We need to control the ball more, be more efficient with our clear, faceoffs and time-manage better, our offense can score."
On the attack, Feda has been the anchor for Big Red, however Large has been a solid all-around attacker with his shoot, defense and moving the ball around. In addition, sophomore Will Montesi and Graves have been adding some key minutes on the field.
Senior Tyler Dietrich has been the leader for Greenwich on defense, but juniors Jack Ludington and Jason Tautel, as well as sophomore Chris Cataldo have been instrumental fort the Cards.
"Other than Tyler, the rest are first-year starters," Lutz said. "It's been nice having those guys stepping up and doing such a great job. I was concerned about our defense coming into the season but now they are one of our biggest strengths."
From the start of the season, Lutz and the rest of the Cardinals had the goals of qualifying for both the FCIAC and state tournaments, as well as making a deep run for the titles. Despite reaching .500 midway through the season, Big Red still has those lofty goals.
"Those haven't changed at all," Lutz said. "Right now, my midseason goal is for the team to start mentally preparing for those big games. We know we are going to be seeing a lot of these teams again, so the second time around it's all about how much we have improved to battle them again. Right now we are still working hard in practice and continuing to learn. We are watching more film and doing a little more classroom teaching. They are ready for it and buying into it."