April 20, 2019
Op-Ed: This Place Matters!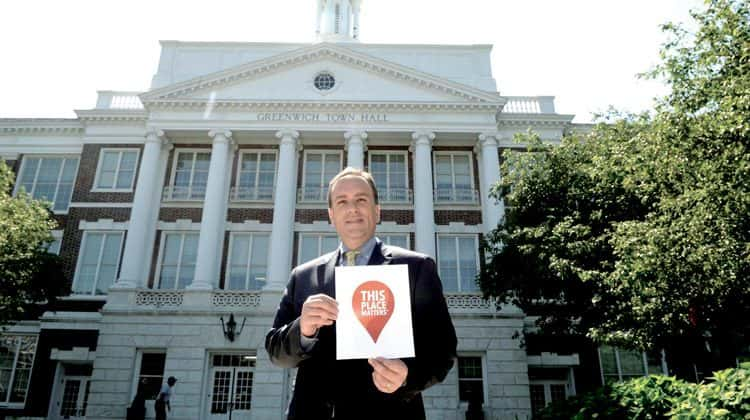 Help Celebrate and Preserve Greenwich to Build Stronger Bridges to the Future
By Debra Mecky
Places shape who we are. They help us to appreciate our cultural history and link our stories to a larger national story. Quality of place is also an important consideration for where people choose to live and to where businesses and religious organizations establish themselves.
A sense of identity and place will be increasingly important in this digital world where screens are reducing many people's interactions with physical surroundings, making virtual reality the landscape they are most accustomed to, often at the expense of how people view themselves, where they live and their place in history.
We need to seek fulfilling connections and interactions in physical spaces for meaningful relationships with others, society at large and nature. Everyone who cares about Greenwich – our quality of place and distinctiveness as one of America's oldest communities with a rich and vibrant history – has a responsibility to ensure its character and care for the places that shape it.
A strong sense of place is what makes Greenwich so attractive and distinctive from other towns in Fairfield County and the NY metro area.  Our historic roots, architectural heritage, beautiful landscapes and location on the Sound, along with our excellent safety record, vibrant downtown, concerned government and engaged citizenry, create a major competitive advantage and quality of life.
But we have an uphill battle with the dizzying pace of tear downs and rebuilds that are changing the landscape. Many of our homes and historic structures have been demolished; some of their stories are gone forever. Let's be careful to not lose more of our sense of place and the history that has shaped our lives. These places matter. They create bridges to the future.
Fortunately, Greenwich is well positioned to preserve our sense of place due to the tireless work and dedication of organizations that are committed to preserving various aspects of our heritage. The Greenwich Land Trust, Greenwich Point Conservancy, Greenwich Tree Conservancy, the Greenwich Preservation Trust and the Greenwich Historical Society have members who are passionate about our Town. The Greenwich Preservation Network, a group with representation from all of the above, formed in 2015 by the Historical Society to include a cross section of Greenwich's leadership in the public and private sectors, researches economic and government incentives for preservation of historic and architecturally significant structures and educates the public on local resources. Together these  organizations give us a tremendous advantage that many other towns don't have.
Everyone who cares about Greenwich should have a stake in preservation. The month of May is your opportunity. First Selectman Peter Tesei has declared May Greenwich Preservation Month: This Place Matters! Inspired by the National Trust for Historic Preservation, it is designed to bring greater attention to the importance of preservation for maintaining our quality of life and strong and meaningful bridges to the future. It's an opportunity for the entire community to express support for the places that matter, that make it special, distinctive and worth preserving.
Here are some ideas to help preserve and celebrate Greenwich's rich character and abundance of resources this month:
Support our numerous preservation-minded organizations, whether by becoming a member, volunteering or donating. There are many ways to get involved and feel good about helping to preserve the best of Greenwich.
Learn about Greenwich's historic neighborhoods. The Historical Society has an interactive map that discusses their history; then take a walk to see them for yourselves.
Walk on one of Greenwich's trails and enjoy Greenwich's fabulous natural diversity. The four-acre Louise Mueller Preserve and Trail is walkable for people of all ages. The Greenwich Land Trust's 40-acre Lapham Preserve is another gem in back country as is Audubon Greenwich's nature sanctuaries and education center.
Visit the Bruce Museum's Seaside Center at Innis Arden Cottage in Greenwich Point Park to learn about the ecology of Long Island Sound and its impact on our town and the environment. Join the Bruce's First Sunday Bird Walks to learn about the birds that flock to the park.
Investigate the history of your home and its stories by visiting the Historical Society's new Library and Archives. You may be surprised and delighted about what you learn.
Congratulate Martin and Anna Waters and the Greenwich Point Conservancy for winning Preservation Leadership Awards for the restoration and adaptive use of the Feake-Ferris House, the oldest home in Greenwich and one of the oldest in the country. Conferred at the recent Landmarks Recognition Program reception along with Landmarks Recognition plaques for four other structures, these awards recognize projects that demonstrate the aesthetic, cultural or economic benefits of preservation.
Visit the Greenwich Historical Society and tour the National Historic Landmark Bush-Holley House to learn about our town's illustrious history and step into the landscape where world-renowned painters, including Childe Hassam, John Henry Twachtman and J. Alden Weir lived, worked and taught when our Cos Cob harbor was the seat of American Impressionism from 1890 to 1920.
Email town officials about why preservation is important to our future. Your voice matters!
Participate in This Place Matters! photo contest by snapping photos of the places that matter to you and sharing why they are important to cherish and preserve. Three winning photos will be displayed at the new Greenwich Historical Society campus and featured in Greenwich Magazine, official magazine sponsor of This Place Matters. Winners will be announced at the July 18 Greenwich Founders' Day reception at Innis Arden Cottage after which attendees may tour the Feake-Ferris House.
Connecting with our heritage and the places that make our town special, unique and worth preserving is essential for our character and for maintaining our quality of life. This month is an ideal time to express your love for Greenwich and the places that matter and are worth preserving.
Debra Mecky, Executive Director and CEO, Greenwich Historical Society
Tags:
greenwich
,
This Place Matters!