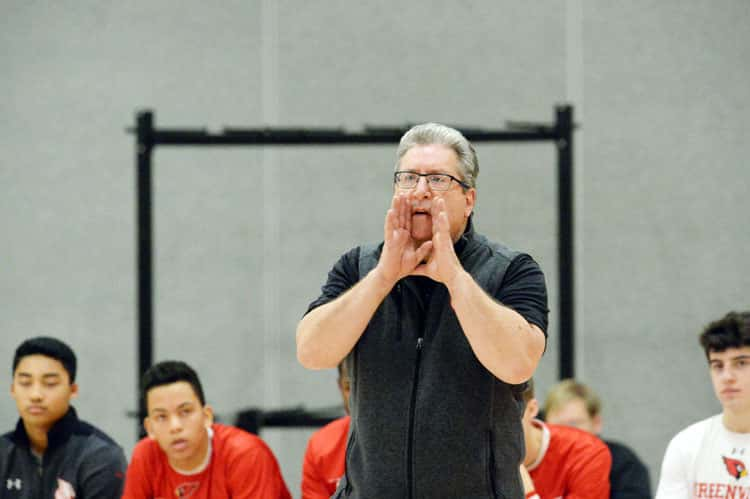 By Paul Silverfarb
Sentinel Editor
It seemed nearly impossible for first year head coach Chris Lovermi to be any more pleased with his team's performance this year. The Greenwich High School boys' basketball team finished the season 12-8 overall, qualified for the state tournament and hosted a playoff game for the first time in four years.
Lovermi's smile grew even larger as the season wrapped up, as his Cardinals were awarded the Harold A. Swaffield Sportsmanship Award. The award is given out by the IAABO Referee Board No. 9 to honor a team that demonstrates and exemplifies good sportsmanship throughout the year.
"It's really a prestigious award and I couldn't be more proud and honored to receive on behalf of the program," Lovermi said. "This means a lot. The officials grade every team for every game that they officiate. They take this very seriously. So to be recognized by the officials who see and officiate a lot of games throughout the year makes it that much more special."
In addition to Lovermi, senior captains Gavin Muir, Billy Nail and Oliver Milledge attended the event, held at Testo's Restaurant in Bridgeport, were on hand to pick up the award.
And even more rewarding for Lovermi was that his program was the lone team in the Fairfield County Interscholastic Athletic Conference, on both the boys' and girls' side, that were nominated for the award.
"That makes things even more special for this team," Lovermi said. "It says that maybe we, as a program, are doing something right when it comes to how we perform on the court but how we present ourselves and interact with the officials and other teams we play. I think it's a wonderful thing for our players, our coaching staff and for our athletic department."
While the wins and losses certainly matter to Lovermi and the rest of the GHS basketball program, it's the life lessons skills and sportsmanship aspects that means so much to the head coach.
"It means a tremendous amount to me that the team was able to keep their poise and composure on the court in all situations," Lovermi said. "We have been blown out of games this year and we have lost in the final seconds. I think that's a learning process, not only for the players but for the coaching staff as well. It's so gratifying that the officials recognize that we were able to do that under some very difficult and stressful situations during the course of the season that every team experiences. I think we handled ourselves very well. We talk about it all the time as a team and as a program, but really to get awarded and recognized for it means so much."
In fact, Lovermi said that the sportsmanship piece to the puzzle is the program's top priority.
"How we go into games, how we act, how we go about it, and how we relate to each other, the officials and the other team is the number one priority on the list," Lovermi said. "The wins and losses will come and go, but how you're remembered in terms of behavior and how you act is something that will last and be remembered forever. I think that goes a long way teaching our athletes that it's important as the enter into the real world beyond high school and college. It's an important lesson to be learned."