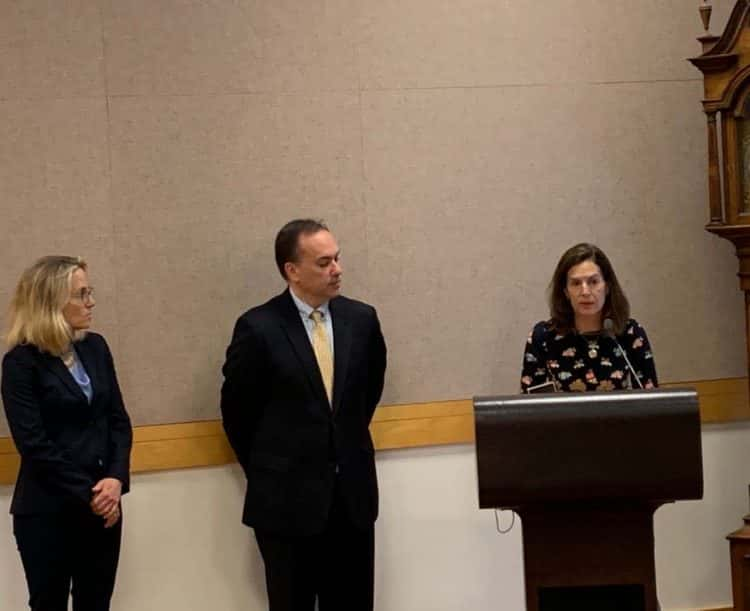 By Richard Kaufman
On Tuesday at the Greenwich Library, Connecticut Lt. Gov. Susan Bysiewicz, along with First Selectman Peter Tesei, State Sen. Alex Bergstein (D-36) and other figureheads from around town, gathered to kickoff efforts for the 2020 census.
Bysiewicz, who has been traveling around the state in recent weeks to raise awareness about the census, stressed the importance of getting a complete and accurate count, and said efforts must start at the local level.
The census is conducted every 10 years, and it provides vital information to communities across the nation. The census determines how many representatives each state gets in Congress, and helps communities plan for resident needs, including new roads, schools and emergency services.
The census is also the foundation in determining federal funding allocations. According to Bysiewicz, $11 billion is at stake. "For each person we undercount, we lose $2,900," she said.
"The census count is very important to Connecticut because we are number 48 in terms of the federal dollars that we receive back compared to what we give to Washington. I like to say that we're a donor state, so that makes our count even more important," Bysiewicz added. "It's also about job creation and economic development because business people, whether they're small business owners or whether we're talking about executives of Fortune 500 companies, are making their decisions based on this very important Census data."
Bergstein said that it's not only important to be counted so Connecticut receives its fair share of federal dollars, but it's important to reflect the diversity in communities.
"We talk about diversity in this community, we know we have a diverse community, but it's important that we all recognize that and that we have the data to back that up," she said. "It's really important not only that every single person, every age, race, religion, gender, every label and category whatsoever, be identified, but that their voices be heard and that we accurately reflect who we are as a community to the rest of the state."
Also in attendance was Mary Lee Kiernan, President and CEO of the YWCA of Greenwich. She said the funding aspect is very important to her organization because the YWCA receives support from federal, state and local levels.
"Those dollars are critical for us to continue to provide the services we provide here," she said. "We deal with marginalized populations, in particular as the domestic violence service provider in this community, and an early childhood provider of preschool and after-school camp," Kiernan said.
"We're thrilled to be able to tell them you are important, you will be seen, heard and counted and engage with them as the census rolls out," Kiernan added.
Joining Kiernan was David Rabin, CEO of Greenwich United Way; Dr. Alan Barry, Commissioner of Greenwich's Department of Human Services; Gaby Rattner, Executive Director from Community Centers; Lt. John Slusarz and Capt. Kraig Gray from the Greenwich Police Department; Town Clerk, Carmella Budkins; and Tax Collector, Howard Richman.
Rabin noted that 28 percent of people in Greenwich are one missed paycheck away from financial catastrophe.
"For the betterment of our town, for the betterment of our state, let's count them all," he said.
Bysiewicz noted two challenges in making sure everyone gets counted. For the first time ever, residents will be able to respond to the census online. However, she noted, some people don't have immediate access to internet or information about the census.
Greenwich Library Director, Barbara Ormerod-Glynn said the town's libraries will be ready and willing to help everyone during the process.
"I'm very pleased that the library can serve this important role in collecting this data. I can't think of a better facility or series of facilities to have involved," she said. "We found out that we're probably the best place in town for computer access. Between the 100 public computers we have available, and the wonderful resources of our two training librarians, we will be preparing to train anyone who needs to access the census in either english or other languages it will be available in."
Another challenge is the possibility that a question regarding citizenship could appear on the census. The controversial subject was proposed by the Trump Administration, and is currently going through litigation. It's expected to be heard by the U.S. Supreme Court on April 23, according to Bysiewicz.
"Whether that question is on the census or not, it's important that everyone fill out the census because it's not about your citizenship status, it's about counting the number of people we have in the state and country. Federal law does protect personal data collected on the form. No law enforcement agency, state local or federal, can use it," Bysiewicz said, adding that "trusted partners" in the community need to come forward to get the message out.
Mark Plumley, a U.S. Census Bureau Representative who manages the partnership relationship with Connecticut and Rhode Island, said Connecticut will open a census office in Hartford, New Haven and Danbury. Those offices will be looking to hire people who can earn $25 per hour, to help with the effort.
"Although the formal count will commence in the spring of 2020, many of the critical foundational activities of a successful census have already begun," Plumley said. 
Census Day will be April 1, 2020. Non-response follow-ups and door-to-door knocking will start in May of 2020.
For more information on the census and census jobs, go to 2020census.gov.