April 8, 2019
Greenwich Police Adds 3 New Recruits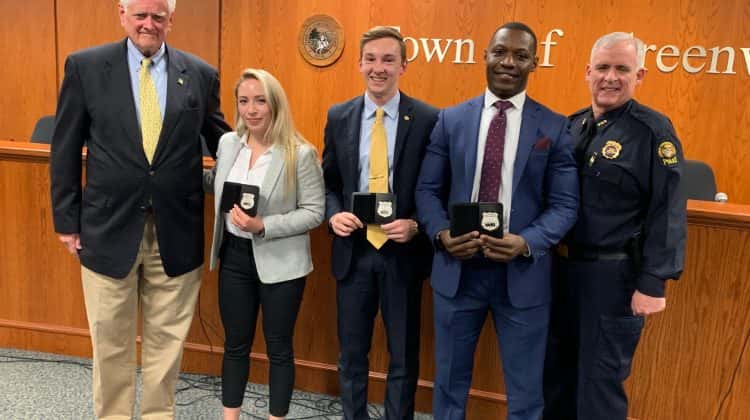 By Richard Kaufman
The Greenwich Police Department welcomed three new recruits with diverse backgrounds into the ranks last Monday during a ceremony at Town Hall. 
Sabrina Diaz, Thomas Koppelmann and Vladimir Souffrant were all sworn-in by Selectman John Toner in front of family and friends.
GPD Chief, James Heavey, spoke about the rigorous selection process in Greenwich and what it takes to get sworn-in. 
Candidates go through written tests, interviews from an outside agency made up of retired police chiefs, departmental interviews, psychological evaluations and physical agility tests. 
"To get to this point today, you've accomplished a lot. And I expect that all three of you will accomplish even more as you leave for the Academy," Heavey said.
Toner, who was filling in for First Selectman and acting Police Commissioner, Peter Tesei, welcomed the recruits to town. 
"You're joining a first rate police department. I'm very proud of it. I've lived here my whole life. They've kept Greenwich a safe town, and it's recognized as being a safe town. We welcome you in joining the ranks," he said.
All three candidates come to the department with prior connections to law enforcement and service to the community.
Diaz, who is currently studying Brazilian jiu-jitsu at the Greenwich jiu-jitsu Academy, was born in Greenwich and grew up in Stamford. She graduated from Westhill High School in 2004, and later went to Norwalk Community College where she received a bachelor's degree in criminal justice. She was awarded with the Women of Promise and Distinction Award from NCC in 2016. 
Prior to joining the GPD, Diaz interned with the Stamford Police Department, and said it was an important experience in pushing her towards a career in law enforcement.
"I've always wanted to help people, and I've always known I've had a high moral and ethical code. This was the perfect [profession] I could put all my characteristics to good use. Working at Stamford PD really opened up my eyes first hand with how people interact with law enforcement," she said.
Before joining Greenwich, Koppelmann interned with the New Haven Police Department. 
He grew up in East Islip, and graduated from East Islip High School in 2015. He's currently a senior at the University of New Haven, and will graduate in May with a bachelor's degree in criminal justice and a minor in psychology. A former professor of Koppelmann's, Dan Maxwell, is a retired GPD officer. 
Koppelmann, like Heavey did years ago, will finish out his undergraduate studies at the Police Academy. Koppelmann said that his family history was a big factor in becoming a police officer.
"My grandfather was a fire chief in Islip. Being around that atmosphere was something that always made me want to do this," he said. "Today has been a long time coming. It feels right."
Souffrant was born in Port-au-Prince, Haiti, and grew up in Stamford, attending Stamford High School where he graduated in 2007. He attended Western Connecticut State University and graduated with a bachelor's degree in psychology and a minor in biology.
Souffrant spent two years enlisted in the United States National Guard, where he served as a quartermaster for chemical repair engineers. He currently serves as a platoon leader for First Platoon, 143rd Military Police Company.
"With my background and my parents, service has always been a big thing. I joined the army and I was serving as an enlisted soldier and I wanted to do more than I commissioned as an officer. I went through military police training, so that's what fortified my decision to get here today," he said.
The recruits will now go off to the Police Academy in Meriden, Conn., for six months. The GPD is currently at 153 officers, one below its authorized strength. The GPD is expecting some retirements in the future, so additional interviews for new recruits took place earlier this week. 
Heavey said he hopes there will be open spots in the Academy for July or August. 
Tags:
GPD
,
greenwich
,
Greenwich Police Department
,
Town of Greenwich