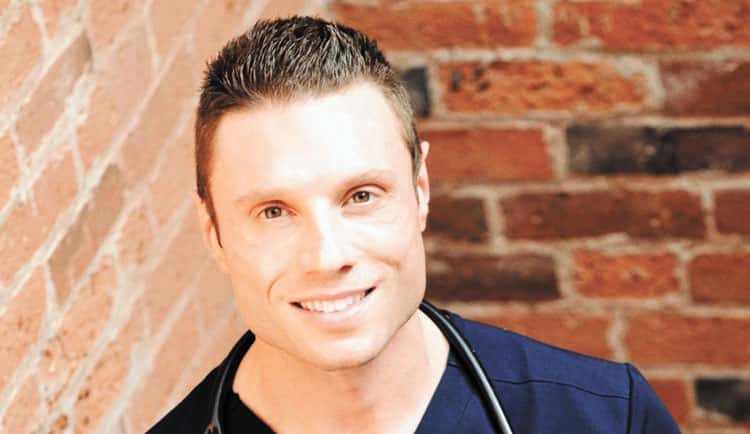 By Michelle Moskowitz
Sentinel Correspondent
According to the National Institute of Health, pain affects more Americans than diabetes, heart disease and cancer combined, making chronic pain the most common cause of long-term disability.
Dr. Christian Whitney, DO., an anesthesiologist and pain management consultant, recently opened "Restorative Pain Solutions," a serene and sleekly designed pain and wellness center, located at 4 Dearfield Drive.
"I have such empathy for people in pain as I understand it first hand, and know how it trickles down on everything in your life," explains Whitney, who suffered from severe back pain from sciatica and four herniated discs during his second year at medical school.
This crippling pain affected him deeply, both physically and emotionally, which ultimately motivated him to choose the field so he could help others suffering from acute or chronic pain.
Whitney, a Yale and Dartmouth trained Board-Certified Anesthesiologist, has received numerous awards for his work, including Castle Connolly's Top Doctor Award and Greenwich Hospital Quality Award.
After eight years at Greenwich Hospital as a pain management physician, Whitney wanted to take a more in depth approach to working with his patients.
A typical doctor/patient visit lasts about 15 minutes, which he says is not enough time to get at the root cause of one's pain or learn about how one's lifestyle habits could be contributing to one's pain – such as eating an inflammatory diet or performing exercises that exacerbate the pain.
Whitney believes that, "To formulate and implement an effective treatment plan and discuss all the options, associated risks and benefits, takes time."
Conditions in which the RPS center specializes include neck, back and cancer pain, as well as post-surgical, sports injury and pelvic pain.
"Pain is best treated through a multi-modal, multi-disciplinary approach," according to Whitney. "It's very rare that just one thing is going to eliminate one's pain," such as an epidural steroid injection, radiofrequency ablation, sympathetic block or bursa injections, all performed on-site at RPS.
"Injections are only a part of providing exceptional care, but it's a whole-body approach to patient care that can prevent the pain from coming back, which is what I want to see happen."
His philosophy is that in order to treat pain effectively, interventional pain procedures must be aligned with supportive and restorative therapies, such as acupuncture, physical therapy, nutrition, proper fitness training, yoga, and other lifestyle management programs.
This approach requires a team with a wide variety of expertise. The RPS center works closely with experts in each field to ensure the best possible implementation of the supportive therapies the center recommends. "We have a team approach to collaborating on each person's individual plan and we talk all the time about what's working and what's not."
At the beginning of a patient engagement at RPS, Whitney performs a 360-degree evaluation that takes 90-minutes, and through a series of questions and conversation he is able to create a comprehensive profile that allows him to design a personalized, step-wise approach to the healing process.
"It's so important to really take the time to get to know each patient, develop a relationship and a trust, and also to make them feel safe," said Whitney.
"One of the biggest driving factors that got me to open my practice was the opioid epidemic," said Whitney who teams up with various addiction specialists when necessary. "We have a responsibility as physicians to help with this crisis, and our philosophy at RPS is that we are here to prevent patients from starting opioids altogether or, for those patients who are, to provide other treatments to get them off."
"When it comes to pain, you have to be aware of the potential signs and do the screening for addiction early," said Whitney.
Whitney has a morning and evening "huddle" with his nurses and staff members to determine what worked well that day and what they can improve.
"Nothing can replace the feeling I get when I put someone back on their feet and on the right track towards a healthier life."
Call (203) 992-1845 or visit rpsgreenwich.com for more information or to schedule an appointment.