March 28, 2019
Bloomquist's Long Lost Brings Film World to Greenwich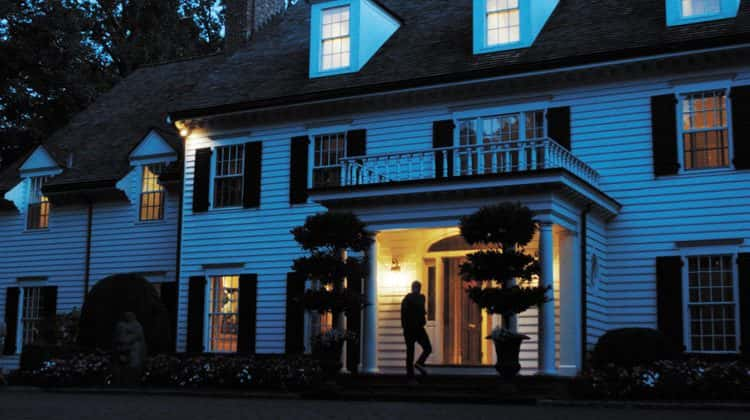 By Paul Silverfarb
Sentinel Editor
A new psychological thriller is hitting theaters this weekend, courtesy of Erik Bloomquist, and the Town of Greenwich stars in a big way.
In his debut feature, Long Lost, award-winning writer/director Bloomquist filmed the entire movie in Greenwich. Although the exact location of the film is a mystery, Bloomquist said that it was filmed near the Mianus River State Park Scenic Reserve.
To say Bloomquist is thrilled is a massive understatement.
"It's such a wonderful feeling," Bloomquist said. "Indie filmmaking is really a collaborative effort, and it's a real team situation where I think everybody has a stake in the final product. The smaller movies are just as challenging or challenging in different ways. It's a tremendous accomplishment to have done this in Greenwich and to all work together to have our own personal stake in it."
For former Greenwich resident Victoria Young, it was an exciting homecoming. Young, an executive producer, and engaged to one of the stars of the movie, Adam Weppler, couldn't be more excited about the movie.
"In general, as an experience it was really great to have all these really talented people come together and come to this really specific location that is really familiar to me and to transform it in a way where it becomes something else," Young said. "It was really magical. Being able to work in Greenwich and produce this film was very special. It became very sentimental. It brought a lot of talented people to Greenwich who live in town, people who are from New York City and from all over."
According to IMDb.com, Long Lost stars Adam Weppler as Seth, a young man invited to spend a weekend at a Connecticut mansion of his long lost millionaire half-brother Richard. With the help of his enigmatic live-in girlfriend Abby, Richard leads Seth down a psychosexual rabbit hole wherein luxury and temptation are intermingled with treachery and taboo.
Bloomquist and his production team thought of their concept a few years ago. They wanted a one-location, mystery thriller and puzzle film. Through his award-winning television series, the Cobblestone Corridor, Bloomquist found a supporter of his that had access to a property in Greenwich.
"It was all really great to witness," Young said. "This location was, in my mind, the perfect Greenwich spot. You have this wilderness, but you also have this civilization and it's cool," Young said. "You know where you are, but you also don't know where you are. We played into that story very well."
Knowing the kind of movie that he wanted to make, Bloomquist worked within a very finite window to shoot the film there. Basically, he wrote the film around the existing resources to inspire and frame the film.
"There's a certain aesthetic in Greenwich that photographs very well and makes a statement," Bloomquist said. "It's a great little pocket where we are able to do things without the pressure that we might get in a bigger market. We were sort of cocooned there and that was amazing for us. It was a great way for us to recharge and it was an awesome environment where we thought we could get the opportunity to play and create without pressure. It allowed us to do our best work."
While he's hopeful that a worldwide audience will get a chance to view the film, Bloomquist said it was important for him to shoot the movie in Greenwich.
"I always love getting people from the local community involved so they could sort of feel an ownership stake in what is happening," Bloomquist said. "I like feeling connected to the places where I am filming. It's really exciting to be able to share that and to be able to provide some kind of opportunity that isn't an everyday thing. It's very gratifying for us."
The film was shot in September of 2017 and was in post-production for about a year. Since last Autumn, Bloomquist and his production team set off to tour the country, attending festivals and getting the movie out to as many people as possible.
While Bloomquist has a couple of feature films in the works, he's focusing on giving this movie its due.
"We are really trying to push Long Lost to as many people as we can," Bloomquist said. "It's been really gratifying going around the country to share this little pocket of the world with lots of different people around the country."
During the promotional tour for Long Lost, Bloomquist and Mainframe Pictures have taken home some serious hardware. It was a winner of both the Best Narrative Feature and Director to Watch during last year's Eastern Oregon Film Festival and also took home the gold for Best Director and Grand Jury Prize during the Sherman Oaks Film Festival. Bloomquist grabbed his second Grand Jury Prize during the Laughlin International Film Festival and also won Best Narrative Feature at the ReadingFilmFEST.
Long Lost also picked up awards at the Queen Palm International Film Festival, jellyFEST and the Nevermore Film Festival.
Starting in April, Bloomquist will do pop-up screenings in a total of 30 cities. From there it will go to video on-demand for everybody to view.
Residents of Connecticut have several chances to see Long Lost. On April 3, at 7 p.m., the Riverview Cinemas in Southbury will show the premiere. On April 4, the Bank Street Theater in New Milford and the Wall Street Theater in Norwalk will show the movie, at 7:30 p.m. and 8 p.m., respectively. On April 7, at 6 p.m., New London's Garde Arts Center in New London, will host the film, and on April 11, the Bijou Theater in Bridgeport will show the film at 8 p.m.
Tags:
ctmovie
,
Erik Bloomquist
,
greenwich
,
Indie Film
,
Long Lost
,
Mianus River State Park Scenic Reserve
,
Town of Greenwich