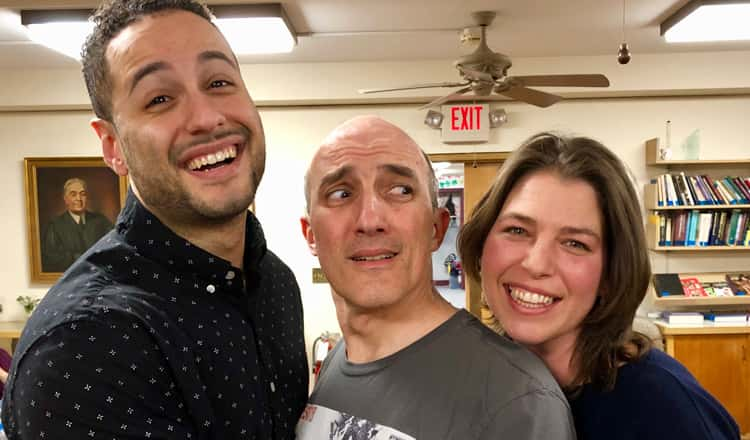 Brett Kroeger of Riverside will sing the lead soprano role and Guy Stretton of Old Greenwich will sing in the men's chorus when Troupers Light Opera performs the Gilbert and Sullivan opera Ruddigore, April 6 and 13 at the Norwalk Concert Hall. Kroeger will star as Rose Maybud, the village beauty who falls in love with the local gentleman-farmer, only to find out that he is really the bad Baronet of Ruddigore, one of a long line of nobles cursed to commit a crime every day or perish. The story eventually ends happily, but not before Rose goes through another betrothal with a dashing sailor named Richard Dauntless, and not before the audience is treated to rousing songs and dances by a professional chorus of bridesmaids and a gang of ghostly ancestors. Stretton will perform as one of those ancestors and as one of the local villagers.
Kroeger has been a featured singer with Troupers Light Opera since 2014, in the roles of the Mother in Amahl and the Night Visitors, Amiam in Il Mikado, Josephine in H.M.S. Pinafore, Mercury in Thespis, Constance in The Sorcerer, Angela in Patience, Edith in The Pirates of Penzance, and Gretchen in The Red Mill. A versatile performer who is comfortable in all musical genres, Kroeger has appeared with the Opera Manhattan Repertory Theater and the Dicapo Opera Theater and has given recitals in New York and Chicago, at La Fenice in Venice and in the summer festivals of Forte dei Marmi, Pietrasanta and Camogli, Italy. Her most recent performances have been in New York City, Greenwich, and East Hampton, in her one-woman WWI cabaret, "Over There: Greatest Hits of the Great War," a featured role with the Brett Williams Quartet performances in New York City, and singing the national anthem on TV for the Connecticut Whale of the National Women's Hockey League.
Stretton is a chorus veteran of Troupers Light Opera performances, having sung with Troupers since the 1980s in all of the major operas in the Gilbert and Sullivan repertoire. A Certified Public Accountant in real life, he served as Troupers' treasurer for fifteen years and as a member of its Board of Directors for six years. He and his wife Barbara have both been honored with Troupers Life Membership.
First performed in 1887, Ruddigore is one of the lesser-known Gilbert and Sullivan operas, but it has been a traditional favorite, as it features some of Sullivan's finest duets, choruses, and dance numbers along with Gilbert's clever dialogue and his satirizing of Victorian society. In addition to Rose Maybud and her two suitors, the lead singers include a crazy mezzo-soprano (Mad Margaret), a feisty contralto (Dame Hannah), and two powerful baritones, one living and one a ghost, both of whom are villains who turn to the good side in the end.
Starting out in 1946 as an informal group that put on Gilbert and Sullivan operas in private homes, Troupers Light Opera had by 1950 become so popular that they recruited members of the Norwalk Symphony for the orchestra and began building sets for the performances. Today Troupers is a large enterprise, performing with a live orchestra, costumes, and complete stage sets. Talented performers from throughout the Tri-state area audition for roles, and Troupers welcomes new members each year. This year Troupers is under the professional stage and musical direction of Kevin Miller and Eric Kramer, with choreography by Tiffany Williams of Bridgeport. The show features a full orchestra, period costumes, and professional set design.
Ruddigore will be performed at the Norwalk Concert Hall on Saturday, April 6 at 2:30 and 7:30 p.m., and on April 13 at 2:30 and 7:30.  Tickets are available at TroupersLightOpera.org  or by calling 800-838-3006.