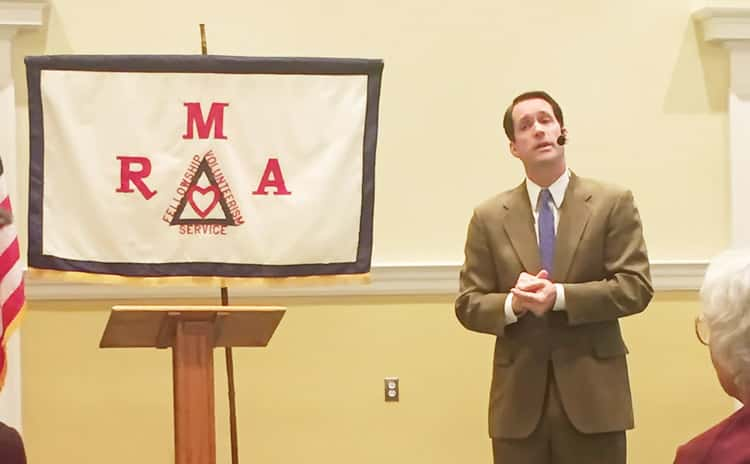 By Richard Kaufman
U.S. Rep. Jim Himes made several appearances in Greenwich last week, speaking about the current political climate in Washington D.C. and what's ahead.
Himes, a Greenwich resident, spoke at the Retired Men's Association, Western Middle School and at Eastern Middle School, in front of Indivisible Greenwich and Stamford.
In front of a packed room at the RMA last Wednesday, Himes said that "this is a bizarre political moment in our history." He began his remarks by pointing out some positive achievements in recent months.
"Despite its reputation, Washington and Congress are actually getting some good stuff done. The challenge is, it's not stuff that makes the front page. It's stuff that's important to this country, but it's a little quieter," he said. "No, we are not addressing climate change. No, we're not transforming our healthcare system into the kind of system that we want. We're not dealing with the challenges of an inadequate educational system around the country, but we are making some progress."
Himes noted that in a bipartisan fashion, Congress passed "the most dramatic judicial and penal reform of a generation" that makes it easier for people to transition back into society after they've paid their dues in prison. Many of the "three strikes and you're out" laws of the 1970's have been revisited and revised as well.
Himes added that, last year, Congress committed significant resources to help fight the opioid epidemic. There has also been progress on improving the nation's cyber security.
Even though he's been a vocal opponent of President Donald Trump, Himes acknowledged that he agrees with Trump that the country's infrastructure is falling apart and needs to be fixed.
"You just need to fly into Laguardia, like I did the other night, or spend any time on I-95, or get on Metro North or Amtrak to know how urgent it is that we do that. This is something that Democrats, who now control the House of Representatives, completely agree with the president on," Himes said. "We must make that investment. While there are people in my party who say, 'Don't work with this president on anything,' I reject that. I am employed to try and improve the lives of the people that are in my district."
On the issue of U.S. foreign policy, Himes admitted that he'd give Trump "mixed grades."
"He has some instincts that I think are good, but he expresses those instincts in a destructive way," Himes said. "I don't think he's wrong about his approach to Afghanistan and Syria. Afghanistan, in particular, we are now spending $60 billion a year. It's a war that's been going on for 18 years, and it's an uglier situation today than it was 5 years ago, 10 years ago and 15 years ago.
"To put that into context for you, if we chose to provide essentially free education to every American who needed it, that would be about $60 billion a year to give you a feel of what that alternative use of that money might be."
On NATO, Himes also said Trump "is not wrong" in telling NATO countries that they need to abide by their obligations to fund defense. "He's catastrophic in the way he expresses that. NATO should never worry that the United States, which is the reason for the founding of NATO, is somehow going to turn on its NATO allies. Once again, his instinct is not wrong," Himes added.
Himes, who admitted he had no inside information, also discussed the investigations revolving around Trump, especially the investigation lead by special counsel, Robert Mueller.
"My best guess is that the special counsel's investigation does not have a Hollywood blockbuster ending. There are those critics of the president that hope it does end that way, with some secret deal with the passage of a bag of money in exchange for some videotape. It doesn't end that way," Himes said. "I don't think the Trump administration has the people or capability to pull off a conspiracy like that, and I know the Russians don't operate that way. The Russians are too smart to do something that is so obvious in its evidence."
Himes did say that he agrees with the intelligence community's findings that Russia interfered in U.S. elections in order to "create chaos" and to "create sense in the American public that the system was rigged, that there was fraud in our electoral system." When Russia noticed that Trump could win the election, Himes said, they focused their attention on hurting Hillary Clinton's campaign.
However, Himes said that Trump's efforts to possibly deter Mueller's investigation look "bizarre and bad."
"If he's innocent, he should encourage the investigation, not try to compromise it," he said.
During the brief question and answer session, Himes was asked about climate change and "The Green New Deal," which has garnered attention in recent weeks since it was brought forth by U.S. Rep. Alexandria Ocasio-Cortez and other Democrats.
"We should mobilize in a very substantial way around climate change. That doesn't mean that we're going to stop cars, or make cows go away," Himes said. "It means we're going to do a fully refundable carbon tax, or a cap and trade regime. We should do those things because climate change is very real."
Even though the political climate is very polarizing and toxic, Himes said Americans have an obligation to try and make things better.
"We have an obligation as citizens to contribute to a better political dialogue, to be educated and critical evaluators of the information that gets put in front of us, understanding that nothing is black and white, that no solutions are simple, that if you're thinking in terms of who's bad and who's good, that you're contributing to the problem and not the solution," he said.
Himes' full address to the RMA is available online at greenwichrma.org