February 15, 2019
Addressing the Teen Vaping Epidemic in Greenwich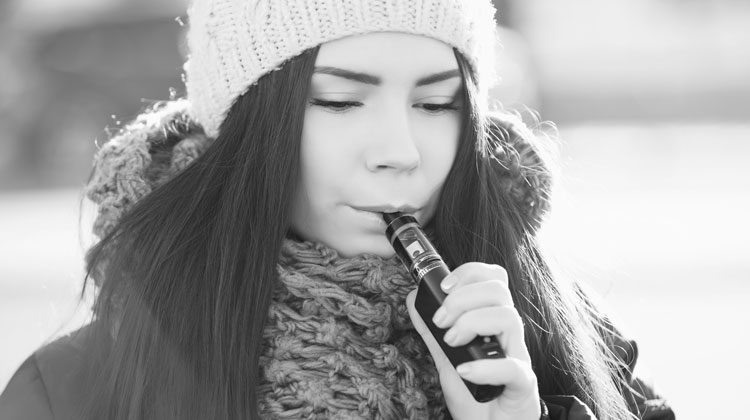 By Michelle Moskowitz
Sentinel Correspondent
A few weeks ago, The Greenwich High School Parent Teacher Association held a special evening panel addressing the pervasiveness of vaping among Greenwich youth and confirming the growing threat present among our communities' schools.
According to the Centers for Disease Control and Prevention, in 2018, more than 3.6 million middle and high-school students used e-cigarettes in the past 30 days, now the most commonly used tobacco product among youth.
Panelists included Dr. Paul Sygall, a pain management specialist at Greenwich Hospital, Dennis Bludnicki of Liberation Programs, (an organization dedicated to eradicating addiction and a full-time staff member at GHS), and Lorrain Termini, the GHS Dean of Students.
"We know we have a problem; we need your help and really have to work together on this," said Termini with conviction and concern.
Vaping is the act of inhaling and exhaling aerosol or vapor produced by an electronic nicotine delivery systems (ENDS) known as e-cigs, e-hookahs, mods, vape pens, vapes or tank systems.
E-cigarettes produce an aerosol by heating a liquid that usually contains nicotine and other chemicals that help to make the aerosol which users inhale directly into their lungs.
While some e-cigarettes are made to look like regular cigarettes, cigars or pipes, others resemble everyday common objects, like pens or even asthma inhalers, Bludnicki said.
The most popular device among youth today is the JUUL, an e-cigarette shaped like a USB flash drive which contains a high level of nicotine.
To prove its assimilation among teen culture, "Juuling" has now replaced the term for 'vaping.'
Now a $15 billion industry, the JUUL, known as the 'I-Phone' of e-cigarettes, targets kids and young adults with its sleek design and high-tech appeal.
Parents were quite attentive as Dr. Sygall walked parents through a comprehensive overview on the dangers of vaping and, in particular, nicotine, which is a highly addictive substance with complex effects such as stimulating memory and alertness in low doses, only to result in a sedative effect when used in high doses.
Nicotine causes one's breathing to become more rapid and shallow and also increases one's heart rate and blood pressure.
Just one Juul pod contains 59mg/ml of nicotine, which is equivalent to smoking a pack of regular cigarettes in one use.
Kids have reportedly overdosed on nicotine because of the seamlessness of using such devices — resulting in tremors, seizures and even death.
According to a 2018 report commissioned by the Congress from the National Academies of Sciences, Engineering and Medicine, nicotine exposure in teens can be quite detrimental as the brain continually undergoes significant changes from adolescence through the mid-late 20s, where nicotine exposure can rewire the brain, contributing to a host of problems such as loss of concentration, learning issues and impulse control.
Even more problematic is that nicotine can prime the brain for getting hooked on other, more harmful substances in the future. According to the neuroscience research at the University of Chicago Medicine, the effects of nicotine on some regions of the brain mirror those of cocaine.
"Every single heroin addict will say that they started with smoking or vaping," said Dr. Sygall which garnered a large, collective sigh from parents concerned about the underlying threat of opioid addiction and other substance addictions affecting communities across the country.
Sygall addressed the effects of vaping and symptoms for parents to recognize in their kids including irritation of mucosa and dryness in the mouth and throat, dry cough, dizziness, headaches, nausea and even allergic reactions in some.
Adverse effects include blurry vision and (wounds and burns in cases of reported e-cigarette explosions), increased blood pressure and heart rate, nausea and stomach pain.
In addition to nicotine, many substances can be vaped such as flavored e-liquids (like bubble gum, cotton candy and grape, both with/ without nicotine), as well as marijuana or THC oil (which has been reported at GHS).
According to a 2014 survey, 81 % of youth e-cigarette users cited the availability of appealing flavors as the primary reason for use.
The toxic chemical, diacetyl has been found in many e-cigarette flavors such as vanilla, maple, coconut and others in order to enhance its taste, even though the substance has been widely reported as causing 'popcorn lung,' a serious lung disease, similar to chronic obstructive pulmonary disease (COPD) that has caused irreversible lung damage and resulted in death.
Harvard researchers found that 39 of 51 e-cigarette brands contained diacetyl, now being directly inhaled through e-cigarette vapor, whereas a decade ago, microwave popcorn factory workers were so sickened by ingesting diacetyl that manufacturers had to remove it from their products.
In addition, other fine particles, metals and toxins are embedded in e-cigarettes and experts do not yet know what the long-term dangers are.
Since the advent of vaping in 2015, GHS has not seen one cigarette on its campus, but is hard at work confiscating and testing vaping devices from its students on a regular basis.
There is only a faint tobacco (or flavoring) smell emitted and virtually no tell-tale smoke, however, the second and even third-hand damage (as toxic pollutants are released) exists for those who are nearby. One parent raised the issue that many kids are going to the 'non-vaping' bathrooms as to avoid exposure while in school.
Just last week, GHS installed vaping detectors, purchased by the GHS PTA, in two of the bathrooms as part of a pilot program to crack down on usage whereas a text or email message will notify a staff member immediately upon detection.
Today, a student who is caught vaping will endure a host of consequences, but only if marijuana (or THC) is detected will a suspension occur.
While the JUUL does not offer marijuana products at this time, there are companies that are making pods so that a THC oil pod may be used for future use.
According to the CDC, marijuana use contributes to difficulty with critical thinking and problem-solving, impaired reaction time, decline in school performance, and an increased risk of mental health issues such as depression, anxiety and in some cases, psychosis.
It has also been reported that kids who vape are more apt to try marijuana than their non-vaping peers.
One parent inquired as to how kids are accessing these devices/pods since it's not legal for teens under the age of 18 in Connecticut.
Bludnicki said many kids are buying them online (such as with Amazon gift cards they receive for birthdays), and at gas stations and local convenience stores in town (many of which have the Juul prominently displayed) and/or through other friends at school.
"The people your kids trust the most are you," said Bludnicki, often emphasizing the importance of openly talking with kids about the dangers of vaping and how it can adversely affect them and their future health.
Termini said there are seminars being held at the town's schools in order to educate kids on the dangers of vaping, nicotine and the threat of addiction, and in fact many GHS seniors are doing their senior project on the vaping epidemic.
"Once you start, stopping is a different story," said Sygall. "Exercise is probably the best stimulant we have," when addressing how students initially start vaping thinking it may be helpful when suffering from anxiety — when in fact it has the paradoxical affect after cumulative use.
Sygall strongly referenced a powerful documentary titled "Chasing the Dragon: The Life of an Opiate Addict," released by the FBI and DEA on the growing epidemic of drug abuse and the dangerous threat of addiction available for view at fbi.gov.
The complete video of the GHS panel is available on the GHS PTA Parent Resource Page. To view the video, visit https://www.greenwichschools.org/greenwich-high-school/pta/resources.
There is also a free guide available for download at drugfree.org titled, "Vaping Guide for Parents: What you need to know and how to talk with your kids."
Additional online resources include cancer.org, lung.org, cdc.gov, and liberationprograms.org to learn about in-patient and out-patient programs for people and their family to tackle the disease of addiction.
"Talk to your kids," said Sygall. "By getting it out there, you're showing them that it is real."
For more information on this topic, check back to Greenwichsentinel.com or visit our Facebook page at Facebook.com/GreenwichSentinel or our Twitter page at @GwchSentinel.
Tags:
E-Cigs
,
GHSPTA
,
greenwich
,
Greenwich High School
,
Teen Vaping
,
Vaping