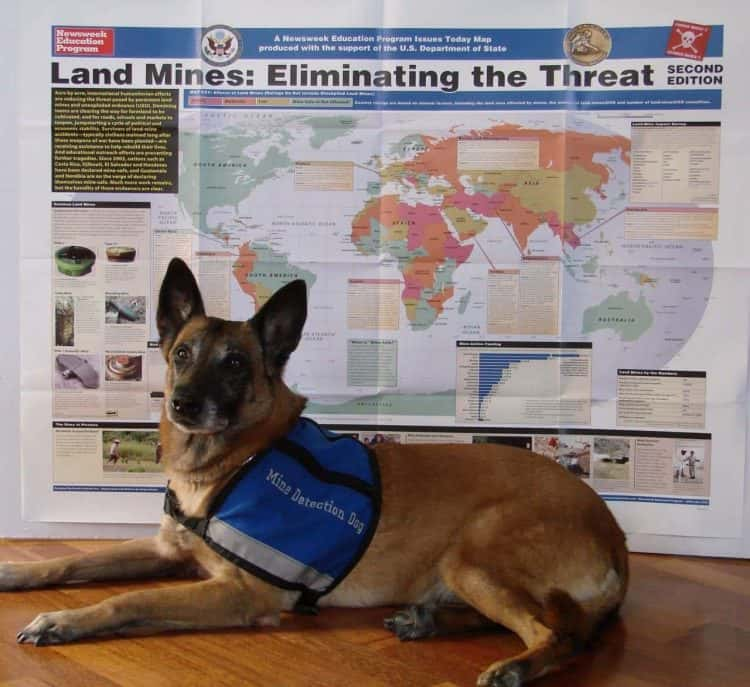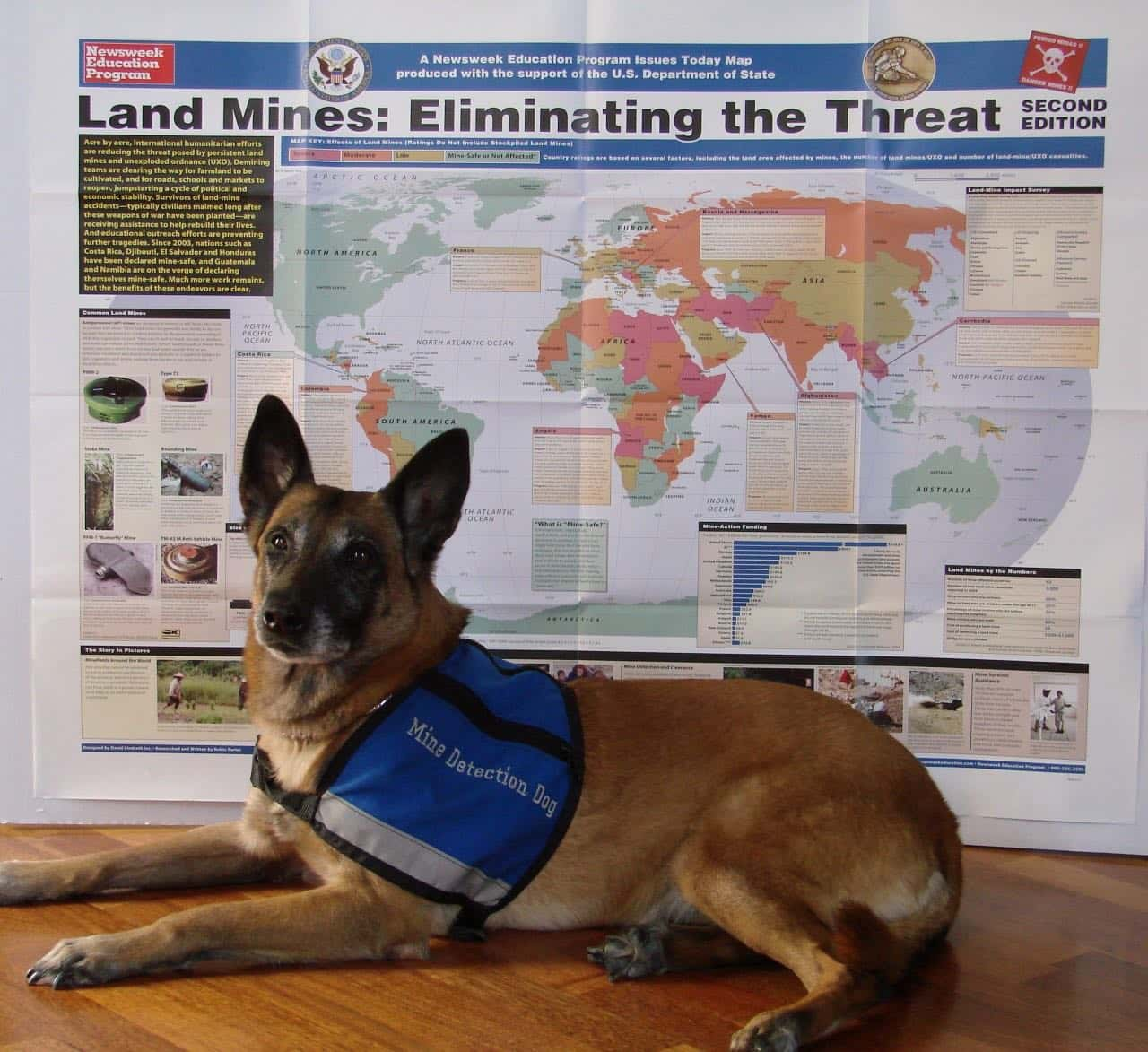 By Richard Kaufman
Sentinel Reporter
It is often said that dogs are man's best friend, and that couldn't be more true in the Greenwich community and at CHAMPS (Children Against Mines Program).
CHAMPS launched in 2005 as an initiative of The Marshall Legacy Institute (MLI), a 501(c)(3) nonprofit organization. CHAMPS is an educational and outreach program that presents students and local communities with an opportunity to learn about how landmines affect people and animals in war-torn countries.
The initiative specifically highlights the work of mine detection dogs and how man-dog teams work together to find the dangerous landmines and save lives.
Schools and communities have the chance to raise funds through bake sales, merchandise sales and dog walks to sponsor a lifesaving dog, which is sent to a country in need. Each dog costs around $20,000.
Dogs are usually born and bred in Europe before they are brought to Texas for four months of training to recognize explosive devices. Once a dog is certified as an explosive sniffer, it is sent along with six other dogs and a handler to a beneficiary country, such as Bosnia, Sri Lanka, Cambodia, Zimbabwe and Iraq, among others.
The dogs are then trained up to a year in a mine-affected country with local handlers. Afterwards, the dogs normally work for 6-8 years before retiring.
These dogs have become valuable tools in helping combat a man-made problem. According to the United Nations, approximately 2,000 people are killed or injured by landmines every month in affected countries. Over half of the landmine casualties are civilians, and 40 percent are children.
MLI President, Executive Director, and CHAMPS program presenter, Perry Baltimore, compared using mine-sniffing dogs to traveling the length of a football field.
Using a stick to probe underground for mines, it might take someone all day to travel five yards. Using a metal detector can help you move 10 yards per day, but most mines are made out of plastic, and you'd have to stop to check every time you encounter other metallic debris.
"With one of these dogs, you can score a touchdown every day. That's why these dogs are so valuable," Baltimore said. "Any one dog might search up to a million square meters during its six to eight years of working life. Any one dog is going to impact tens of thousands of lives."
CHAMPS was brought to Connecticut by Greenwich residents, Geoff and Betsy Parkinson, and has thrived ever since.
Every year, CHAMPS visits various Greenwich schools to teach young children about the program. Last week, CHAMPS presentations were held at International School at Dundee, and North Mianus School.
"There's no one area that's been more involved and has provided more dogs than the greater Greenwich community," said Baltimore at North Mianus School last week.
According to Baltimore, the MLI has sent 254 mine-sniffing dogs to a dozen war-torn countries around the world since 1999. Forty two of those dogs have been sponsored by American school children through CHAMPS, with 14 of them coming from Fairfield County and the Greenwich area. Baltimore noted that of the 254 total dogs not one has been injured or killed.
North Mianus School has had the honor to name two mine-sniffing dogs since they raised the most money in Connecticut. Emily, who served in Bosnia, was named after former NMS student Emily Fedorko who tragically passed away several years ago. The other dog is named Hawk, and was sent to Iraq.
CHAMPS has been integrated into a fifth grade project for students at NMS.
"There are so many things the students learn. They learn about geography, and they learn about how lucky they are because this isn't something they have to think about on a daily basis. It's an easy way for them to help," said fifth grade teacher, Julie Cofone, who helped bring CHAMPS to the school nine years ago. "At this age, it's hard to find a way to get kids involved. This is something they can really connect to. They know they're helping other kids."
Once a month, students come into school early to have Skype video calls with children in Bosnia and Yemen, both countries that have been beneficiaries of mine-sniffing dogs.
"They ask them questions about everyday life and they share the work that CHAMPS has done," Cofone added.
"CHAMPS is probably the initiative in this building I'm most proud of," said NMS Principal, Angela Schmidt. "I love the Skype calls between us and the countries that have dogs. That really brings it home."
During the presentation at NMS last week, students were able to see a mine-sniffing dog in action. Yankee, a German Shepherd sponsored from Connecticut, along with her handler, Kimberly McCasland, demonstrated how to find a hidden mine. 
On stage in the gymnasium were several handkerchiefs, with a dummy-mine placed underneath one of them.
The children let out a big applause when Yankee quickly found the correct handkerchief. She was rewarded with a dog treat.
Afterwards, Yankee sat near the gymnasium exit, and the children, one by one, stopped to greet and pet her.
"[Through CHAMPS], children learn that they can really make a difference in the world," Baltimore said.
CHAMPS will return to Greenwich in April to visit more schools. Fore more information on the MLI and CHAMPS, go to marshall-legacy.org and champskids.org.