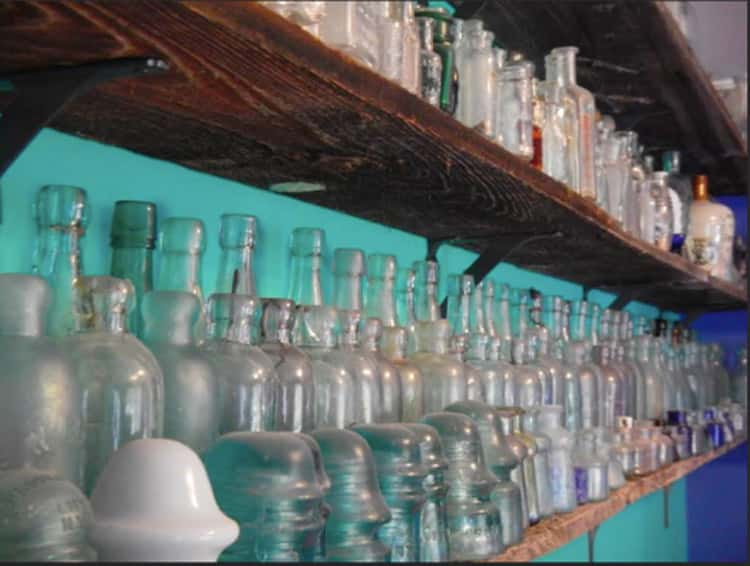 Maron Salame, age 17, announced the founding of the Greenwich-Stamford Antique Bottle Club. The Club's mission is to bring together collectors of antique bottles and glass, with a focus on the local Greenwich, Stamford, and Port Chester markets.
Salame, a Brunswick junior, has been collecting antique bottles since he was 10, and social and historical artifacts all his life. The walls of his bedroom are lined with shelves housing an antique bottle collection of over 2,000 antique bottles, dating from the late 1700s to the early 1930s. His collection includes everything glass Druggist and Bitters (medicine) bottles, to mid-19th century saltglaze pottery, to soda and seltzer bottles, to early 20th century milk bottles from the long-forgotten "The Round Hill Farms Dairy" in Greenwich.
Salame has grown his collection by trading bottles online, purchasing bottles at local, regional, and national bottle shows, discovering bottles at estate sales and flea markets, and reviewing collections from collectors in town. But his best finds have been bottles he has dug himself. "I have dug throughout Greenwich, Stamford, Port Chester, Norwalk, on the shores of the Long Island Sound, river beds in Greenwich and Port Chester, forests of backwoods Greenwich, streams, people's yards (with permission), and every place you can imagine. I have always made sure, however, that I have never gone onto historical sites or protected areas."
The Collectors Club which Salame plans to establish will be for collectors from all regions, but will focus on Greenwich and Stamford.
When the Greenwich Historical Society did their recent excavation of the site of the Bush Holley House, many antique bottles were dug up from the site. Salame met with professionals there to identify the bottles and what they were worth. He assisted the Historical Society in curating the bottles that are currently on display, and writing their histories. Salame is also the youngest columnist in Antique Bottle and Glass Collector magazine, a publication in which he describes the economic history of of the Greenwich-Stamford-Port Chester region through several articles about local glass or his digging experiences. Salame is interested in expanding the hobby and getting younger collectors interested in the town.
The Club will meet monthly at Western Greenwich Civic Center, the first Tuesday of each month. For more information contact greenwichantiquebottleclub@gmail.com