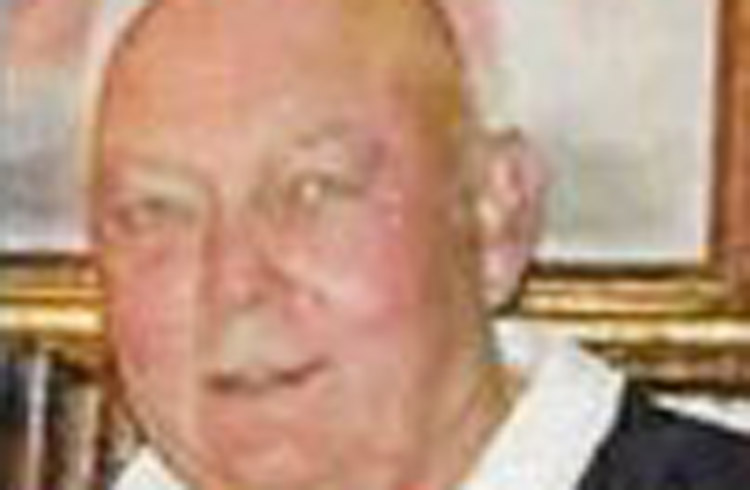 Bertram "Bert" Borden Fisher, 87, a resident of Greenwich, CT over 60 years, passed away peacefully on Dec. 1, 2018 surrounded by his loving family. Born Oct. 7, 1931 in New York City; Bert was the son of the late Harris B. Fisher, Jr. and Gwendolyn Talbot Fisher. He attended Manlius Military Academy of NY and Hebron Academy of Maine. When asked about college he took great pride in saying his advanced degrees came from Uncle Sam. He proudly served our nation in the U.S. Army and did so with great pride and dedication as an Army Ranger and Paratrooper serving with the 5th Regimental Combat Team in Korea (2 deployments) during the height of the Korean conflict. At the time of his Honorable discharge from eight years of service he was 2nd Lieutenant. After leaving the military Bert worked briefly selling textile machinery for the Leesona Company of Rhode Island. He found his passion though in the insurance world where he worked for sixty years with firms that included Johnson and Higgins, Allen, Russell and Allen, John M. Rielhe, Bayly Martin and Fay and for the past 25 years with the DeWitt Stern/Risk Strategies Group of New York as a Senior Vice President. He was a trusted insurance advisor to many of New York and Connecticut's most prominent families and businesses.
An avid sportsman throughout his life, he was an accomplished racquets player, ice hockey player and a member of the US Olympic Men's Field Hockey Team. He loved the NY Yankees, NY Rangers, Brunswick Football, being on the water, golf and most of all his fall surf fishing sojourns to Fishers Island, N.Y. He was a member of Indian Harbor Yacht Club, past member and Board member at the Field Club of Greenwich, past member of the RTM of Greenwich and longstanding member and past President of the Nutmeggers. Bert had a larger than life personality, a big and powerful physical presence, a boyish "up to no good" grin and a wonderfully engaging sense of humor. He took great pleasure in giving those he loved the most a hard time – all in the name of fun. Very few escaped his company without a broad smile and a fond memory.
He is survived by his wife of 13 years Carolyn Lincoln Fisher, sons John C. Fisher (Bebe) of Darien, CT Bertram B. Fisher, Jr. ( Katie) of Shelton, Wash., Richmond T. Fisher ( Kim) of Riverside, CT and Alexander M Fisher (Andrea Moeller) of Maui, Hawaii; eight grandchildren, Kristie, Alita, Blake, Alex, Annie, Ashley, Carolyn and Jack and two great-grandchildren. He is also survived by his half-sister, Peg Oakes of Madison, N.J., his half-brothers John Gaston of Charlottesville, Va. and Alexander Gaston of Oahu, Hawaii. Bert was predeceased by his first wife of fifty years Jane Laidlaw Fisher and his brother Peter B. Fisher.
Special thanks to Dad's medical support crew for their warmth and care during his last days; they include Dr. Dickerman Hollister, Dr. Sunil Rana, Greenwich Hospital and all their dedicated staff members.
In lieu of flowers, please consider a contribution in Bert's name to: Operation Homefront (dedicated to financial and recovery assistance for wounded service members), 1355 Central Parkway S, Ste. 100, San Antonio, TX 78232 (operationhomefront.org)
It is the intention of the family to have a celebration of life gathering, it will be planned for the spring of 2019 in Greenwich and one on Fishers Island in the fall of 2019.