November 16, 2018
A Familiar Face to Lead Brunswick School Ice Hockey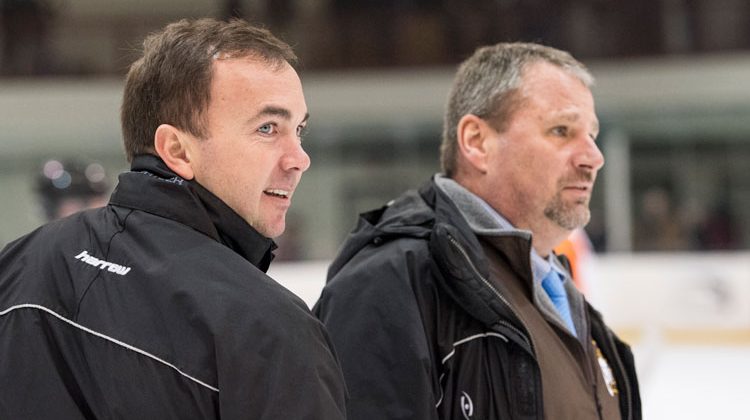 By Paul Silverfarb
Sentinel Editor
The Brunswick School hockey team will have a new person at the helm starting in a few short days. However, it will be quite the challenge to notice the difference at first.
For the past 13 years, head coach Ron VanBelle and assistants Mike Kennedy and Steve Mandes have been manning the bench for the Bruins and taking the program to new and exciting heights.
With the timing feeling right for VanBelle, he's now ready to take a step back, and Kennedy is more than ready to take over the reins of the prestigious program.
"It means a lot to take over this program," Kennedy said. "The program is obviously sitting in a pretty good spot right now with last year's championship and the success of the last six or seven years. It's a pretty visible sport here at Brunswick and in the area, so the head coaching position comes with a lot of responsibility. I am excited and looking forward to the challenges. I know it won't be easy at times. It will add a little more pressure to my day-to-day life, but I am up for it."
For VanBelle, he felt that this was the perfect time to take a step back.
"Mike's been with me the entire time," VanBelle said. "He's ready to take over the program, and I am willing to give him the keys to hand it over. The timing seemed right, especially after coming off that championship last year. It gives me a little more flexibility. But I'll still be around."
During this past spring, Kennedy said that he and VanBelle the conversation about the possibility of a head coaching change. After a summer of mulling the decision, it felt like the perfect time for VanBelle to take a half-step back and for Kennedy to take that half-step forward.
"Everybody at the school and the administration was on board," Kennedy said. "Obviously Ron is the athletic director, so he had a say in it. That made it a little easier because it meant we didn't have as many hoops to get through."
VanBelle said that what made the decision easy was knowing that Kennedy was there and ready to take over the Brunswick hockey program.
"The easiest part of this change was knowing that Mike was there," VanBelle said. "That was a no-brainer. There was any discussion between myself and Headmaster Tom Phillips. There was never any discussion over it being anybody other than Mike. That's why the timing also felt right because handing it off to the guy that helped me build the program feels right. I can't imagine it going any other way."
During VanBelle's tenure as the head coach, he has taken Brunswick hockey to amazing heights. The team started as Division II and is now considered a strong Division I program. The Bruins earned a Large School Tournament berth in the 2011 and 2012 seasons. In addition to another Large School Tournament berth in 2015, Brunswick recorded a school-record 26 wins on the season.
A year later, the Bruins battled in its first-ever Elite 8 Tournament, a tournament that highlights the top eight teams in New England. In 2017, Brunswick once again qualified for the Large School Tournament, but this time they won their first game in the tournament for the first time.
Last year was the icing on the cake for VanBelle, Kennedy and the rest of the Bruins. For the first time in the 13 years that VanBelle has been the coach, Brunswick took home some coveted hardware by winning the 2018 Large School Tournament.
Overall, VanBelle finishes with an overall record of 224-128-20.
I'm very proud of where this program is," VanBelle said. "It was a fun build and luckily we had the support of the school and got the players in the program that were committed to helping build this thing up. We went from hardly sending a kid to college for hockey to now sending a couple of kids, or more, every year. That part we are really proud of. I am also proud of the college resumes we built up with the players. I'm proud of the level where this program has gotten to and at the level they are playing at. We inherited a nice Division II prep school team, and now we have a Division I contender that is sending kids off to play really good hockey."
Kennedy said that whether in practices, during games or behind the scenes, it was obvious that VanBelle put his heart and soul into this program.
"He came here 13 years ago, and he is a guy that you want to play for," Kennedy said. "He's a positive guy. He has a great sense of humor that he brings to the rink every day. So, how can you not like coming to the rink as a player when you know your coach has that type of personality and makes it fun. While he makes it fun, at the same time he brought the program to the next level. We have convinced kids that you can play some pretty good hockey at Brunswick and that you don't have to go away to a boarding school. He kept on adding new and tougher teams, and we played in better tournaments. He left the program in a great spot."
Keeping the program in that great spot is a top priority for Kennedy.
Kennedy played hockey at Middlebury College and won a Division III championship during his senior campaign. "The guy lives and breathes hockey," VanBelle said. "He played at Middlebury and has been involved in hockey all his life, basically. If it wasn't for Mike, the program wouldn't be anywhere close to where it is now. He's ready to keep the train going in that direction. He knows the ropes and there's no learning curve. A lot of the younger guys on the team are the ones that he brought in and he's worked with outside of Brunswick."
While there won't be subtle changes on the ice when people watch this year's team at the Hartong Rink, that doesn't mean that everything has stayed the same.
"We are more on the lines of the, 'If it isn't broke, don't fix it,'" Kennedy said. "But at the same time, you don't want to rest on your laurels. As coaches, you try and get better every year. We try to add something here or add something there or pick up something from another guy. Ron, Steve and I have worked close together over the last 13 years, so we all kind of had a say on how we play. I don't think a whole lot will change about our style. We like putting a simple structure in place and let the kids play and let the talent come to the forefront. We don't want to put too many restraints and restrictions on kids' creativity and other stuff."
One of the huge bonuses for Kennedy is that he's certainly no stranger to Brunswick School hockey. After all, the Hartong Rink has been his home during the winter months for the past 13 years, so hitting the ground running is just another day at the office.
"I think it makes things a lot easier that I have been here and that the kids know me and know my personality," Kennedy said. "It isn't like someone is coming off the streets or a different program and ready to change everything that we do. I think the kids are comfortable in the fact that a whole lot won't change. They know who I am and sort of know my style as a coach. They know Ron and Steve will still be here. It's a good situation to have it this way.
For someone so invested in the program over a decade, it would be a hard sell to get VanBelle away from the sport and program that he loves. He will still be involved with the team and all the day-to-day things associated with it, such as being on the bench during games, helping in practices, contributing to the management of the team, and will still be there to pat a kid on his back for a job well done.
"You can't beat it," Kennedy said. "Coaching hockey for a living, working with young kids trying to get them to the next level and trying to develop them as hockey players as well as good young men of character, is wonderful. I am pumped up. I am excited for the challenge, and I get to go to the rink every afternoon. It's hard to find something better than that."
Tags:
Brunswick Hockey
,
Brunswick School
,
cthk
,
greenwich
,
ice hockey
,
Mike Kennedy
,
NEPSAC
,
Ron VanBelle