November 3, 2018
United Way Grants GADC with $18,000 for Transportation Program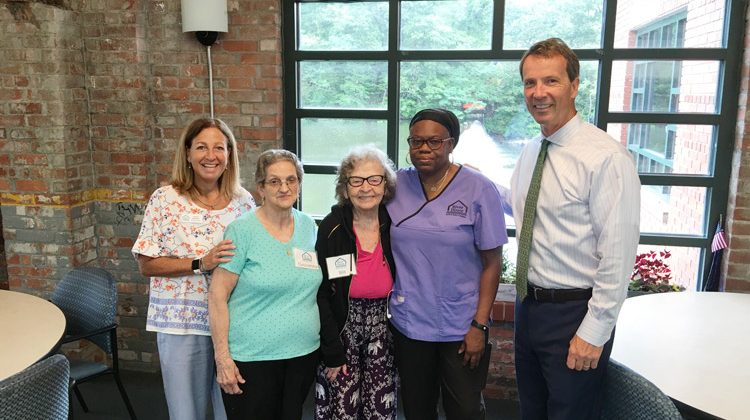 The Greenwich United Way (GUW) Board of Directors approved a second grant this year for River House Adult Day Center, totaling $18,000. The grant is an extension through the Greenwich United Way Community Investment Process (CIP) and was awarded on June 28. The Extension Grant will be used to support the Door-to-Door Transportation program which will offset the costs associated with transportation for Greenwich-based clients. The distribution of funds for this program reflects the recommendations of the volunteers who participated in the 2017-2018 Community Investment Process and the Greenwich United Way Grants Committee.
"The Greenwich United Way is incredibly supportive to those who attend River House, particularly by ensuring that we can continue to provide reliable and safe door-to-door transportation. Thanks to the Greenwich United Way, this critical service makes it possible for families to count on our transportation services so that they can also maintain their careers, continue to care for younger family members and meet personal expectations. We are most appreciative for the Greenwich United Way's vote of confidence and ongoing support," said Donna Spellman, Executive Director at River House.
The grant application submitted by River House provided information on why those attending the program would benefit from the positive impact of the more hands-on Door-to-Door Transportation Program. "It is clear the funds requested from Greenwich United Way will be used to help sustain and launch critically important services to those attending River House," said Greenwich United Way CEO, David Rabin.
The Greenwich United Way raises funds to address needs identified in its Needs Assessment and demonstrates the impact of these funds to donors through positive results. Efforts are made by the Greenwich United Way staff and volunteers to track program results throughout the course of the program which receives grants from the Greenwich United Way Community Investment Process. Partner agencies are required to report back to the Greenwich United Way Board of Directors and staff.
To become a Community Investment Process volunteer or to learn more about the Greenwich United Way Annual Campaign, please email Senior Director of Fund Development & Operations, Jeremy Nappi (jnappi@greenwichunitedway.org). Visit Greenwich United Way online to learn more about the critical health, education, and self-sufficiency needs in the Greenwich community and for a directory of partner agencies.
Tags:
GADC
,
grant
,
greenwich
,
greenwich united way
,
Transportation Program