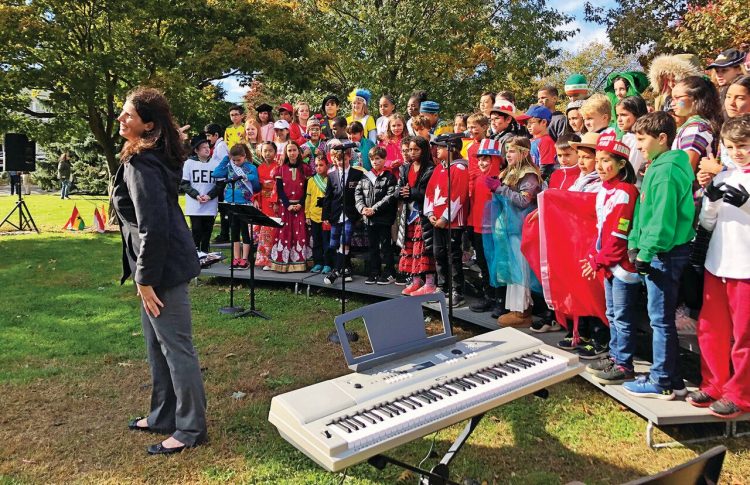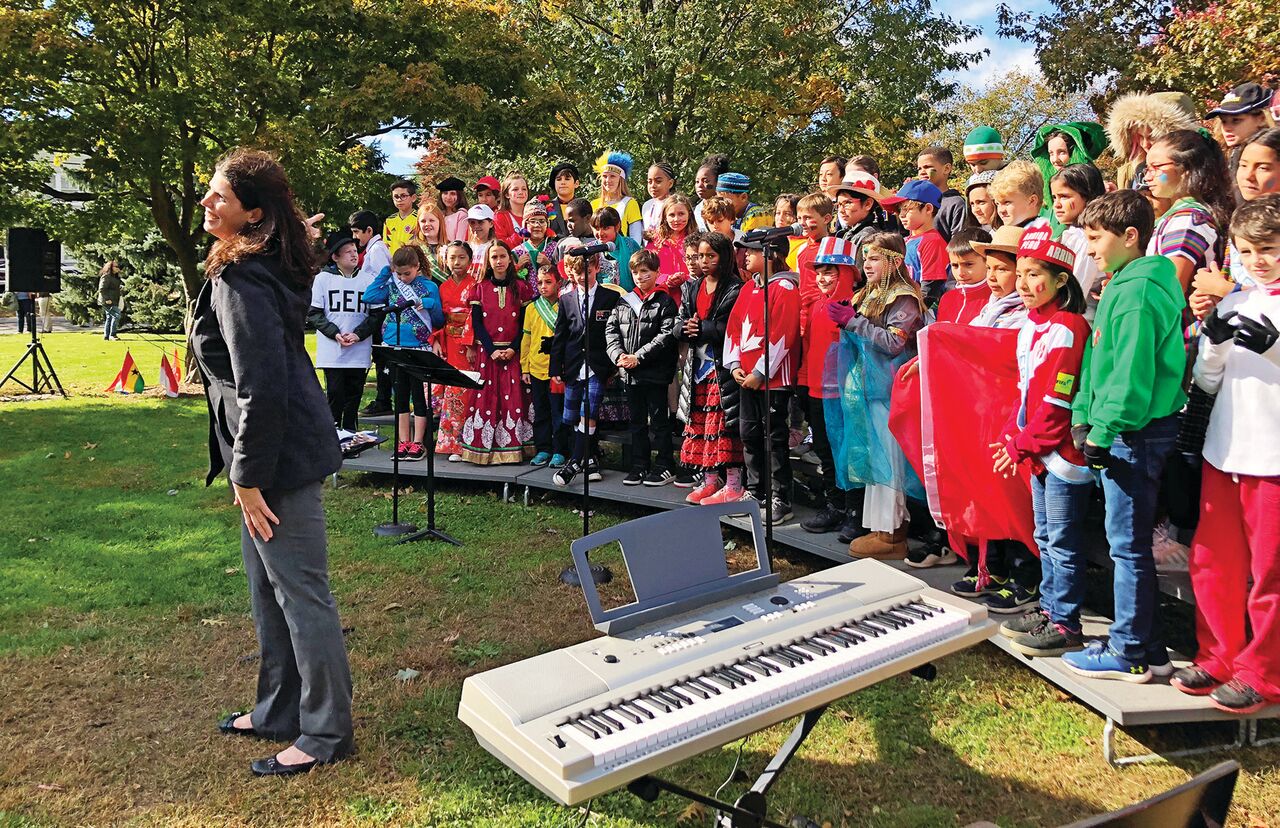 By Richard Kaufman
Warm sunshine and a strong wind made for the perfect conditions at the 28th annual United Nations Day and Parade of Nations Ceremony, at Julian Curtiss School last week.
Flags of over 60 countries waved proudly in the breeze, as 319 students marched around the front circle of JCS, in front of a large crowd. Each student wore clothing unique to his or her home country, and each flag-bearer stopped to greet the crowd in his and her native language.
JCS became Greenwich's third magnet school in 2003 and emphasizes the theme of world languages.
The parade and ceremony, which featured songs from the fifth grade chorus and speeches from a parent and two students who came to the United States from other countries, were a part of U.N. Week at JCS. 
During the weeklong celebration and throughout the year, students participate in assemblies and activities helping them discover culture through the arts, foreign language and the world of dance. The week is also about uniting pledging to help stop the spread of intolerance, extremism, racism and xenophobia. 
"We are here to change the story of hatred and prejudice," said JCS Principal, Trish McGuire, shortly before the parade began. "We are here to tell you what it's really like when you openly bring together new languages, new cultures and different beliefs with the common focus that we will educate our children, we will work together, live together and solve problems together."
Several state and local-elected Greenwich officials were on hand for the parade. First Selectman, Peter Tesei, said U.N. Day represents what Greenwich is all about.
"This is the best symbolism of what the Greenwich community is about in terms of its cultural and ethnic diversity," he said. "It certainly puts it in such a positive way through the lens of seeing children, and what the future of the community is about is children."
Interim Superintendent, Ralph Mayo, got to experience his first U.N. Day at JCS.
"I was at Eastern Middle School for 14 years and at Greenwich High School for 27, so I never got the chance to see the other things that were going on in the district. This is amazing," Mayo said. "It shows everybody what diversity we have in Greenwich. Diversity is our strength, and I'm glad we're celebrating it."
McGuire said that education is key in trying to spread messages of positivity and acceptance. She encouraged the adults in attendance to help the students understand that they can make a difference in the lives of others. 
"I'm certain that we, the adults, can foster a positive community, pride in our country and a hope in our future," McGuire said.
Following the singing of Oye and Kuwa Furaha by the fifth grade chorus, the U.N. flag was raised in front of the school. Ines Ribeiro, a mother of two children who go to JCS and Central Middle School, spoke about her experience coming to America.
Ribeiro, a native of Portugal, said she and her husband, Vasco, lived in several countries growing up. She moved to the U.S. after getting married. Having first lived in California, she later moved to Connecticut. 
"The United States of America always inspired us as a free-spirited country, capable to try to unite so many different cultures, always open to the unknown and ready to help other nations," she said. 
Ribeiro said she hopes to leave the world in a better place for future generations.
"Even though we are grateful for what our ancestors did for the wonderful world we have been living in, we want more. We want to set a good example for future generations so they can be proud of us, too."
JCS student, Paola Jaramillo, 9, who came to the U.S. from Colombia four years ago, spoke about how scary it was for her on the first day of school because everyone was speaking English. Jaramillo said her teachers helped her fit right in.
"JCS opened its doors to me from the first day of classes. I'm very grateful and super happy to go to this wonderful school. I learned so much. Thank you for helping me verbally and emotionally," she said.
Daniel Xu, another JCS student, was born in China and moved permanently to the U.S. and Boston, Mass., at the age of five. After attending kindergarten for only half a year, his family moved to Greenwich, and Xu went to JCS not speaking or understanding one word of English.
"My mom's friend taught me to say, 'I don't know,' which I said many times. I have really enjoyed my years at JC and will miss all my teachers. Thank you for everything you've done for me," said Xu. "Happy U.N. Day!"